Ramen is currently nudging its way 
to the top of our favourite noodle dishes. Find out where to eat it and how to make this lovely chunky Japanese broth.

What is ramen?
It's a Japanese noodle soup served in a deep bowl. You choose ingredients to add to the fish, meat or vegetable broth base, which is flavoured with soy sauce or miso. Wheat noodles (straight, curly, fat or thin) provide the carb. There are as many additional ingredients to add to the broth as there are variations on ramen – seaweed, chilli, tofu, eggs, spring onions, meatballs, gyoza (pot-sticker dumplings) or slices of pork, to name a few.

Where to dig in and get slurping?
Here are a few places to try it in the capital:
Wagamama – several types of ramen on the menu
Bone Daddies, W1 – hip and happening Soho hangout
Kanada-Ya, WC2 – specialises in tonkotsu (pork broth) ramen
Shoryu Ramen, SW1 and W1 – Order 
the pork belly buns and the gyoza
Tonkotsu, W1 and E8 – try the cold noodles in hot broth at the east London branch
Can I make it?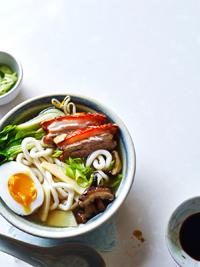 Ramen isn't easy to make properly at home, but here's a quick taster version that serves 2.
1. In a pan, heat 600ml chicken stock with 8 dried shiitake mushrooms, sliced; bring to the boil. Then remove from the heat, set aside for 15 minutes; strain and reserve the mushrooms. Return the stock to the pan, stir in 
2 tbsp soy sauce and add 300g straight-to-wok noodles; keep warm.
2. Steam 2 baby pak choi, sliced, and 
2 handfuls beansprouts until just tender.
3. Lift the noodles into 2 deep bowls. Top 
with the mushrooms, 2 spring onions, sliced, ½ x 225g tin bamboo shoots, drained, and the bean sprouts.
4. Ladle in the hot broth. Add the pak choi, slices of roast pork belly or pork streaky rashers and two softly boiled eggs, halved.
About the author