Food
Trend... Tahini
by Sarah Alcock
You've probably seen tahini slowly creep into more and more ingredients lists on recipes over the past year, but what exactly is it? The reason it's popping up everywhere is because it's so versatile! From smoothies to sauces, this must-have ingredient of the moment is here to stay...
What is it?
Tahini paste is made from ground sesame seeds. It's quite thick, so it's often made into a tahini sauce by adding water and/or lemon juice.
Where have I heard of it before?
Tahini can be most commonly found in Middle Eastern cooking, so you've probably had it blended into houmous, which creates the nutty taste. And, if you're a falafel fan, you might have had a tahini sauce drizzled on top.
What's so special about it?
You can use it in so many things. Here are a few ideas...
• Spruce up your salad with a zesty orange tahini dressing: add tahini to freshly-squeezed orange juice, apple cider vinegar, maple syrup, olive oil and orange zest, season, and drizzle over your salad.
• Add a dollop of tahini into your favourite chocolate brownie mix to add a mouth-watering nutty taste.
• If you tend to make smoothies for breakfast to grab while you're on-the-go, why not add a spoon of tahini next time? Our favourite recipe includes banana, milk, cinnamon, nutmeg and, of course, tahini.
• The nuttiness of the tahini lends itself well to sweet ingredients, so try glazing salmon with a tahini, honey and soy sauce mix.
• Or, if you're not feeling too adventurous, stick to a classic tahini dip to serve alongside turmeric and chickpea chips – get our recipe here.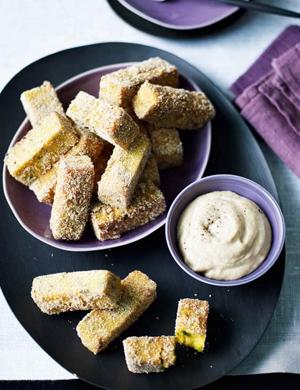 Don`t miss

---