Food
Easter chocolate truffles
by Sarah Alcock
As weekdays go, Fridays are by far our favourite, but today things have just got that little bit sweeter. Why? Because it's the start of The Chocolate Festival at London's Southbank centre, leading us into temptation until Sunday.
We'll be eating our way around the event all day tomorrow, buying ourselves enough Easter treats to keep us going until Christmas, and (maybe) the odd thing for friends and family, too. We'll also be watching demonstrations and picking up top tips from creative chocolatiers such as Paul A Young.
In case we've eaten everything by the time you get there, here are three of our all-time favourite truffle recipes to try at home. They're so simple to make – why not box them up and give them as a pretty Easter gift?
What's your favourite Easter treat? Tell us in the comments box below.
CLASSIC CHOCOLATE TRUFFLES
Makes 20-25
100g dark chocolate (70% cocoa), broken into small pieces
100ml double cream
1 tbsp liquid glucose, from the baking section in store
25g unsalted butter, in small pieces
4-5 tbsp cocoa powder, for dusting
1 Put the chocolate, cream, liquid glucose and butter in a bowl over a pan of simmering water.
2 Leave to melt gently, stirring occasionally, until smooth and combined. Make sure you keep the heat low; if the mixture gets too hot it'll split.
3 Remove the bowl from the pan and leave to cool, then cover and chill overnight until the mixture has thickened.
4 Scoop out rounded teaspoonfuls of the mixture and place them on a sheet of baking paper. Tip the cocoa into a bowl.
5 Make sure your hands are cold, then dust them with extra cocoa powder and quickly roll the truffles, one at a time, into balls before rolling them in the cocoa powder to coat.
6 Chill until ready to serve.
Now try these variations that Emma, our cookery assistant tested in the magazine kitchen yesterday...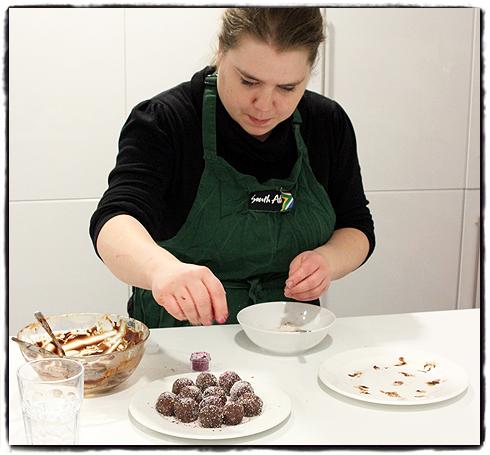 Chilli and ginger truffles
Use chilli-flavoured dark chocolate instead of plain dark chocolate. Add 25g finely chopped glacé ginger to the melted chocolate mixture.
Roll the truffles in 4 tablespoons of granulated sugar mixed with ¼ teaspoon of crushed dried chilli flakes and a pinch of Jewel Fire Red edible glitter (from Jane Asher) instead of cocoa powder.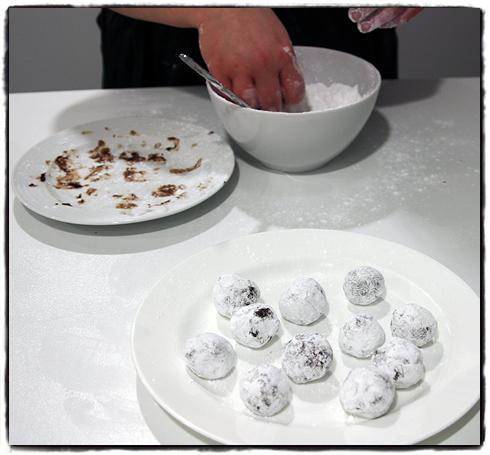 Mint chocolate truffles
Add ½ teaspoon of Taste the Difference peppermint extract to the melted chocolate mixture.
Instead of cocoa powder, roll the truffles in 50g icing sugar. You may need to recoat before serving.
Tip
TIP Make sure your bowl fits tightly over the pan so no steam can escape and curdle the chocolate when you're melting it.
Don`t miss

---