Food
3 ways to do a Caesar salad
If you're catering for friends at lunchtime then a dig-in-and-share salad is pretty ideal – especially now that summer has most definitely arrived. Once you've made the dressing and the croutons, there are plenty of options for how to finish off your salad. We've suggested three variations; just go with what you fancy!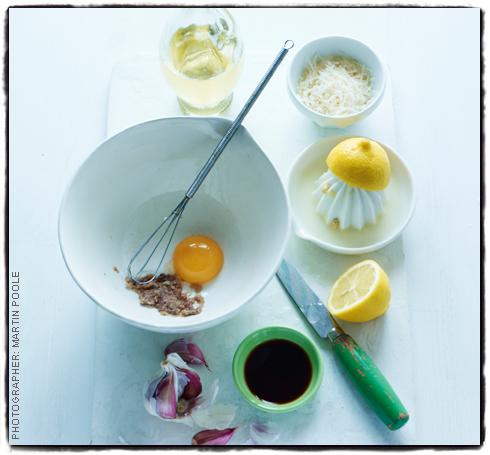 Chicken Caesar salad
Serves 4
3 very thick slices of white bread, crusts removed
2 garlic cloves
125ml vegetable oil, plus 1 tbsp
9 anchovy fillets in oil, drained
1 large egg yolk
1 tbsp lemon juice
1-2 tsp Worcestershire sauce
4 tbsp finely grated parmesan
2 Romaine lettuce hearts, leaves separated
1 x 240g pack roast chicken breast fillets, sliced
1. Preheat the oven to 200°C, fan 180°C, gas 6. Cut the bread into 2cm squares. Crush one garlic clove and toss with the bread, the tablespoon of oil and a little seasoning.
2. Spread the bread out in a single layer on a baking tray and bake for 10-12 minutes, shaking occasionally until the croutons are crisp.
3. Chop the second clove of garlic with one anchovy fillet to a smooth paste, and whisk together with the egg yolk and a pinch of salt in a jug.
4. Gradually add 125ml oil drop by drop, whisking all the time until fully incorporated. Stir in 1 tbsp hot water, the lemon juice, the Worcestershire sauce and half the parmesan, and season to taste.
5. Toss the lettuce leaves with half the dressing, then arrange on 4 plates. Divide the croutons, anchovy fillets and sliced chicken between the plates.
6. Drizzle with the remaining dressing, and scatter over the parmesan. Serve straight away.
NOTE: This recipe contains raw/partially cooked egg.
Now try... replacing the chicken with these delicious variations
Bacon and avocado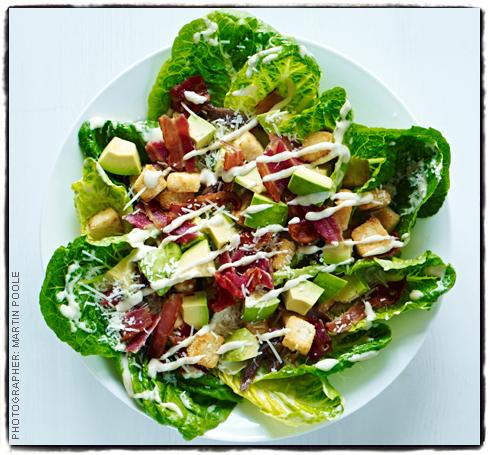 Fry 8 rashers smoked streaky bacon for 8-10 minutes until crisp, then drain on kitchen paper. Peel and de-stone one large ripe avocado, cut into large chunks and toss with a little lemon juice. Top the dressed lettuce leaves with the anchovies and avocado. Cut the bacon into strips and add to the salad. Finish with the extra dressing, croutons and parmesan.
Smoked trout and cress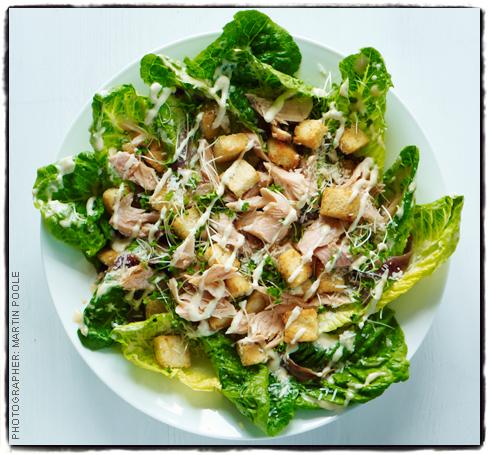 Flake 2 x 125g packs Taste the Difference lightly smoked trout over the dressed salad leaves with the anchovies, then scatter with a punnet of snipped cress and an extra squeeze of lemon juice before finishing with the extra dressing, croutons and parmesan.
About the author