Food
The new food trend - pickling
by Sarah Alcock
What better autumn lunch is there than a fresh loaf, crumbly mature cheese, some sweet chutney and a few pickled onions?
We're going back to basics: baking our own bread, flavouring our own spirits and now we're pickling, too. Pickled onions take a couple of months to mature properly so make them now and they will be ideal for munching come Christmas. They also make perfect presents for foodie friends, so dress them up by in Kilner jars and tie a little ribbon or pretty gift tags to the outside.
Sainsbury's stocks a wide range of Kilner jars and pretty labels in all shapes and sizes. Baby onions are available to buy in store until the end of November.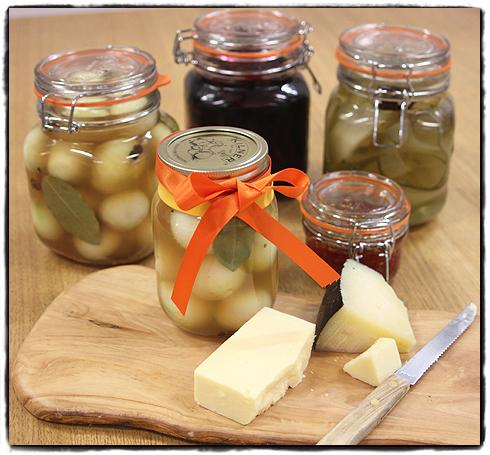 Pickled onions
Recipe taken from The Gentle Art of Preserving by Katie and Giancarlo Caldesi (Kyle Books, £25)
Brining your onions before pickling might seem like a bit of a palaver, but don't skip this step. As well as seasoning them nicely, the brine draws out moisture from the onions to keep them nice and crisp.
Makes 2 x 500g Kilner jars and 1 x 250g jar
Ingredients
1kg small pickling onions, unpeeled
100g golden caster sugar (optional)
FOR THE PICKLING BRINE:
120g salt
1 litre water
FOR THE SPICED VINEGAR:
1 litre vinegar of your choice (we used white wine vinegar, but cider vinegar would also be good, or try malt for a stronger, more 'chip shop' result)
6cm cinnamon stick
1 tsp cloves
½ tsp mace (optional)
a pinch of cayenne pepper
2 tsp allspice
1 tsp black peppercorn
1 tsp mustard seeds
2-3 bay leaves
Method
First, make the brine. Dissolve the salt in 1 litre water in a saucepan over a medium heat, stirring, then allow to cool. Meanwhile, peel the onions.
The easiest way to do this is to cut off the tops and roots (just the very tips and ends to keep them intact and prevent waste) and plunge them into a bowl of boiling water.
Set aside for 1 minute, then drain and plunge into cold water. You should now be able to peel off the skins easily along with any tough leathery layers.
Put the onions into a mixing bowl and cover them with the cold brine, weighing them down with a plate so that they are fully submerged. Set aside for 12 hours in a cold place.
Meanwhile, put the vinegar and spices in a saucepan, cover with a lid and bring to just below boiling point – do not allow it to bubble.
Remove from the heat and set aside for at least 2 hours (preferably overnight). The longer you leave it, the better the flavour.
Strain the vinegar through a sieve lined with muslin (or a brand new J-Cloth) and bottle once cold if not using immediately.
When the onions have been in the brine for 12 hours, dissolve the golden caster sugar, if using, in 800ml of the spiced, strained vinegar and set aside to cool.
Any spare vinegar can be bottled and kept in a cool, dark place for up to a year – try splashing it on chips!
Drain the onions and pat dry on kitchen paper. Pack them into sterilised jars and cover with the cold, spiced vinegar, making sure they are totally submerged.
Put on the non-reactive lids tightly and store in a cold, dark place for up to a year; leave at least a month before eating.
To make the jars look pretty and add a little more spice, put a couple of bay leaves, a few black peppercorns and either a dried red chilli or a teaspoon of mustard seeds into each jar.
Tip
Always allow 2.5cm headroom above the onions to leave plenty of space for the vinegar. Don't be tempted to squash the onions down inside the jar or they will bruise and the vinegar won't reach all the surfaces.
Don`t miss

---