Our food editor Lucy and picture editor Leanne have really embraced the new juice trend and come into work armed with bottles of colourful concoctions. They're always buzzing round the office and raving about their latest juice discovery and it's making the rest of us want to have what they're having! So how do we get started and what do we make?
Why make your own?
Leanne: 'I went to India before Christmas and wanted to cleanse my body and still get nutrients from food. The juices taste so good that it's something I don't mind doing. It's something I will do regularly and build into my diet – I'm planning to juice two days a week or once a day as a meal replacement. I found Jason Vale really inspiring – his enthusiasm for and knowledge about juice is infectious and his recipes are clever and tasty.'
Lucy: 'After a spate of colds and generally feeling run-down, I felt my immune system was in need of a boost. I started visiting a fresh juice van – 'El Jugo' – on Leather Lane near our office for my carrot, apple and ginger juice. Then I began making my own juice at the weekends and have been a juice convert ever since.'
The gear
Leanne: 'I use an Andrew James chute juicer. They are easier to clean than you think so don't let that put you off.'
Lucy: 'I use the juicing attachment for a Magimix, which is easy to fit and not too tricky to clean.'
Top tips
• You don't have to use a large proportion of cucumber or carrot in your juices – when you make blends, you only need to use a quarter or half cucumber or carrot.
• To make sure you get all the goodness from a citrus fruit, juice the whole thing. If your lemon or lime is waxed, carefully slice off the outer skin but leaving the pith on.
• When juicing leaves like spinach or kale, always sandwich them between other fruits so they juice more effectively. If you juice them separately, the leaves just fly through the machine and end up in the waste basket.
• Always use a chute juicer or a 'masticating' one. The more heat needed to push juice through the juicer, the more essential vitamins are lost.
• You should aim to drink your juice the same way you eat a meal. Savour the flavour, take your time and don't down it in one.
• Juicing broccoli is a great way to avoid wasting the stems – and it works really well.
• If you make juices in advance, always store them in the fridge or in the dark straight away. You can also freeze juices but some nutrients are lost in this process.
Two recipes to try...
Leanne's pineapple magic juice
'I made this yesterday and I was really surprised by how good it tasted.'
Makes 1 glass
¼ pineapple, peeled and cut into chunks
⅓ courgette, cut into chunks
⅓ cucumber, cut into chunks
a handful of sugar snap peas
½ lime
a large handful of baby spinach leaves
1cm fennel – or ginger, if you prefer
Push each piece of fruit or veg into the juicer to make your juice. Pour into a glass and serve straight away.
Lucy's carrot, apple and ginger juice
'Apple juice on its own is very sweet, but combining it with earthy carrot and zingy ginger produces a delicious, balanced flavour, which is sweet (but not too sweet) with a refreshing punch from the fresh ginger, to reawaken your taste buds.'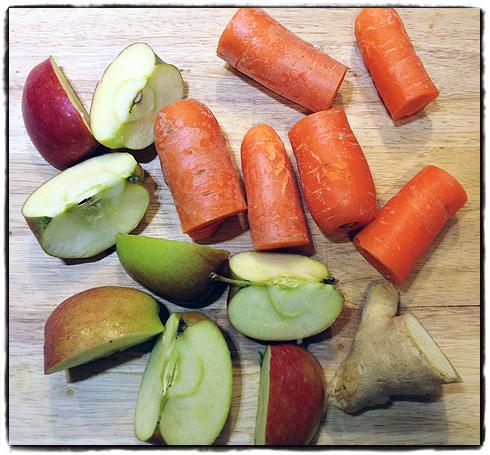 Makes 1 glass
2 large or 3 medium carrots
2 apples
a thumb-sized piece of fresh ginger
Simply wash all of the ingredients (there's no need to peel them), and chop them into chunks (small enough to feed into your juicer). Push each piece of fruit or veg into the juicer to make your juice. Pour into a glass and serve straight away.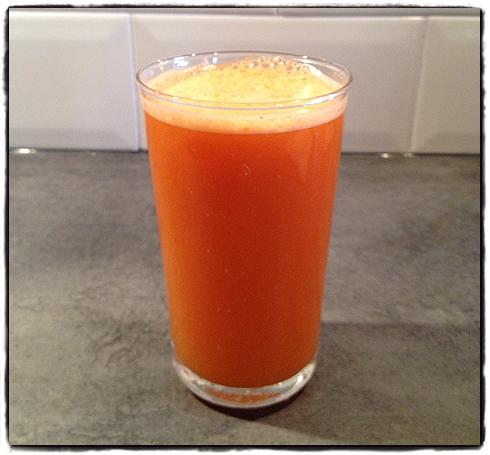 About the author