Food
The drink of 2016: vermouth
Dust off that Martini Rosso – vermouth is back and it's set to be even trendier than it was in the 1970s. We went to London tapas and vermouth bar Mele e Pere to learn a bit more about the famous Italian drink and why you're sure to see it popping up more on bar menus in 2016.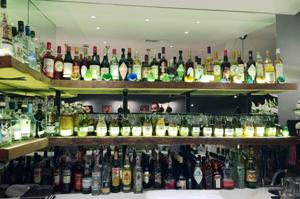 VERMOUTH IS...
• A fortified wine flavoured with botanicals. You can add any flavour to it, which can change the drink entirely. This is why one vermouth might taste completely different from another.
• There are two main types of vermouth – white/bianco and red/rosso. Both are made with white wine.
• The red colour is achieved by adding caramel.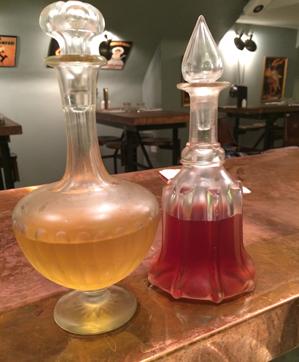 Red or white Vermouth?
IT ORIGINATED IN...
Turin, northern Italy, and has been drunk since the late 18th century. In the late 19th century it started being used in cocktails.
HOW IT'S MADE...
• White wine is heated and caramel added. For white vermouth a very light caramel is added as not much colour is wanted. For red vermouth, a much darker caramel is used.
• This is blended together with botanicals. Botanicals are made by adding ingredients such as vanilla bean, orange, chamomile, oregano, rhubarb and lemon grass to separate bottles of vodka and leaving to infuse for a couple of days.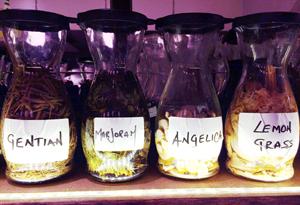 Bottles of botanicals
BOTANICALS FLAVOURS:
• The drink gets its name from a historical botanical added to wine – wormwood (a strong-smelling and bitter-tasting herb). The German word for wormwood is wermut pronounced vermoot.
• For white vermouth you can add light herbs such as dill and lemon thyme.
• For red vermouth, rhubarb, sage and juniper work best.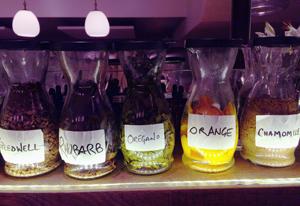 and more botanicals....
THE WINE BASE:
You start with a neutral, simple wine, because all the flavour comes from the botanicals. Mele e Pere use a Soave, which is a nice crisp, dry wine.
IT'S BEST DRUNK...
• White vermouth is traditionally an aperitif, meaning before a meal. It can be served on ice with a wedge of lime.
• Red is best served after dinner as a digestif.
• At Christmas it can be mulled with cinnamon, star anise, bay leaves, cloves and juniper.
WHAT COCKTAILS ARE MADE WITH VERMOUTH?
• Negroni – one part gin, one part vermouth, one part bitters. The traditional bitters used is Campari, the most common vermouth used is Martini Rosso and any kind of gin.
• Martini – gin, dry vermouth and an olive to garnish.
• Manhattan – whiskey, sweet vermouth, Angostura bitters. And don't forget a slice of lemon and a cherry.
• Mele e Pere's signature cocktail is called Down The Apples. It's made with their homemade white vermouth, a bit of apple juice, some apple liquor and pear liquor.
CAN YOU COOK WITH IT?
The guys at Mele e Pere add it to ice cream and sorbets, but it can be used in place of white wine in cooking. Try it in sauce for pork chops...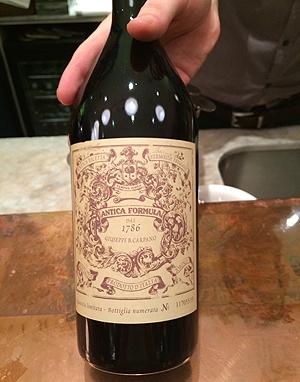 Antica Formula Vermouth
GOOD VERMOUTH TO TRY?
Mele e Pere like Attica Formula, which is sweet to the taste with hints of prune. They also like Punt e mes, which is much more bitter.
Mele e Pere run masterclasses for up to 10 people. You can construct your own cocktails and make your own vermouth flavours.
About the author