Food
Thai curry masterclass
Thai curry is up there with chicken tikka as one of our favourite restaurant dishes to recreate at home – but how can you make it as good as the real thing? Yesterday I spent the afternoon with the executive chef from Busaba Eathai, Krit Sangsida – known as Jude – to find out.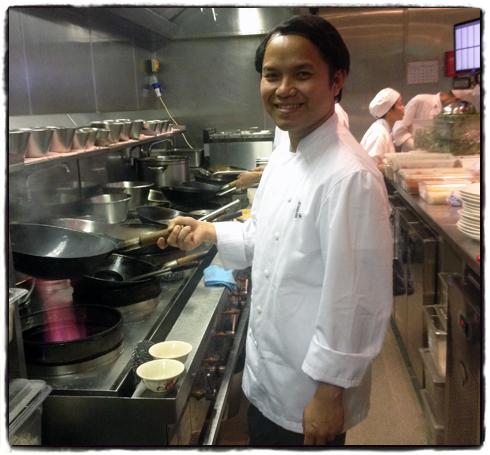 Getting started
Aim for a balance between all the flavours in the curry. They are...
Hot and spicy: From chillies, pastes and spices.
Saltiness: From Thai fish sauce or a pinch of salt.
Sourness: From tamarind or, more unusually, Thai white vinegar.
Aromatic notes: From the addition of fresh herbs such as coriander.
Know your Thai curries
Acquaint yourself with the different ingredients that make them up...
Green: The paste is made with green chillies.
Red: Hotter than green and the paste is made with red chillies.
Jungle: Uses red curry paste but no coconut milk. Why? Well, traditionally this is the curry paste that hunters would take into the jungle to flavour meat or vegetables as they found them – so coconut milk wasn't a viable addition. It's a lighter dish – think spicy broth rather than creamy curry. Read on for our recipe.
Gari: Curry powder and turmeric are added to make this a yellow curry.
Massaman: A stronger spice flavour and a richer curry than the others. According to Jude, this is the hardest curry to get right in terms of balancing the spices and other flavours.
Jude's top five tips
1. Eat your curry with jasmine rice or roti.
2. Serve the curry with a few other simple Thai dishes – maybe a salad and a stir-fry – and put all the bowls in the middle of the table. Eating the Thai way is all about sharing; it's considered good manners.
3. Test your recipe for heat. Jude explains that in Thailand, the dishes served at Busaba would much hotter – and, believe me, he isn't shy with the chillies!
4. Need specialist ingredients? Jude recommends New Loon Moon in London's Chinatown for fresh items and SeeWoo, which has branches in London and Glasgow, for dried.
5. Want to avoid 'chilli hands'? When you have finished chopping, rub your hands with salt, then wash them with soapy water and run the cut side of a lime over them.
Jude and Sarah's jungle curry
Toast 2 tablespoons each of coriander seeds and cumin seeds in a wok for about 45 seconds until they smell fragrant (nutty), then grind them in a pestle and mortar.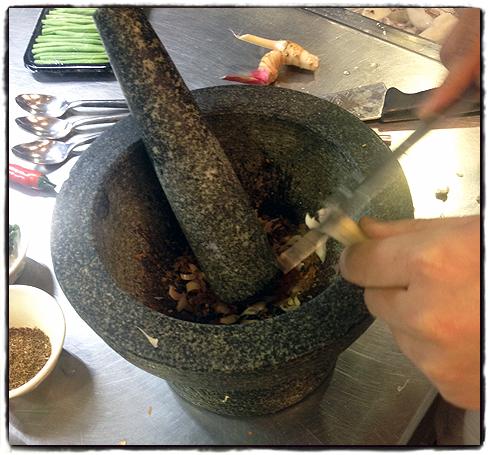 Add a little piece of wild ginger (grachai) and a pinch of salt (you can add a little lemongrass, too) and grind that in, followed by a whole red bird eye chilli and a few shavings of galangal.
Next, add 2-3 tablespoons of Thai red curry paste and a pinch of salt. Grind that into the other ingredients.
Now heat 200-300ml chicken stock in a sauté pan, add 2 tablespoons Thai fish sauce and small slices of butternut squash. Simmer until tender.
Add a handful of pea aubergines, a chopped Thai aubergine, a scattering of fresh green peppercorns, a sliced red chilli and a handful of green beans. Simmer all the vegetables until tender – about 5 minutes.
Finally, add small slices of griddled chicken (or you can poach the chicken in the liquid until cooked through) – and the curry is ready!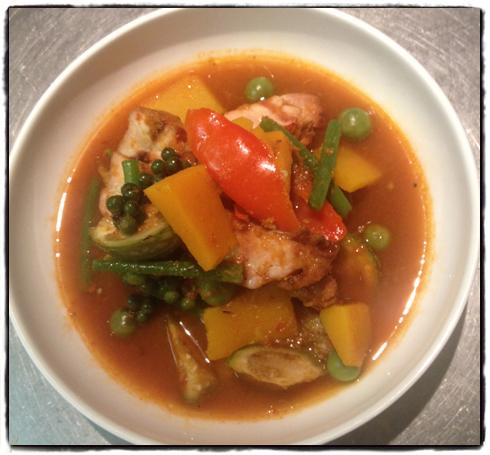 About the author