From secret tarts to Michelin dining, discover our five foodie must-dos when visiting Europe's westernmost capital
Find fresh fish
Lisbon is nestled next to the sea, meaning it's a winner for fresh seafood fans. Head to the city's biggest food market – the bustling Mercado da Ribeira – to stock up on the catch of the day. Built at the end of the 19th century and topped by an imposing Moorish-style dome, here you'll find a bountiful collection of cuttlefish, clams, Moray eels and sea bass to get stuck in to at super-cheap prices. Eating out, or grabbing a snack on the go? You'll find bacalhau – dried salted cod – on most menus.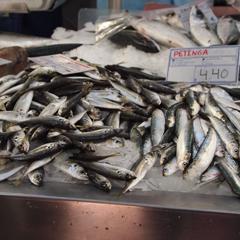 Fish freshly plucked from the Atlantic Sea
Track down the city's secret tart
When in town DO NOT miss out on Pastéis de Belém! These custard tarts are similar to the pastel de nata found across Portugal, but made at a bakery in the Belém area to a fiercely guarded recipe. The bakery produces around 20,000 every day – each pastry case effortlessly pressed out by hand in seconds before being filled with custard, baked and served warm with strong coffee. Top tip: always buy two – it will save you from inevitably having to queue up again.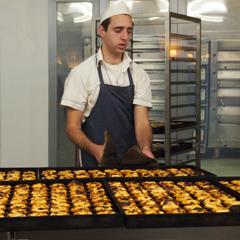 Custard tart heaven
Eat Portuguese Christmas cake
If your enthusiasm for the sweet stuff in life knows no bounds, a visit to the Confeitaria Nacional is a must. This Lisbon institution, founded in 1829, serves the finest Portuguese cakes and pastries. You have to sample the bolo rei – similar to a French galette, this fruity nutty sweet treat was traditionally a Christmas dessert, but became so popular that it's now eaten practically all year round by Lisboners. Merry Crimbo!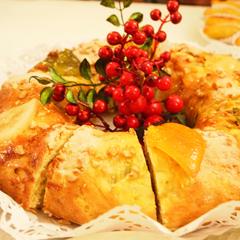 Enjoy a festive slice of bolo rei
Try fine dining, Lisbon-style
It's not all rustic homely fare in Lisbon – a new wave of ambitious young chefs are pushing the boundaries of Portuguese cuisine. Try one of the city's most talked-about restaurants, the exclusive Belcanto. Hidden away down a quiet street, Michelin-starred chef José Avillez runs his kitchen with the help of 22 highly trained chefs and produces award-winning dishes inspired by local produce. Or Feitoria, led by João Rodrigues, which is equally impressive and elevates simple dishes to Michelin-star quality with a few special tricks.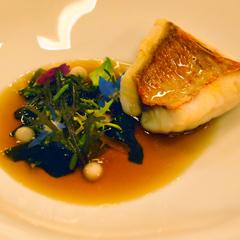 Red mullet and samphire
Learn to cook
After sampling the city's cuisine, you'll want to take it away with you. Learn how to make authentic Portuguese grub at a Kiss The Cook workshop. From a hearty caldeirada – Portuguese fish stew – to feijoada with shredded pork, learn the tips and trick and bring the recipes back home with you.
Hearty, healthy Portuguese fish stew
About the author