Food
Taking Orders... The Notting Gill Chippy
If you find yourself in West London, pop in to pop-up Notting Gill Chippy for some proper fish and chips.
What is it?
The return of the pop-up chippy from Kensington Place restaurant. Here for March and April from Tuesday to Saturday for lunch and dinner. The menu is a mix of the classics from family trips to the seaside and modern, spicy twists.
Where is it?
A two-minute walk from Notting Hill Gate tube station and just next door to Kensington Place restaurant. I was so full when I left that I walked all the way to Oxford Street; an absolute necessity.
Who would love it?
It's hard to find really good chippies in London, so this is ideal for city dwellers who love good fish, chips and mushy peas. The menu has all the classics, but for those inclined to go off piste, you can choose curried batter with mango chutney or, straying even more from the safety of battered haddock, there's king prawn scampi and mackerel sliders! Notherners, never fear, curry sauce is replaced with curried lentil dahl; the perfect chip dunk accompaniment.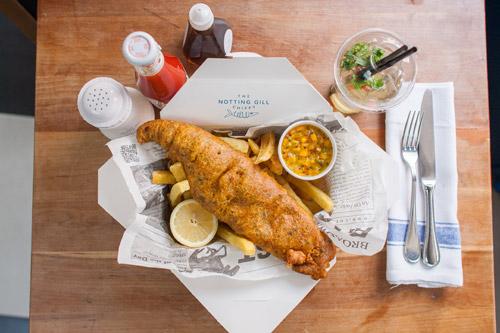 Fish and chips with all the trimmings
What's the signature dish?
Curried battered fish with mango chutney – I actually preferred this to the classic, and I am a fish and chip fiend! But don't forget the smoked bacon and apple Scotch egg – smoky, meaty and nice to have something not battered.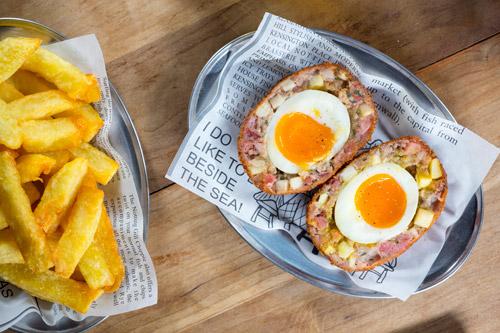 Who doesn't love a meaty Scotch egg?
The dish we would order again?
I'm still thinking about those mushy peas...
Our favourite dessert?
Well there is only one – pineapple fritters with vanilla ice cream. They're like sweet, crispy fruit doughnuts. One is enough between two!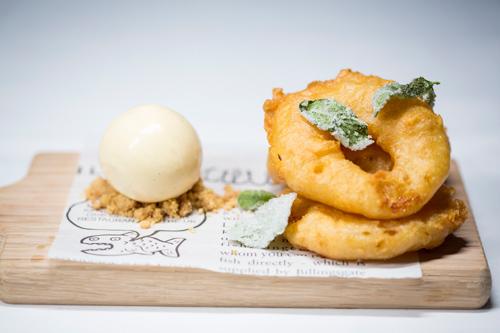 Fruity fritters to round off your fish and chips!
Next time we would try...
I would definitely like to try another mackerel slider. I scoffed mine in the first minute of eating so I feel the need to revisit.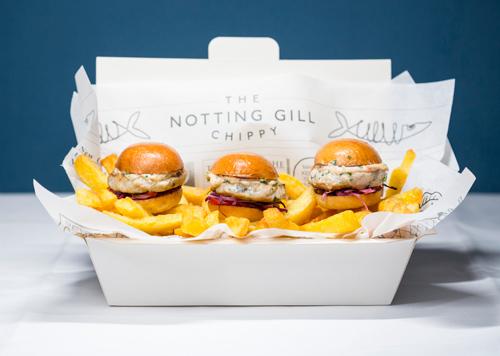 Could these mini mackerel sliders be any cuter?
About the author