Food
Taking orders... Tapas 37
Think tapas, think Spain. But head chef Matt Laville has other ideas with his French-inspired sharing plates...
What is it?
French tapas. So hold the sangria and pass the Chardonnay. Yes, it might seem like a bizarre collision of cultures, but actually it's the best of both worlds. Head chef Matt has an impressive CV: Pollen Street Social, Maze, Claridge's... He was even Victoria Beckham's private chef – and yes, she does mostly eat steamed vegetables.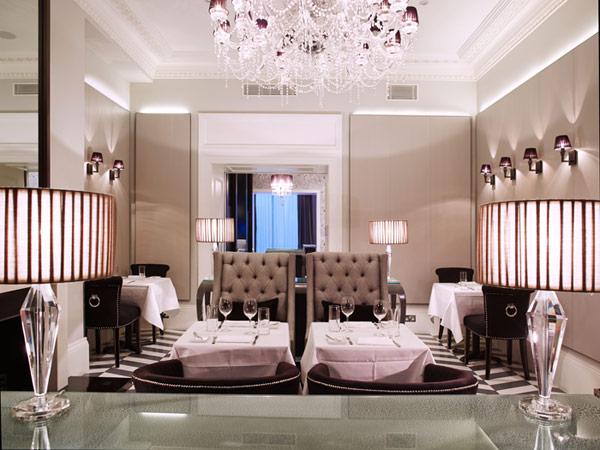 Stylish yet classic, and pretty in pink!
Where is it?
Eccleston Square Hotel – a short walk away and approximately equidistant from Sloane Square, Victoria and Pimlico tube stations. The hotel is a fusion of old meets new, boasting Swedish handmade massaging beds (apparently retailing at £12,000 each) and 46-inch high-definition TVs, all inside a stucco-fronted, grade II-listed Georgian building. The dining room is characterised by high ceilings, glass chandeliers and modern furniture. It is small and seats about 25.
Who would love it?
Anyone who'd rather have several plates of food instead of one, or those who suffer from severe bouts of food envy (ie you always want what someone else has ordered), as the idea is to share. With this menu you can play it safe with dishes such as baked Camembert with crostini (£7.50) and poussin with truffle mash (£12.50), or go for something much more adventurous...
What's the signature dish?
Gratin de coquille St Jacques (£10.50) – queen scallops baked in a béchamel sauce and topped off with samphire. Or deconstructed boeuf bourguignon (£13.50), meltingly soft and inexcusably rich, adorned with bone marrow breadcrumbs.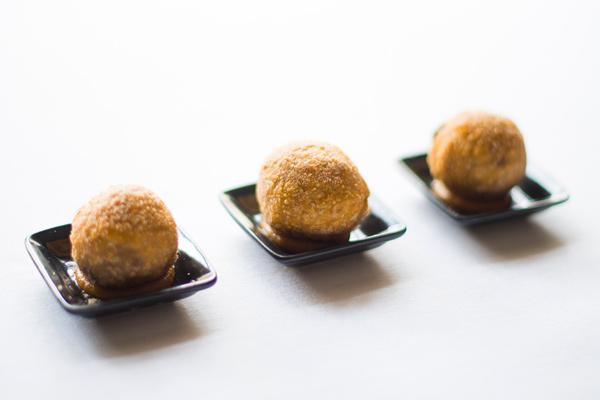 Oxtail doughnut, anyone?
The dish we would order again?
Oxtail beignet (£9.50). The oxtail is marinated in red wine and port for 24 hours, braised, then rolled in doughnut dough before it's steamed and sprinkled with cinnamon sugar. It hits every taste receptor you've got, including umami – that's in the miso dressing.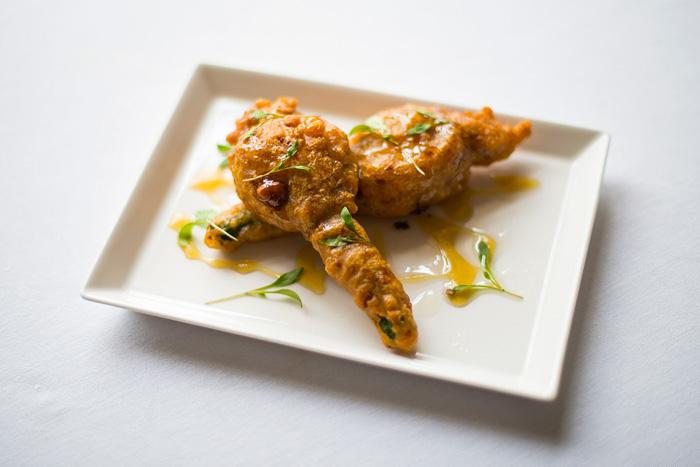 Beautiful crispy courgette flower
Crispy stuffed courgette flower with truffle honey (£6.50) is a similar triumph in taste and texture, while the 'tinned' sardines (£8.50) wouldn't be out of place on the Great British Menu.
Our favourite dessert?
A generous apple tarte tatin for two to share (£8.50). Golden caramel and soft-yet-firm apple – even Raymond Blanc would struggle to find anything to criticise here.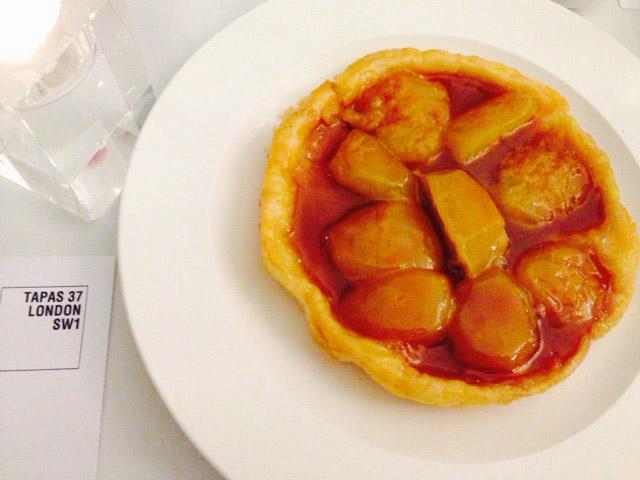 Who doesn't love an apple tarte tatin?
Next time we would try...
The cod brandade fritters (£6.50). But if we could just have the same all over again and flop on one of those beds, we'd be very happy indeed.
Tapas 37, 37 Eccleston Square, London
SW1V 1PB
T: 020 3503 0750
Menu
@esquarehotel
By Isobel King
About the author