Food
Taking orders… Smoking Goat
Join the queue of bearded hipsters outside this cool, shabby-chic new restaurant on the edge of Soho in London, and you'll soon be tucking into the freshest-tasting Thai food without a gloopy pad Thai in sight.
What is it?
A brand-new approach to Thai cooking. There's a smoky barbecue set up in the small courtyard that lies in the centre of the restaurant, a funky bar serving moreish mojitos and a small menu packed with meaty, mighty food.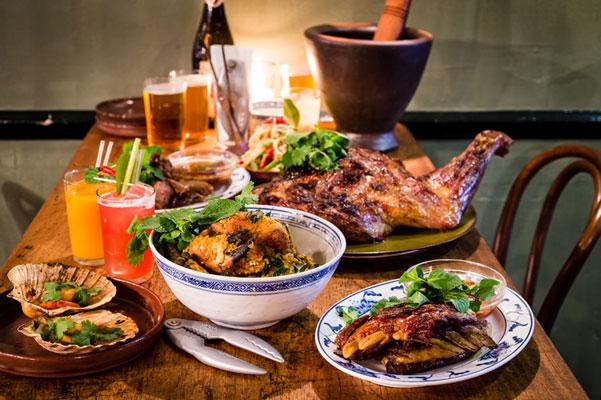 Mojitos and a meat feast - sounds good to us!
Where is it?
Slap bang in the middle of Tin Pan Alley (Denmark Street), snuggled between guitar shops galore.
Who would love it?
The young and the young at heart. The music is loud, the service warm and friendly, and the clientele are happy to squash up on wooden seats with cutlery in pots and paper napkins.
Best starter on the menu?
Sorry, the menu doesn't work that way. It's split into sections such as 'sea', 'wood', 'smoke' and 'extras', and the food arrives when it's ready for everyone on the table to share.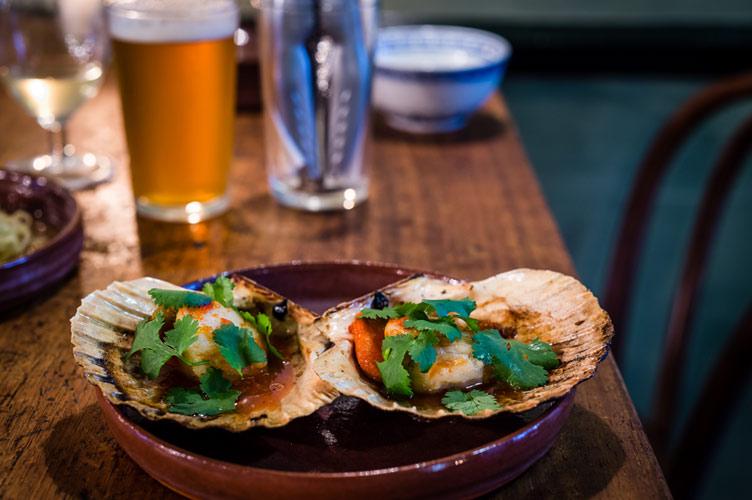 Beautiful, fresh coal roast scallops
We kicked off with...
An order of crisp pork belly and pickled watermelon, a foodie bargain at
£6. There were chunks of fatty, flavoursome pork tossed with cubes of pink watermelon and garnished with fresh herbs. Even better were the coal roast scallops red nahm yum, another bargain at £3.50 each.
Followed by...
Barbecue-aged shortrib Mussaman and pickles, £18. Heaps of sliced tender beef just off the grill on a bed of pickled veg. That night's special, wild hare green curry, was meaty, rich and delicious. Balls of sticky white rice served in small plastic bags and a tongue-tingling spicy cucumber salad made up a simple but sensational salad.
Would you try their signature dish - a shoulder of smoked goat?
Next time we would try...
The eponymous smoked goat; a huge shoulder sprinkled with Thai herbs, £34, brought to the table on a platter, all dark and crusty on the outside but rich and tender within. The perfect sharing food.
About the author