Food
Taking orders – River Cottage Canteen, Bristol
Bristol is an incredible city for foodies. I spent one day last week trying to eat as much as humanly possible but I only scratched the surface of this amazing city. I made it to Hart's bakery under the arch at Temple Meads station (those cheese and mustard whirls, phwoar), Ahh Toots (the most incredible cake stall at St Nicholas market), Spicer and Cole (cute cafe for lunch near Queen Square) and next time I'm booking into Romy's Kitchen for an Indian feast. For dinner, I was lucky enough to get a table at the River Cottage Canteen to celebrate their third birthday. Here's what I ate:
What is it?
There are four River Cottage Canteens in the South West, each showcasing simply-cooked local, organic and seasonal produce. You can book in for lunch, dinner, cocktails or coffee. The team also host regular nights with live music, guest chefs and speakers. The night I visited they had designed a special menu for their third birthday party, prepared by head chef Charlie, his brother Phil and their team.
Where is it?
In a grade two listed church in the Clifton area of Bristol. If you're walking to it from the city centre, as I did, you'll have earned your dinner by the time you get to the top of Park Street – it's a pretty steep hill...
Who would love it?
Anyone who has watched River Cottage on TV and thought, 'I wish I could eat that amazing food'. Well, now you can! It is the perfect way to eat seasonal ingredients in a really relaxed setting.
What's the signature dish?
The menu changes all the time depending on what is in season, but I loved the nettle soup with Dorset truffle oil and cider raisins – proper West Country grub!
The dish we would order again?
The meat option for the main course was Pipers Farm Saddle back pork loin and shoulder "Donnie brasco", roast rhubarb, celeriac and apple remoulade. I loved the tart rhubarb paired with the sweet apple remoulade and the extra crunchy crackling. If something similar was on the menu next time, I would choose it in a flash.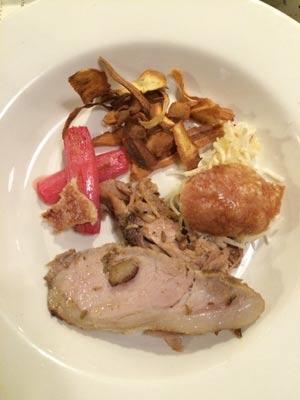 (Incredibly delicious pork loin)
Our favourite dessert
There was only one dessert on the menu for the birthday party – rhubarb fumble; the perfect fool/crumble hybrid. Delicious stewed rhubarb + creamy sweet fool + crunchy topping = why didn't we think of this combination?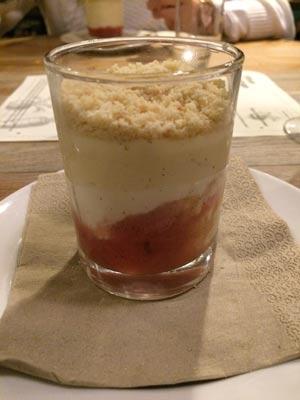 (The fruit frumble)
Next time we would try...
I opted for the meat options this time, but I loved the veggie carrot hummus and dukkah on beer crackers and the amazing cheese board with Wookey Hole cheddar, so next time I would opt for the veggie main. The grilled polenta with New Forest mushroom ragu, Dorset truffle oil, watercress and curds sounds amazing. Book me in again, please!
(The veggie options are incredible too!)
About the author