Food
Taking orders... L'Anima
This sleek, modern Italian restaurant would feel right at home in Milan, but chef Antonio (Lello) Favuzzi's menu reflects the delicious home-cooked food of his Sardinian heritage that befits the restaurant's name, which means 'soul' in Italian.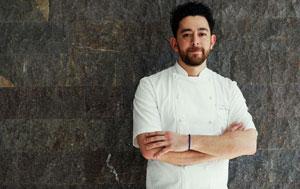 Chef Antonio Favuzzi
What is it?
An award-winning restaurant and bar that was designed by famed architect Claudio Silvestrin – it's all glass, concrete and off-white leather, but don't let that put you off! The restaurant is supremely comfortable, warm and friendly. On the night we visited, the clientele included romantic couples, tables of work colleagues and international bankers.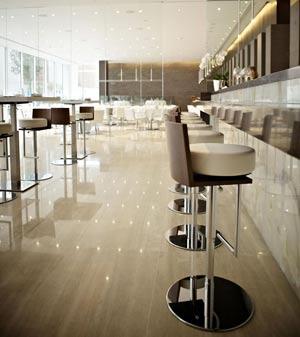 The award-winning restaurant
Where is it?
On Snowden Street, a tiny pedestrianised walkway tucked behind Liverpool Street Station.
Who would love it?
Anyone who loves Italian food cooked beautifully. This is not a place for tucking your napkin in bib-style and gorging on huge bowls of Bolognese. The portions are elegantly generous and celebrate seasonal ingredients.
Best starter on the menu?
That would be a toss-up between a dainty plate of raw tuna, served with a smear of avocado and mango puree, £16, or the tender octopus with smoked aubergine and ricotta mustia, £16.50.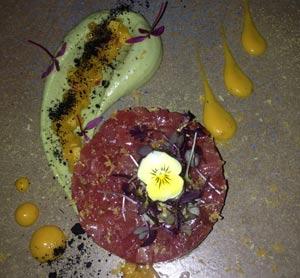 Raw tuna
The main course we would order again?
The beetroot tortelli with smoked burrata, ricotta and aged balsamic vinegar, £19.50, every time! Plump purple parcels stuffed with soft cheese – what's not to love? However, the marinated black cod in Prosecco and paprika, £35, was also a thing of beauty with its rich, russet hue and slices of crisp fried beetroot. Richer and more filling was the pork cheeks with celeriac mash, £21.50.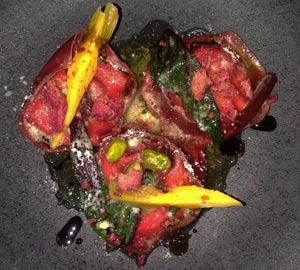 Beetroot tortelli
Our favourite dessert?
That's got to be the Sardinian seadas, £8.50 – a disc of pastry stuffed with soft cheese and shallow-fried, served with salted caramel ice cream and caramelised orange. Mmmm...
Next time we would try...
Butter and sage veal calf liver with pancetta and figs, £19.50 – perfect autumn fare.
Main photo of pigs cheeks is by Jodi Hinds
About the author