Food
Take one...tin of lentils
Serves: 2
We're all trying to save money this month here at Sainsbury's mag HQ, which has prompted a burst of enthusiasm for homemade lunches.
There've been hearty soups, salads and a host of wraps and baps, but now that we've reached mid Jan, we need a little more inspiration. Jenna, our cookery intern, has come to the rescue with three simple recipes that you can whip up the night before – guaranteed to make you the envy of your workplace. All recipes serve 2.
What do you make for lunch? Tell us in the comments box below – we're always looking for inspiration!
Take one tin of green lentils and make...
Lentil, chicken and beetroot salad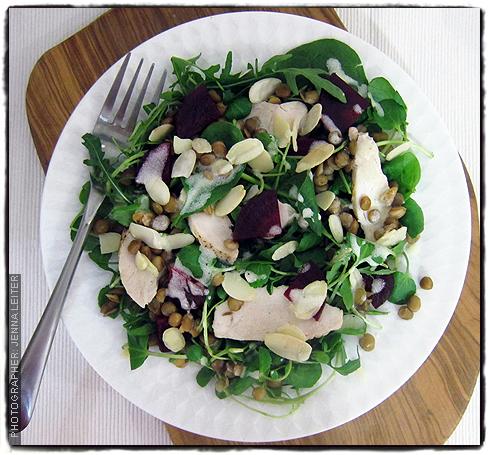 1. In a bowl, combine 1 x 160g pack chargrilled cooked chicken slices, 1 x 200g pack Taste the Difference beetroot, sliced and quartered, 1 x 410g tin green lentils, drained and rinsed, 1 x 200g pack Italian-style salad and 2 handfuls of flaked almonds. Transfer to a plastic container and chill.
2. In a separate small sealable pot, whisk together 1 tbsp lemon juice, 1 tsp mustard (whichever is your favourite), 3 tbsp olive oil and 1 tbsp crème fraîche; chill. Take to work with the salad to toss together before eating.
OR
Lentils with butternut squash, sweet potato and spinach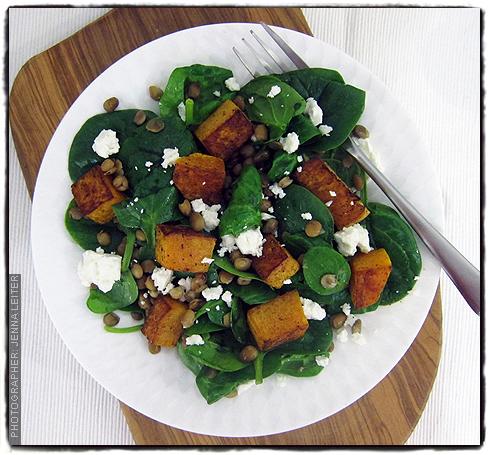 1. Preheat the oven to 220°C, fan 200°C, gas 7. Toss 1 x 300g pack prepared butternut squash and sweet potato with 1 tbsp oil, ½ tsp of cumin and a generous pinch of salt. Arrange in a single layer on a baking sheet and roast for 15-20 minutes until tender, turning halfway; cool.
2. Once cooled, combine the roast squash and potato with 1 x 410g tin green lentils, drained, 1 tbsp red or white wine vinegar, 1 x 100g pack young-leaf spinach, 100g crumbled feta, and 4 tbsp toasted pumpkin seeds. Season to taste. Tip into a plastic container; chill.
OR
Lentil soup with pancetta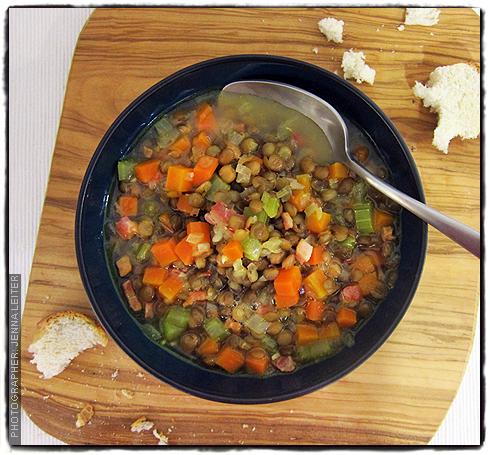 1. Fry 100g cubed pancetta in a medium pan until crisp. Remove from the pan with a slotted spoon.
2. Add 1 small onion, diced, 1 small carrot, diced, and 1 stick of celery, diced, to the pan and fry for 5 minutes, stirring frequently.
3. Add 1 small garlic clove, finely chopped, and fry for a further minute.
4. Pour in 500ml chicken stock, bring to the boil, then simmer gently, uncovered, for 5 minutes. Add 1 x 410g tin green lentils, drained, and simmer for a few minutes more, adding extra stock or water if the soup seems too thick.
5. Return the pancetta to the pan, season the soup with a pinch of dried chilli flakes, salt and pepper, to taste. Cool, then pour the soup into a plastic container; chill. Heat in the office microwave before tucking in. Take a couple of slices of bread with you too if you need extra sustenance.
About the author