Food
Syrian food from cookbook authors Itab Azzam and Dina Mousawi
Syrian TV producer Itab Azzam and British-Iraqi actress Dina worked together on a theatre project with Syrian refugees and bonded over a love of food. They began collecting recipes and stories from the people they met, and turned them into a new cookbook, Syria: Recipes from Home, out now.
Don't miss the delicious recipes from Itab and Dina: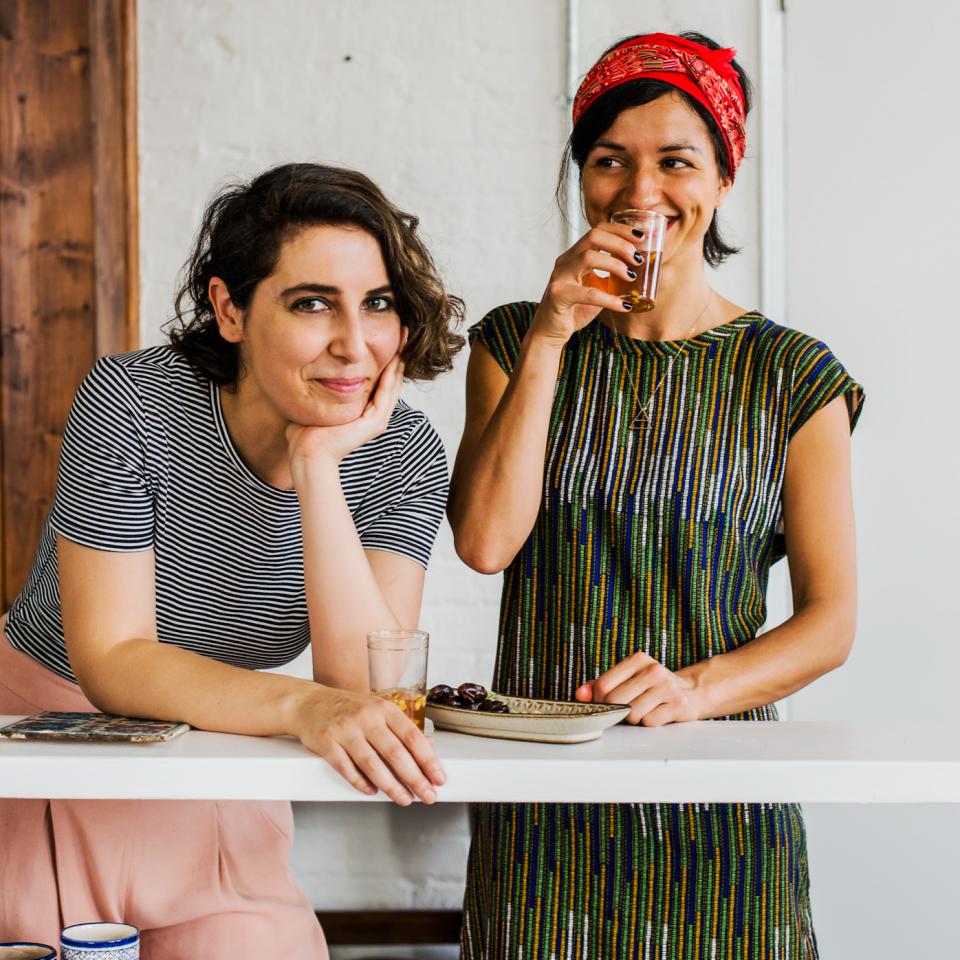 What's your earliest food memory?
Itab: Toasting za'atar and labneh flatbread sandwiches with my brother on heaters in the middle of the room. We would have them for dinner with a sweetened cup of black tea. It's extremely strange to me that za'atar and labneh are now fashionable in the UK. For us, they're everyday foods.
Dina: I remember sitting with a bowl of okra stew at home in Baghdad, and looking for the garlic cloves in it – the 'white lumps' which were my favourite. I must've been about 6. The garlic was really soft as it had been stewed for a really long time, and it used to melt in my mouth.
Who taught each of you to cook?
Itab: My mum and my aunt. When I moved to the UK in 2011 I missed Syrian food and I would What's App my mum or aunt for recipes. In Syria recipes are passed down; we never had a recipe book in the house.
Dina: My older sister Nadya, who now runs a cafe in London called Mouse & de Lotz. We moved to the UK when I was eight, but I didn't learn to cook until I was 19 and lived in Australia for a year. I wrote to Nadya asking her to send me recipes. She sent letters with recipes for very simple Arabic dishes, staples like 'red rice', but also things like stir-fries. She'd even draw pictures of the shape I should cut the vegetables in.
What dish reminds you most of home?
Itab: It's not a dish, but for me labneh [thickened yogurt] is the definition of home. It's very important to Syrian cuisine.
Dina: Stuffed vine leaves. In Iraq they're called dolma. In Syria they're called yalanji. They're stuffed with rice, but in Iraqi we stuff them with onions as well. Really delicious. There are a lot of similarities between Iraqi and Syrian food.
How did the cookbook come about?
Dina: Itab and I first met in 2014, and bonded over our love of food. In autumn 2014 we worked on a theatre project in Beirut with Syrian women. They would invite us into their homes in the refugee camps and cook us lunch. They had tiny kitchens, but they would cook us these incredible feasts. Syrians are wonderful hosts. We started asking 'how did you make this? 'what did you put in this?' and they would teach us. That's when we decided to make a book.
What do you hope readers will learn about Syria and its food?
Dina: We wanted it to be a celebration of food from a fantastic culture. Not all the stories are sad, there's a lot of inspiring stories in there too. For us, the most important thing is that it's not seen as a tragic war book, but a celebration of great recipes and stories.
What are the key characteristics of Syrian food?
Itab: Lots of fresh ingredients, lemon and garlic. Syrian food is not completely alien to British cooks because you're already familiar with Lebanese and Middle Eastern food in general. There's nothing fancy or weird about it, apart from a few ingredients that may be less familiar like freekeh and jute leaves.
Dina: There are always millions of dishes on the table. We usually enjoy different types of foods – pickles, yogurts, salads, a plate of spring onions or cucumbers.
Itab: Even if it's just for the family, breakfast will be five or six dishes: eggs, olives, za'atar, labneh, tomatoes and herbs.
What's your favourite recipe in the book?
Itab: Chicken in a hot turmeric yogurt sauce, with caramelised onions and bulgur wheat. It's a traditional dish from my part of Syria, the Hauran region near the border with Jordan. It's a big occasion dish. We'd eat it for weddings or engagement parties.
Dina: Mine is a really simple one – halloumi and thyme salad. So good.
How did you choose the recipes in the book?
Itab: Some are our family recipes, but most are from Syrian people that we met. We took recipes from a mix of a few different women and then brought them together in our own version – the best bits of each one.
Dina: But we were quite strict on sticking to the traditional Syrian dishes. We didn't just make up our own recipes and go 'ooh let's put a bit of that in'.
Who inspires you in the UK food scene?
Itab: Jamie Oliver. I think he's great – everything he does, his message and the way he helps other people. Although the other day he made kibbeh [baked meat patties] on TV and I didn't approve of it…
Dina: I love Hemsley and Hemsley.
Syria: Recipes From Home (£25, Trapeze) is out in May 2017.
The authors have donated part of their advance for this book to the Hands Up Foundation (handsupfoundation.org). Hands Up is an innovative charity that was set up by four British friends. United by a sense of sadness at the unfolding crisis in Syria and inspired by their time in Damascus, they wanted to remind their friends in Syria that they had not been forgotten. Now a UK registered charity, Hands Up raises money and awareness through creative fundraising initiatives in the UK, including the Syrian Supper Club, MarmalAid and Singing for Syrians.
With their partner organisations working in and around Syria they identify projects that will have maximum impact for those in need. Where possible this work is inside Syria and run by Syrians. To date Hands Up has supported the salaries of medical staff and a prosthetic limb clinic.
The aid is direct and designed to support Syrians who will one day have the chance to rebuild their country.
About the author