Food
Summertime menu at Wagamama
by Emma Franklin
Everyone's got a favourite Wagamama dish, haven't they? Katsu curry, chicken udon or pork ramen? Maybe it's time to try something new...
The trusty Japanese restaurant is now offering a summer menu, which means... new choices! Argh! We sent assistant food editor Emma (fave dish: ginger chicken udon) to test their summer offerings, so you can try a new dish without wishing you'd just stuck with your trusty katsu.
NOT STARTERS, BUT SMALLER BITES...
From the smaller bites section (remember this is Wagamama, they don't do 'starters' and 'mains'), I loved the grilled pork bulgogi wraps. Bulgogi is a Korean dish usually made with beef, but in this incarnation it's slices of pork belly with a drizzle of salty-sweet barbecue glaze with bean sprouts, pickled red onions and lettuce leaves, so you build your own wrap before you tuck in, DIY food being so very 'now'. Those attempting to do so with chopsticks earn extra points for style.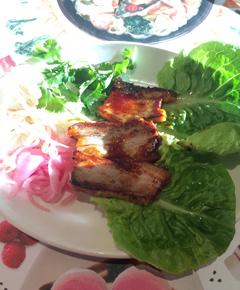 DIY dining
SUMMER CALLS FOR SALAD...
If the weather's warm enough to convince you that you'd rather have lettuce than rice or noodles, go for one of the new big salads. Seafood lovers can luxe out on the 'lobster super salad', which comes with a Vietnamese-style nuoc cham dressing (and slightly too-cold shellfish, but I'm quibbling) – but my pick, for those who like a bit of fire, was the warm chicken salad, which has a punchy chilli dressing and a hefty scattering of fresh red chilli and toasted cashews throughout.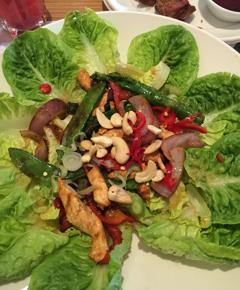 Chillies galore
THE CASE OF THE CURIOUS PUD
Desserts aren't what springs to mind when I think of Japanese food (after a huge bowl of ramen broth, who has space for a slab of chocolate cake?), but I took a punt on the curiously named 'mochi ice cream'. The mochi bit refers to the outer casing of the dessert, which is made from pounded-up sticky rice and – provided you love the texture of gummy sweets – is much, much tastier than I've just made it sound. A plate of 'mix it up mochi' has three flavours – coconut, toasted sesame and raspberry – of which the left-field winner was the sesame, deliciously different!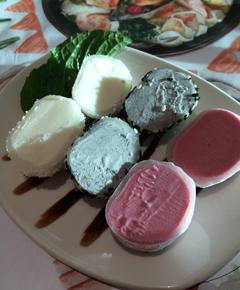 Don`t miss

---