Food
SPONSORED: California Walnuts – a heart-healthy food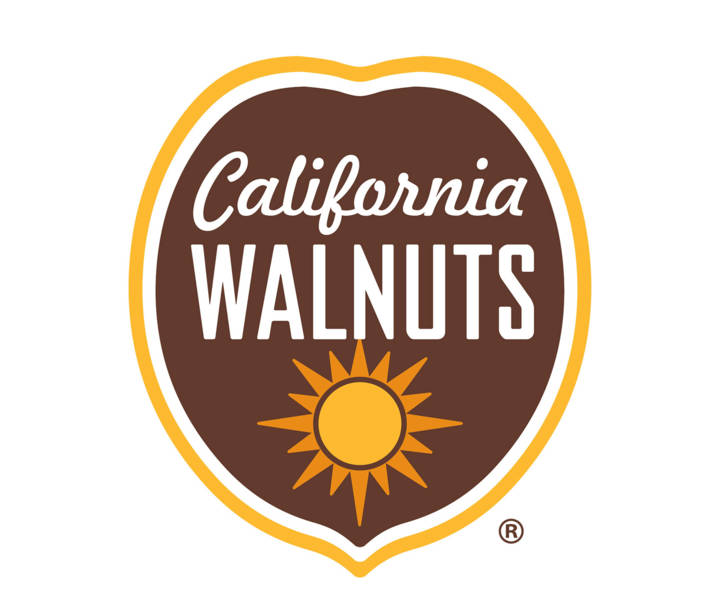 California Walnuts
Incredibly versatile in so many recipes...
The mild and creamy flavour of California Walnuts makes them an incredibly versatile ingredient that can be enjoyed in a host of recipes throughout the day. They're great for adding crunch, sweetness, colour and texture to so many dishes, whether it's as a delicious topping for cereal or yogurt at breakfast, a light snack on the go, or a delicious dinner (you'll find some tasty ideas below).
They're also nutritious. California Walnuts have the HEART UK heart-healthy seal of approval, and walnuts are the only tree nut to contain a rich source of the plant-based omega-3 alpha-linolenic acid (ALA) (2.7g per 30g*), which our body can't produce. One 30g handful also offers 4.4g of protein and 1.4g of fibre, making a simple, tasty and convenient way to add important nutrients to our diet.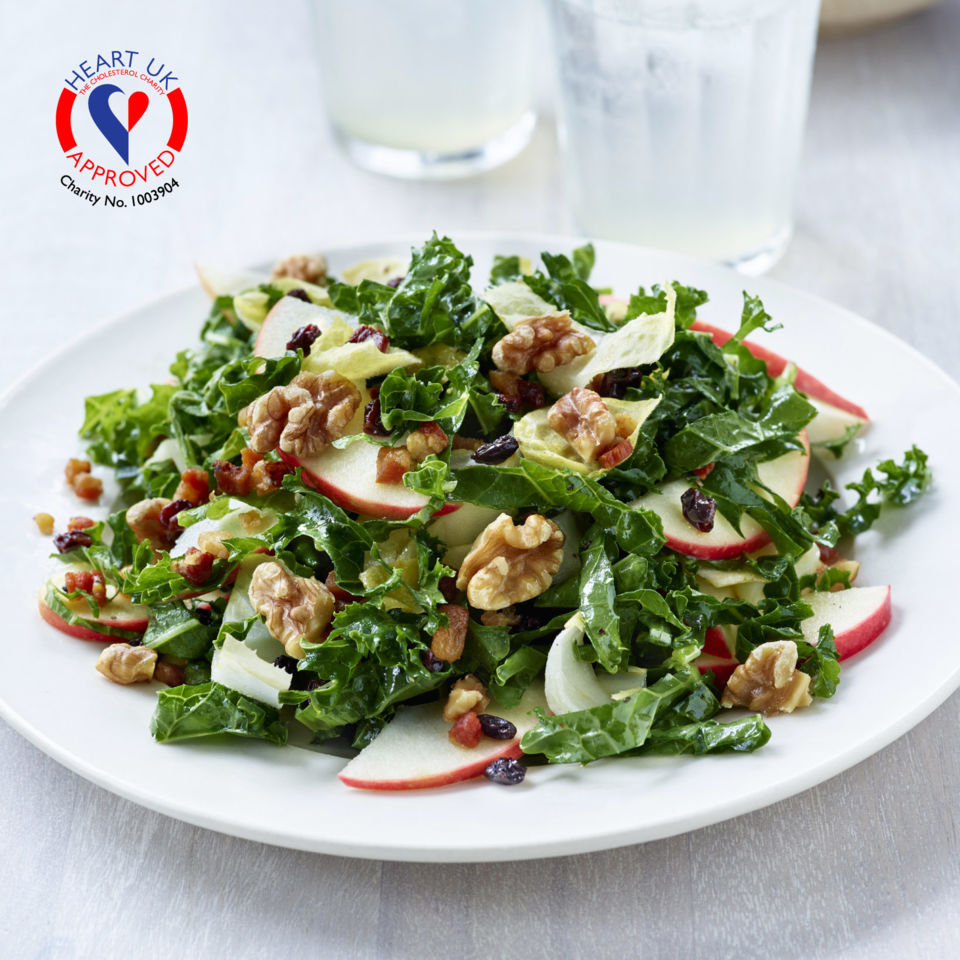 To keep your walnuts at their best, simply store them in their original packaging or an air-tight container in the fridge (2°C-5°C) for up to six months, or in the freezer for up to 12 months.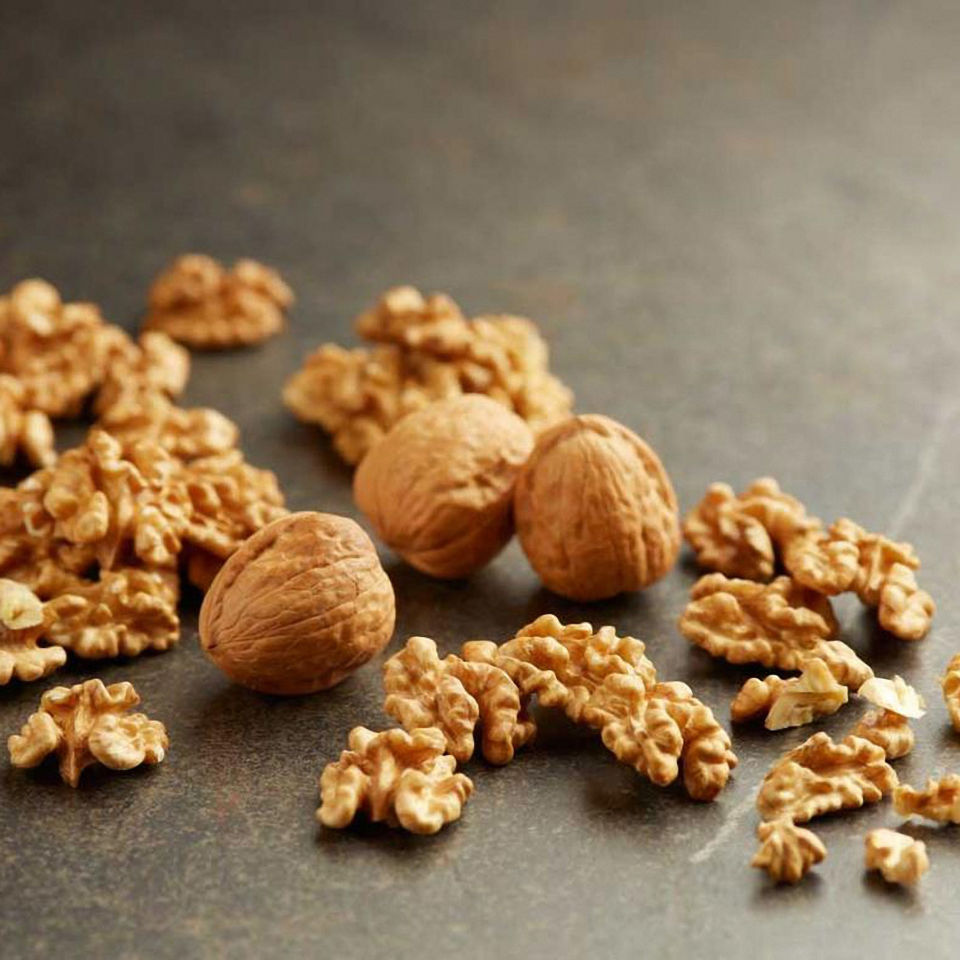 And for something different… How to toast or roast walnuts
Preheat your oven to 180°C (gas mark 4), arrange your walnuts on a baking sheet in a single layer, and pop in the oven for 8-10 minutes, checking frequently. Try adding some spices, chilli flakes or soy sauce for different savoury flavours. You could even add a little drizzle of honey for a sweet treat – perfect as an on-the-go snack.
Here are two tasty recipes to try at home: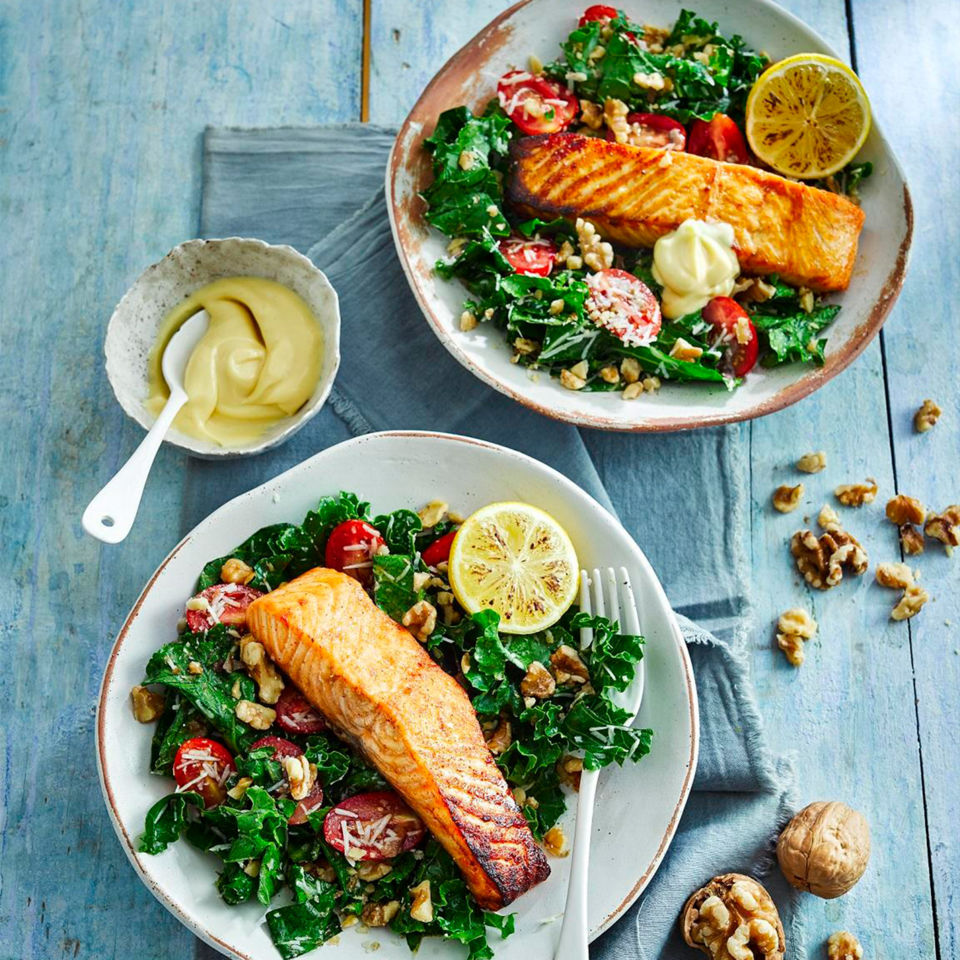 Recipe: California Walnut and kale salad with grilled salmon
This salad is an omega-3 powerhouse, starring California Walnuts and salmon fillets. The crunch of the California Walnuts adds essential texture to this dish, and the subtle, nutty flavour pairs beautifully with the oily fish. The smoky dressing also enhances the flavour of the walnuts, showcasing their creamy nuttiness.
Prep Time 20 mins
Total Time 20 mins
Servings 4 people
Calories 642 kcal
Ingredients
• 150g kale, stalks removed and roughly chopped
• 3 lemons
•1 tsp salt
• 2 anchovies
• 2 tbsp walnut oil
• 4 tsp soy sauce
• 4 tsp maple syrup
• 1 tsp smoked paprika
• 4 salmon fillets
• 120g California Walnuts, toasted and roughly chopped
• 150g cherry tomatoes, halved
• 40g Parmesan, grated
Method
1. Place the kale into a large mixing bowl and squeeze over the juice of one lemon. Sprinkle with the salt and toss together to coat the leaves, then put to one side.
2. Next, muddle the anchovies in a pestle and mortar with the walnut oil, then set aside.
3. Whisk together the soy sauce, maple syrup and smoked paprika. Place the salmon fillets skin side up on a baking tray lined with foil and brush with the soy mixture.
4. Cut the remaining lemons in half and place next to the salmon fillets. Grill skin side up for 3-4 minutes, then flip the fillets and grill for a further 3-4 minutes, or until tinged golden brown.
5. While the salmon is grilling, toss the California Walnuts, tomatoes and Parmesan together and add to the dressed kale, then stir the walnut oil and anchovy dressing through the salad. 6. Divide the kale salad between four plates and top with the salmon and griddled lemon to serve.
Nutrition
Serving: 278g | Calories: 642kcal | Carbohydrates: 7.3g | Protein: 39g | Fat: 51.1g | Saturated Fat: 8.7g | Sodium: 553.67mg | Fibre: 4.2g | Sugar: 6.8g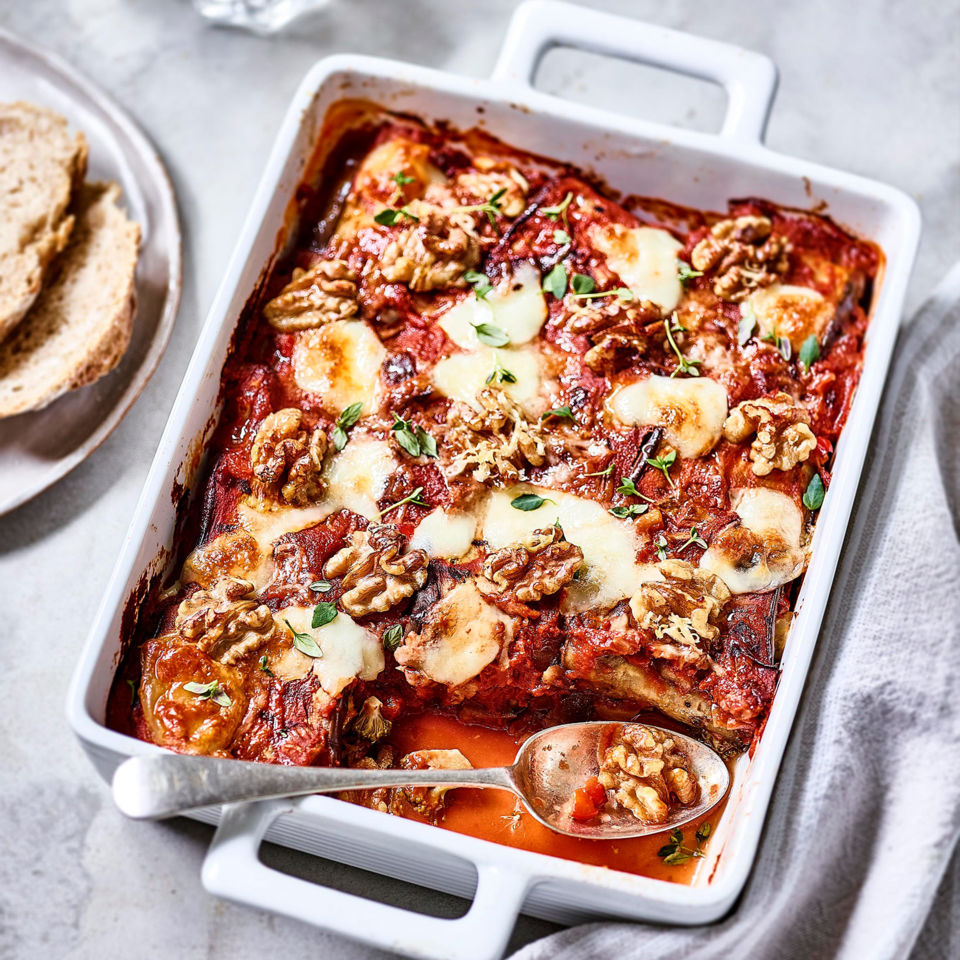 Recipe: Aubergine and walnut parmigiana
Prep Time 20 mins
Total time 50 mins
Servings 4 people
Calories 378kcal
Ingredients
• 2 aubergines, thinly sliced lengthways
• 2 tbsp olive oil, plus extra for greasing
• 1 red pepper, finely diced
• 100g broccoli florets, finely chopped
• 2 tomatoes, chopped
• 50g California Walnuts, finely chopped, plus 15 walnuts, halved
• 125g pack reduced-fat mozzarella, thinly sliced
• 400g passata
• 50g Parmesan, grated
Instructions
1. Preheat the oven to 200°C, fan 180°C, gas 6.
2. Brush the aubergine slices with a little oil and griddle or fry for 1-2 minutes each side.
3. Add the remaining oil to a large frying pan and fry the pepper, broccoli, tomatoes and chopped walnuts for 4-5 minutes until softened; season well.
4. Select the 12 largest aubergine slices and place half a slice of mozzarella in the centre, divide the filling between the slices and roll up, placing them seal side down in a greased ovenproof serving dish. Finely chop any remaining aubergine slices and stir into the passata; pour this over the aubergine rolls and scatter over the remaining mozzarella, torn, and the halved walnuts.
5. Sprinkle with Parmesan and bake for 30 minutes until golden and tender.
Cook's tip
Great served with a salad and crusty bread. Make this dish in advance and simply cook when needed.
Nutrition
Serving: 336g | Calories: 378kcal | Carbohydrates: 13.3g | Protein: 15g | Fat: 27.7g | Saturated Fat: 5.7g | Fibre: 7.6g | Sugar: 11.2g | Salt: 0.34g
*30g of walnuts a day can have a positive effect on the elasticity of the blood vessels and can thus help keep the cardiovascular system healthy.
Don`t miss

---