Food
Spiralizers: the gadget of 2015?
by Sarah Alcock
Lately I've been seeing a lot of spiralized veg. Ribbons of courgette, carrot and cucumber are making their way into the everyone's dishes – and into my Instagram, Pinterest and Twitter feeds. So what's all the fuss about? I decided to find out...
Unpacking the spiralizer onto my kitchen counter, I couldn't help but notice its size. It's huge! I suppose they're not really designed with tiny central London kitchens in mind. It also looks slightly confusing at first, but a quick glance at the instructions made everything clear. There are three blades – for ribbons, thin noodles and larger noodles respectively.
I decided to 'go large or go home' and have a go at making some large courgette noodles – aka 'courgetti' (though that word makes me cringe). I cut off the ends of the courgettes, placed them in the spiralizer, and began turning the handle. As the noodles of courgette emerged, I had flashbacks to a Play-Doh toy I'd had as a child. You'd put the Play-Doh in the head of a plastic figure of a bald man, then you'd sit him in a barber's chair and turn a handle. Suddenly, much to my delight, Play-Doh 'hair' would emerge from his head. I found it endlessly amusing, and I have to admit that I found courgette noodle-making similarly entertaining. In seconds I'd made lots of 'noodles' from three courgettes – it would have taken me ages by hand.
I steamed the courgette noodles until tender, then topped them with a spicy tomato and prawn sauce. It was nice, and is definitely a good, healthy alternative to pasta – but I think I enjoyed the process of making of it more than the dish itself. I don't think I'll be joining the online revolution and investing in a spiralizer anytime soon – but if you have one, invite me over and I'll happily spiralize your veg!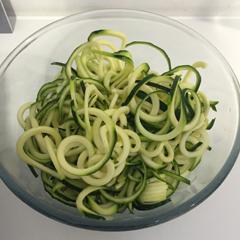 Don`t miss

---