Food
Smoky tomato, prawn and chorizo salad
by Sarah Alcock
Having your own allotment is a big trend right now – not because we all need to grow our own, but because we're now much more interested in where our ingredients come from. Not only are you likely to save money on fruit and veg when you grow your own, weeding and keeping everything in order is great exercise, too, so you can save some pennies on gym membership – perfect!
As it's National Allotments Week, we wanted to celebrate with a recipe championing the great British tomato. They're in season and can be grown on an allotment, or even a windowsill at home. All they need is a sunny spot and a little TLC.
What are you growing on your allotment or in your garden this year? Tell us in the comments box below.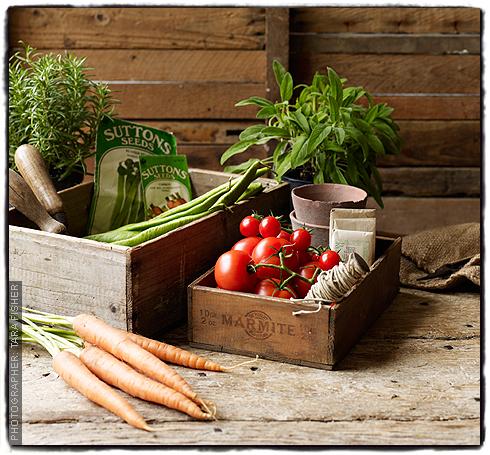 Smoky tomato, prawn and chorizo salad
Recipe by Joss Herd
Ingredients
150g day-old country bread, torn into pieces
1½ tbsp olive oil
½ tsp smoked paprika
200g chorizo sausage, cut into rounds
225g Taste the Difference raw peeled jumbo king prawns, defrosted ½ lemon
700g mixed cherry and larger tomatoes – cherries halved, larger ones sliced
1 small red onion, thinly sliced
1 tbsp sherry vinegar
½ x 25g pack chives, finely chopped
sea salt
Method
Preheat the oven to 200°C, fan 180°C, gas 6. Toss the bread in 1 tablespoon of the olive oil and the smoked paprika on a baking tray.
Season with sea salt and cracked black pepper and bake in the oven for 10 minutes until crisp and golden. Set aside.
Heat the remaining oil in a large frying pan, and fry the chorizo for 2 minutes until it starts to release its oil. Remove from the pan with a slotted spoon and set aside.
Pat the prawns dry with kitchen paper, season with sea salt and pepper and cook in the pan with the chorizo oil for 2 minutes until pink and cooked through.
Squeeze over the lemon, remove from the pan and set aside.
In a large bowl, toss the tomatoes with the warm chorizo, prawns, toasted bread, red onion and sherry vinegar. Spoon on to plates and scatter with the chives.
Don`t miss

---