Food
6 tips for trying a vegan diet
by Sarah Alcock
Vegan eating is on the rise – the Sainsbury's magazine library is filling up with the likes of Áine Carlin and Ella Woodward, and #Veganuary has definitely caught on!
Last week, the Mindful Chef sent us a recipe box with vegan recipe cards and ingredients, so we (content producer Anne, digital intern Navreen and receptionist Angela) took them home and tried them out. Here are a few vegan pearls of wisdom that we took away from the experience, plus some top tips from our food team to use if you're thinking of giving vegan eating a whirl.
1. TOFU IS FAB
Anne – My Mindful Chef recipe was a fragrant pho with tofu. I fried tofu with fresh ginger, chilli, onions, garlic and soy, and not only was it tasty but I really didn't miss the meat. I'd definitely use it again in dishes like pad Thai, veggie kebabs and stir-fries. Don't forget to remove any excess moisture from the packet before you get started and marinate it for a good while before cooking to give it as much flavour as possible.
Food team tip: Getting your protein is important if you're following a vegan diet. Tofu, soy milk, yogurt, tempeh (a fermented form of soy), chia seeds and nutritional yeast all provide a source of protein.
2. YOU CAN ADD ANYTHING TO A GOOD BROTH BASE
Anne – The basic pho broth that I made was delicious. I fried garlic, star anise, ginger and chilli, then added veg stock and soy sauce (Kikkoman). You can fill your pho with anything you like, but my recipe used spiralised courgettes and carrots. Next time I'd add rice noodles or maybe boodles (butternut squash noodles)!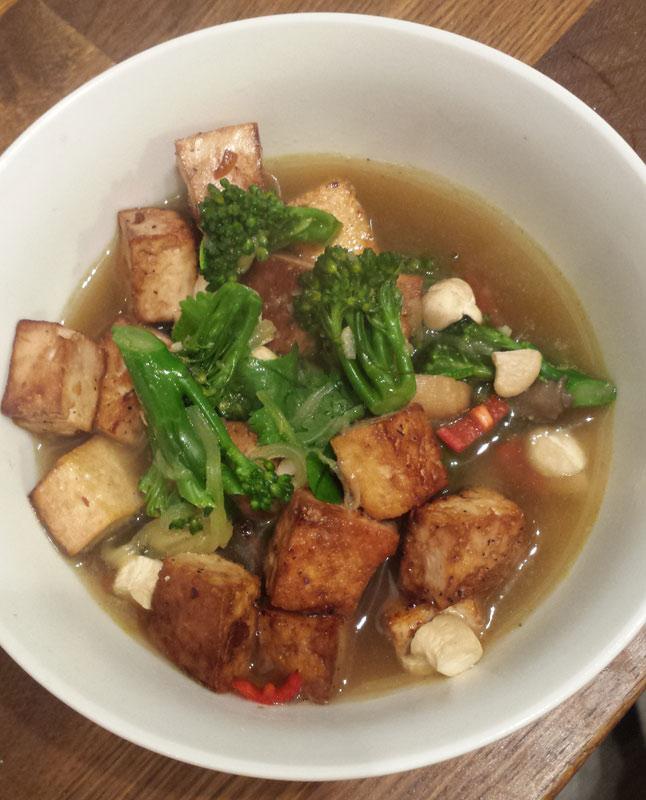 3. BEANS MAKE GOOD BURGERS
Navreen – I made some super easy bean burgers. The Mindful Chef recipe uses black beans and spring onions heated with chipotle paste for a hit of flavour. I also used a bit of soya yogurt to bind the dry ingredients together. It was much cheaper than beef!
Food team tip: In place of eggs, you could also use a bit of ground flaxseed mixed with a few drops of water as a binding agent to make sure your burgers don't crumble.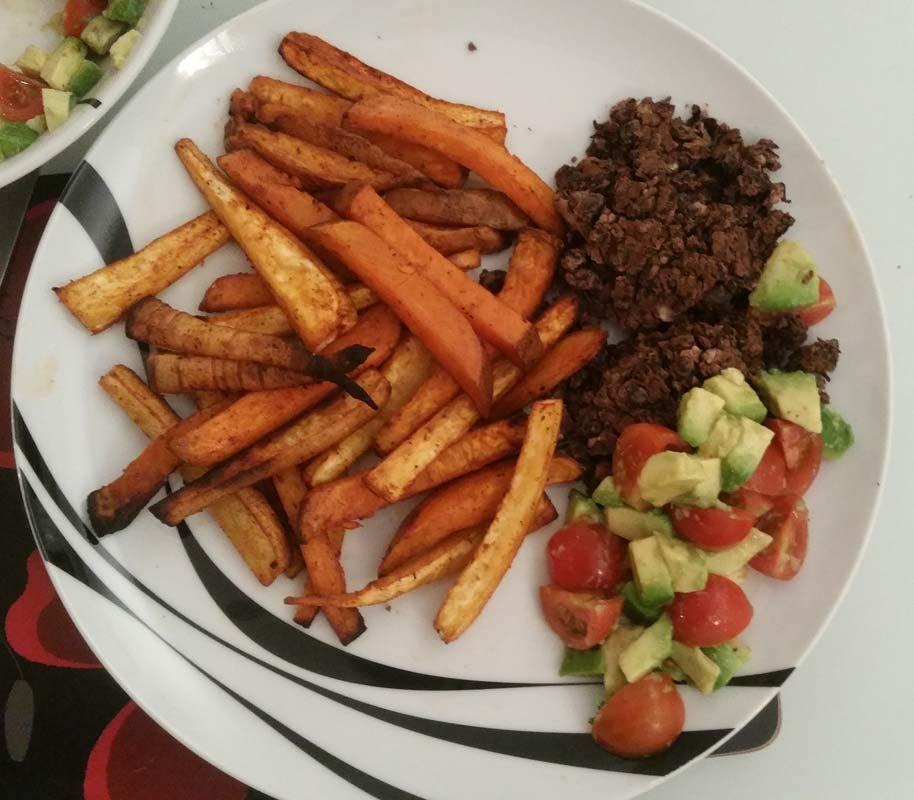 4. MAKE PESTO AND SALSA FOR HITS OF FLAVOUR
Navreen – My recipe also included a zesty guacamole to top my burger, which was made from avocado, baby tomatoes, fresh coriander, lime juice and chopped chilli. Any kind of zesty salsa can pack a flavour punch and would be a great topping for roasted veggies, vegan cheese toasties or soup.
Food team tip: Keeping a tub of homemade vegan pesto in the fridge (made by whizzing up fresh basil, spinach, pine nuts, lemon garlic and oil) is a great back-up for stirring through pasta, salads, roast vegetables or to drop in soup.
5. COCONUT MILK MAKES EVERYTHING TASTE AMAZING.
Angela – I made spiced coconut quinoa. You cook the quinoa with a tin of coconut milk, garam masala and a bit of water. I topped it with roasted veggies and pulses, which made it really colourful and created a lovely mix of flavours. It felt like comfort food but there was no cream or cheese in sight!
Food team tip: Don't forget to include additional healthy fat sources in a vegan diet, as there's not a lot of fat in veggies, grains and pulses. There are all sorts of plant-based sources of healthy mono-unsaturated and polyunsaturated fats. As well as oils (go for unrefined, cold-pressed oils), try avocado, nuts and seeds or coconut oil, as well as cacao nibs, which will also give you a chocolate hit – yummy!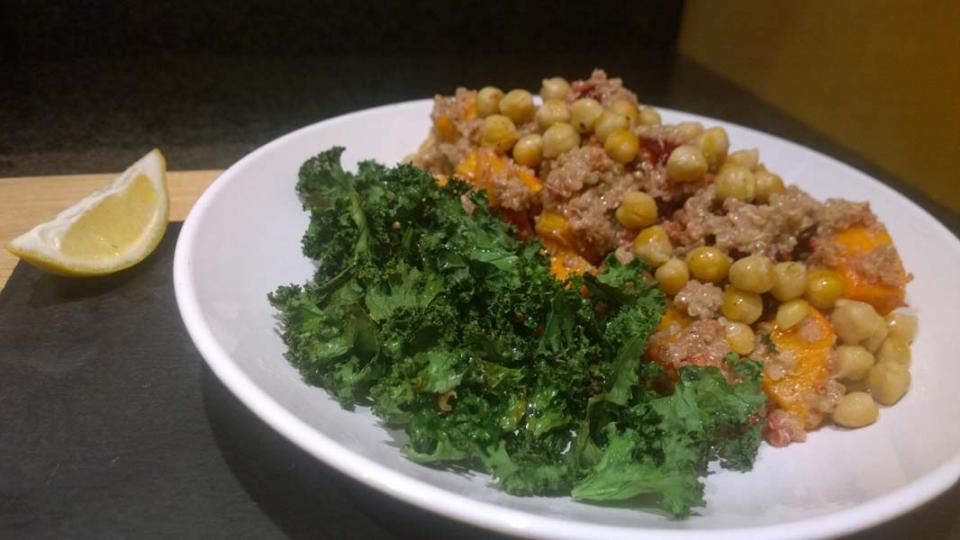 6. NUTS ABOUT NUTS
Anne – Cashews and almonds are a great protein-packed garnish. I loved the addition of crunchy cashews on top of my pho dish to give it a bit of texture.
Food team tip: Nut butters and tahini add both healthy fats and protein to a vegan diet, as well as tasting delicious and feeling slightly naughty. Make a quick satay-style sauce by mixing together peanut butter, some Thai sweet chilli sauce and lime juice.
You can find our vegan recipes here.
For more info about the recipe box, visit mindfulchef.com
Don`t miss

---