Food
Shopping with a foodie: health blogger Zanna van Dijk
by Tamsin Burnett-Hall
Each month we browse the aisles with a well-known food lover. This month: health blogger Zanna van Dijk.
Yorkshire-born Zanna is a health and fitness blogger, personal trainer and keen cook. Her book Strong (Headline, £16.99) is out now.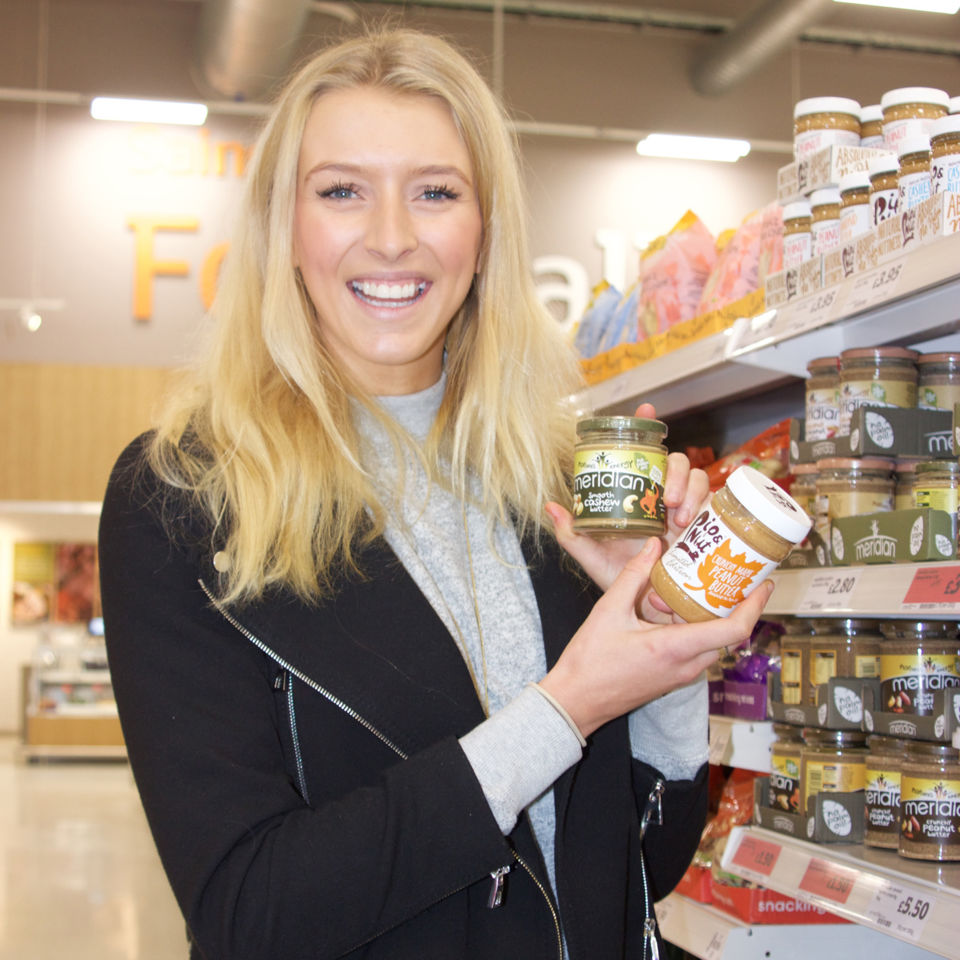 Courgettes
These are what I use to make my famous zoats for breakfast – porridge with courgette (aka zucchini)! I add half a grated courgette to 50g oats and cook them with almond milk, sweetening with either maple syrup or cocoa. It might sound mad, but it's an easy way to increase your veg intake, without really realising it's there!
Heck chicken sausages
As I don't eat red meat, these chicken sausages are perfect. They're relatively low in fat and gluten-free. They're great chopped up in a beetroot and sweet potato hash.
Skyr yogurt
This is my go-to yogurt; I often eat it as a snack with fruit and nuts, but I'd also rather have this with a brownie than with ice cream - it's so creamy and satisfying.
Cashew nut butter
I adore nut butters, and cashew is my favourite. I dollop it on my breakfast zoats, spread it on toasted rye bread with banana and cinnamon – or simply eat it straight out of the jar!
Galaxy chocolate
I'm known for health and fitness, but that doesn't mean I don't love chocolate – I always have a big bar of Galaxy in the cupboard, just to dunk in a cup of tea, or to melt as the top layer of a tiffin.
Yorkshire Gold tea
Having grown up in Yorkshire, this truly is God's own tea. I have several huge mugs of tea a day, with a dash of milk.
Pecans
My favourite nut, they are so creamy and sweet. Add them to trail mix with raisins and pumpkin seeds, and a few chocolate chips, or caramelise with a little honey and cinnamon to scatter on salads.
Butternut squash chips
I love the huge variety of ready-prepared veg available now, it makes it so easy to prepare a quick and healthy meal when you're short of time, and the low-carb alternatives. I'd roast these butternut squash chips with cumin and serve them with salmon.
Cauldron plain tofu
For meat-free meals, tofu is so versatile. I scramble it with spices to serve on toast, or cube it to marinate in soy, before frying it in coconut oil.
Feta
I rather feel that no meal is complete without a bit of cheese, and I crumble feta onto pretty much anything! I particularly love it with aubergine.
BFree wraps
I use these wheat-free wraps for quick Mexican fixes; either tofu or chicken fajitas, or burritos stuffed with sweet potato and black beans.
Burford Brown eggs
Ethically produced, these have gorgeous golden yolks and a superior flavour. Favourite uses are to scramble them with chilli flakes and pile onto crispbreads with avocado, or make a caramelised red onion and goats' cheese frittata.
Bananas
I peel and freeze really ripe bananas, ready to blend into a smoothie. They thicken it up beautifully.
Chickpeas
These are a great way to get protein into your baking, with chickpea flour. I make the most amazing gluten-free blondies and cookie bites with them.
Sweet Freedom Choc Shot
Like liquid chocolate, but made from fruit sugars, this gives you a low-calorie natural sweet hit. Add to warm milk for hot chocolate, or simply drizzle on yogurt or oats, or on toast spread with nut butter.
Almond milk
I'm not a dairy avoider as you can see from my love of cheese and yogurt, but I choose unsweetened almond milk as my standard.
Don`t miss

---