Food
Shop like the royals: 10 brands with the Royal Warrant
by Neil Davey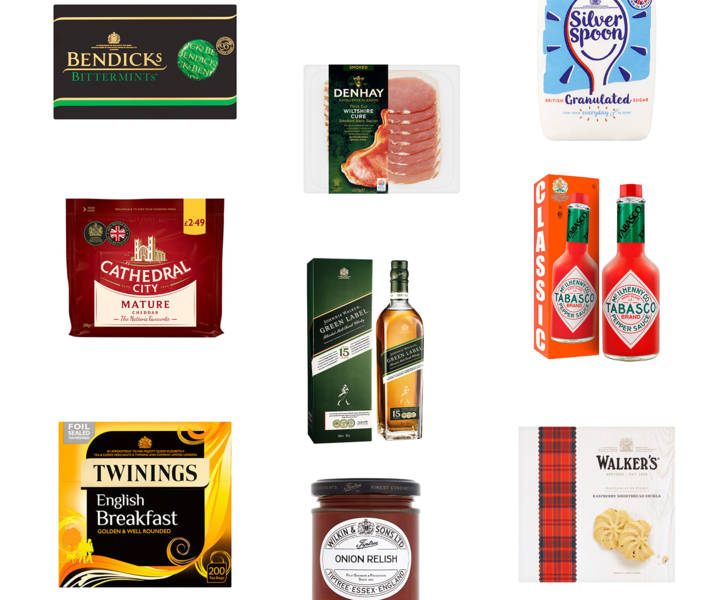 Royal Warrant brands
You don't have to hit Mayfair or Bond Street to shop like the royal household. Your branch of Sainsbury's will stock many, many items that already have a Royal Warrant – and you probably already have several in your fridge or cupboards. Here are a few everyday(ish) products endorsed by her majesty the Queen

1. Bendicks
By appointment to HM the Queen as 'manufacturers of chocolates' since 1962, Bendicks was formed in 1930, when Oscar Benson and Colonel Bertie Dickson got together (and combined their surnames) to start a confectionary business. They're probably most famous for their bittermint, invented by Oscar's sister-in-law Lucia in 1931, a product that, as marketing director Anne Hollamby explains, almost shouldn't exist. 'The chocolate on its own – it's 95% cocoa – is so intense it's almost inedible. The mint fondant on its own is so strong, it's almost inedible. But together…'

2. Dairy Crest Limited
The company name might be unfamiliar (Dairy Crest was also acquired by Canadian company Saputo Inc in 2019), but their products won't be. Indeed, you've very likely got at least one of them in your fridge already. They make Cathedral City and Davidstow cheddar, Country Life butter, Clover, Utterly Butterly… If you've ever declared cheese on toast as being fit for a king, you weren't far off.

3. Maldon Sea Salt
The Osbornes have been hand-harvesting sea salt flakes since 1882. And '140 years as a fourth-generation family heritage brand and high-quality standards using the same time-honoured techniques is what makes us a globally recognised brand, loved by chefs and food lovers around the world,' says Maldon Sea Salt's junior brand manager, Alannah Wiseman. 'At Maldon Salt we are very proud to have held the Royal Warrant for over 10 years and to be the official purveyors of sea salt for the royal household.'

4. Wilkin & Sons
Wilkin & Sons are a fruit grower and the producer of Tiptree preserves, the brand beloved of hotels and B&Bs everywhere, plus the royal family. According to their Royal Warrant, they're officially purveyors of Tiptree products, by appointment to HM the Queen.

5. British Sugar
On the subject of sweet things… British Sugar's Royal Warrant declares that they're by appointment to HM the Queen as manufacturers of sugar. The sole processor of the UK's beet sugar crop, British Sugar may well pop up in your kitchen under the Silverspoon brand. If you're making a cake for the jubilee celebrations, it may be more appropriate than you realised.

6. Twinings
The more than 300-year history of Twinings is a remarkable story that spans multiple generations, from founder Thomas Twining to current director corporate relations / masterblender Stephen Twining. The family originate in Gloucestershire, where they were weavers and millers. Recession drove the family to London in 1684 where, initially, young Thomas followed his father (and forefathers) and took an apprenticeship with a London weaver. By 1701, however, he'd left that to work for a merchant, handling some of the earliest shipments of tea. Flash forward and they now sell over 500 varieties.

7. Tabasco
The Tabasco story is a remarkable one, so it's almost inevitable that they'd be one of a very few American companies to be awarded a Royal Warrant. Their Royal Warrant, by appointment to HM the Queen, is, rather wonderfully, as 'supplier of Tabasco Sauce,' which is handy when you think about it… According to Took Osborn, current CEO and great-great-grandson of founder Edmund McIlhenny, it's also something they're very proud of. 'The Royal Warrant is displayed on our UK packaging, outside our offices and in the factory on our home on Avery Island, Louisiana. For my family and the people that work for us, and as we visit and speak to people around the world, it serves as a proud reminder of how we've excited global food culture for more than 150 years.'

8. John Walker & Sons Ltd
John Walker is, of course, better known by the more informal Johnnie… John was actually a farmer's son who sold the farm to buy a grocer's shop in Kilmarnock. Disappointed by the inconsistency of the whisky he was selling, John started blending them to make something more dependable. The results speak for themselves. Two centuries later, Johnnie Walker is the world's most popular Scotch whisky, currently sold in over 180 countries, and John Walker & Sons Ltd. are Scotch whisky distillers by appointment to HM the Queen.

9. Denhay Bacon
You can start your jubilee day celebrations with a bacon sandwich and still be on brand… Founded in the 1950s by the Hoods and the Streatfeilds, two West Country farming families with a devotion to doing things the right way. In 2008, HRH The Prince of Wales – a man known for his passion for sustainability and animal welfare – awarded them a Royal Warrant as his bacon curer.

10. Walker's Shortbread
Walker's Shortbread's Royal Warrant means they are by appointment to HM the Queen as 'supplier of oatcakes and shortbread'. Founded in Aberlour, Speyside in 1898, Walker's, like Tabasco, remain an independent family concern, the company today being run by founder Joseph's grandchildren and great-grandchildren.
Don`t miss

---