Food
Sample the UK's best street food at the Fifteen Street festival
We bumped into all-round good chap and founder of the British Street Food Awards Richard Johnson earlier this week. He told us he's gearing up for this year's awards at the Fifteen Street festival in Hoxton on 15 and 16 September (where he'll be supported by none other than Jamie Oliver). We just had to ask him – what's the latest buzz on the street food scene?
'Street food is all about eating well – local, organic, seasonal ingredients – but it's also about making food fun. Customers are more demanding and adventurous. With taster menus, pop-ups and supper clubs, we're getting used to eating in a different way. It's rare now to go to a restaurant and order a starter, main and dessert – we're all keen to graze and not be dictated to in a "this is the way you have to eat" style. And we're all looking to eat more cheaply now, too,' says Richard.
'The street food scene is definitely evolving. A couple of years ago it was more about classics – two-fisted burgers and the like – but things are moving on, particularly in America. In Santa Monica recently I ate Japanese hot dogs with nori and wasabi and Korean tacos – some of it's really exciting.'
So what will Richard be chowing down on at the festival next weekend? 'It's a burger for me. I know it's traditional, but it's one of the street food dishes that's almost always better than its restaurant version. If it's cooked on hot steel in front of you, then put under a cloche so that the cheese melts, then straight into a bun and your hand…'
For the best of British street food, plus music and entertainment (we're talking tricycling kedgeree sellers and a beach hut selling fish and chips complete with seagulls), Fifteen Street is the place to be. £4 for adults, under 12s go free. Tell us about the best street food you've eaten – we'd love to hear from you.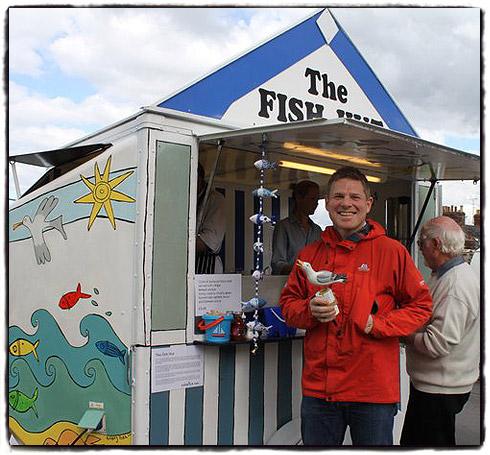 About the author