Food
Sainsbury's mag cookbook is out today!
by Sarah Alcock
We're so excited that our very first cookbook is going into Sainsbury's stores today!
The Sainsbury's magazine Cookbook is a collection of more than 100 of our favourite recipes from the past 20 years of Sainsbury's magazine, including dishes from celebrity cooks such as Nigella Lawson, Rick Stein, Raymond Blanc and Lorraine Pascale, as well as our own talented magazine food team.
To give you a taster of what's inside, here's the recipe for Lorraine Pascale's cookies and cream fudge brownies. They're perfect for afternoon tea, elevenses, or any time you fancy a sweet treat!
Get your copy now for just £6 from larger Sainsbury's stores. Do tell us what you think and happy cooking!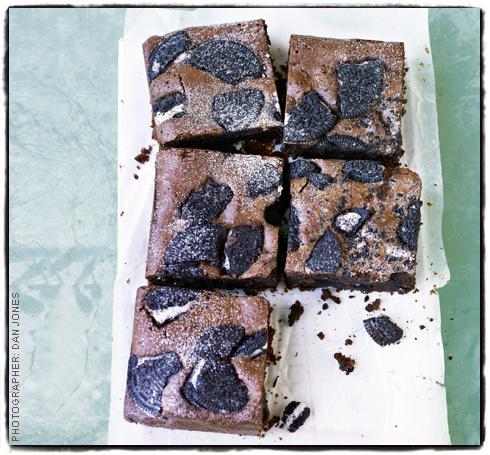 Lorraine Pascale's cookies and cream fudge brownies
Makes 16
Ingredients
175g butter, plus extra for greasing
200g dark chocolate, finely chopped
3 large eggs and 2 large egg yolks
seeds of 1 vanilla pod, or 2 drops of vanilla extract
175g light brown soft sugar
2 tbsp plain flour
1 tbsp cocoa powder
1 x 154g pack Oreo cookies, broken into pieces
icing sugar, for dusting
Method
Preheat the oven to 180°C, fan 160°C, gas 4. Grease a 20cm square baking tin and line with baking paper so that the paper slightly overlaps the sides of the tin.
Melt the butter in a pan, then remove from the heat and add the chocolate. Leave for a few minutes until the chocolate softens, then stir together.
Whisk the eggs, egg yolks and vanilla in a bowl until light and fluffy.
Add the sugar in two lots, pouring it in around the edge of the mixture so you don't knock out the air, and whisk until the mixture becomes stiffer.
Pour in the chocolate mixture around the edge and mix gently.
Add the flour, cocoa powder, a pinch of salt and a third of the Oreos. Stir, then pour into the tin. Press the remaining Oreos on to the mixture.
Bake on the middle shelf for 25-30 minutes – it should be slightly gooey in the middle.
Leave to cool in the tin, then lift out using the baking paper and cut into squares. Dust with icing sugar.
Don`t miss

---