Food
Rick Stein's charcoal-grilled fish with a Basque vinaigrette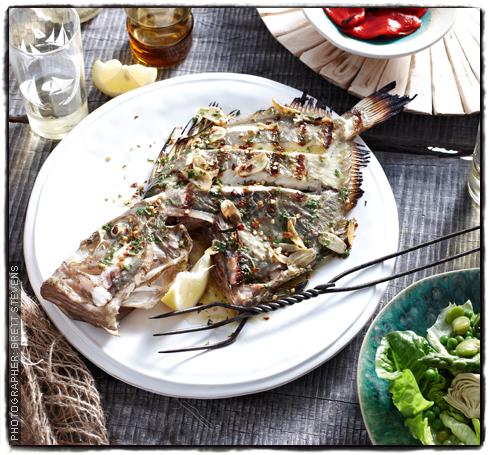 Serves: 2
Doesn't every fish lover dream of being cooked lunch by Rick Stein? This recipe was one of our favourites when we met up with him at his restaurant at Bannisters hotel, a few hours south of Sydney, Australia, last summer. If you fancy meeting the man himself don't forget we're doing an exclusive reader event with him on 17th September – click here for more details
Ingredients
2 x 300g John Dory or Seabream, gutted and slashed twice (or use 400g skinned monkfish)
2 tbsp olive oil
1 large garlic clove, thinly sliced
a pinch of crushed chillies
1 tsp white wine vinegar
1 tsp white wine vinegar
FOR THE BARBECUING MARINADE:
2 tbsp olive oil
1 tbsp lemon juice
1 tbsp white wine vinegar
Method
Light the barbecue to high. For the barbecuing marinade, mix the olive oil, lemon juice and vinegar together in a small bowl with _ teaspoon salt.
Brush the fish lightly with the marinade and barbecue for about 5-7 minutes on each side, brushing with more of the marinade every now and then, until just cooked through.
(If using monkfish, lift the fish on to a board and separate the 2 fillets from each side of the bone.) Transfer to a warmed serving platter, cover and keep warm.
Put the olive oil, garlic and crushed chillies into a small pan and heat over a medium heat until the garlic begins to turn golden. Remove from the heat and stir in the vinegar, parsley and a pinch of salt. Drizzle this mixture over the fish and serve.
About the author