Food
Raymond Blanc's soufflé top tips
by Sarah Alcock
Raymond Blanc's Roquefort cheese soufflé recipe is the perfect way to begin a festive dinner party – but they can be a bit tricky to get right. Raymond spoke to our food editor Lucy to share his top tips for achieving the perfect soufflé. So rise to the challenge this Christmas and serve up a classic French starter. Bon appétit!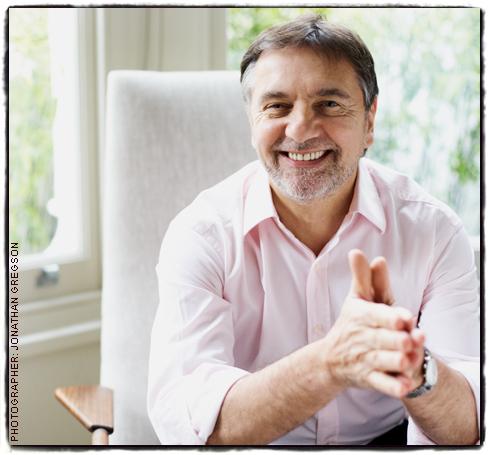 Get the basics right...
• Follow the recipe to the letter – soufflés, as with most baking, are an exact science.
• Make sure your base mixture is the right consistency, as it provides the structure for your soufflé. It needs to be not too wet or too dry.
Get the eggs right...
• The lightness of your soufflé comes from the eggs. First, make sure your base is still warm, then whisk in one-third of the stiff egg whites to loosen it. Once you've done this, fold in the rest – ensuring you don't over-fold at this stage. It's OK if there are a few white blobs.
• Don't over-whisk the egg whites or you will knock out the air bubbles, making your soufflé heavy and dense.
• Add a tiny squeeze of lemon juice to the egg whites to stop them separating as you whisk.
Help your soufflé rise...
• To get a good rise on your soufflé, lightly butter the inside of your dish and coat in a thin layer of fine breadcrumbs or grated Parmesan.
• For small soufflés, fill the ramekins to the top. For large ones, fill only three-quarters of the way up.
Prep for the oven...
• Run the tip of a round-bladed knife around the edge to prevent the soufflé from sticking to the edge.
• Put your soufflé dishes on a preheated baking tray so your soufflé won't have a soggy bottom.
• Bake them on the middle shelf of the oven to stop the top from burning.
Still a bit soufflé-shy?
• If you're making your soufflé debut this Christmas for guests, why not try a twice-baked soufflé, like this one from Andrew Dargue - this way you can prep them ahead, then re-bake them to serve.
Don`t miss

---