Food
Posh burgers, cheap as chips
by Sarah Alcock
If, unlike George Osborne, you'd rather spend less than £10 on a burger for lunch, you've come to the right place. We've got three delicious varieties for you to try at home that won't leave you needing to review your spending budgets – the classic American beef burger with Gruyère cheese; the Vietnamese turkey burger with sweet chilli sauce; and the Indian lamb burger with beetroot and tzatziki. Would you like fries with that?
What's your ultimate burger filling? Make our mouths water in the comments box below.
Classic American beef burgers with Gruyère cheese - £1.40 per burger (pictured above)
Serves 4
4 ciabatta rolls or 1 large ciabatta, cut into 4
For the burger
500g beef mince
1 medium egg, lightly beaten
olive oil
For the garnish
4 slices of Gruyère cheese
4 rashers of streaky smoked bacon
mayonnaise, for spreading
leaves from a curly-leaf lettuce
slices of tomato and red onion
gherkins, thinly sliced
French's classic yellow mustard
1 Mix the mince and egg together in a bowl with plenty of seasoning. Shape into 4 balls, then flatten into burgers, about 2cm thick.
2 Put on a plate, cover and chill for at least 30 minutes. Preheat the oven to 200°C, fan 180°C, gas 6, and bake the rolls for 10 minutes.
3 Preheat the griddle or barbecue. Split the rolls and toast the cut sides until golden.
4 Brush the burgers on each side with a little oil, then griddle or barbecue for 4-7 minutes on each side, or until cooked to your liking.
5 Pop a slice of cheese on to each burger once you've turned them, so it melts while the other side cooks. Halve the bacon rashers and griddle or barbecue until crisp.
6 Spread mayonnaise over the bottom halves of the rolls and top with a few lettuce leaves, tomato and gherkin slices. Add the burgers, red onion, a squeeze of mustard and the crispy bacon, and finally the top half of the roll.
The Vietnamese - £1.66 per burger

Burger: use turkey mince instead of beef and add 25g breadcrumbs, the zest of 1 lime, 1 tsp grated ginger and 2 tbsp chopped coriander leaves to the mix. Garnish: spread the rolls with crème fraîche and watercress; top the burgers with sweet chilli sauce, cucumber and carrot ribbons.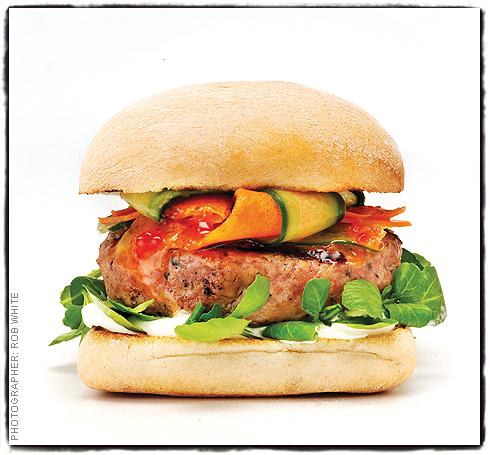 The Indian - £1.64 per burger

Burger: use lamb mince instead of beef and add 1 tbsp medium curry powder to the mixture. Garnish: fill the rolls with young-leaf spinach and add Be Good To Yourself beetroot salad or chopped beetroot. Top the burgers with slices of griddled aubergine and tzatziki.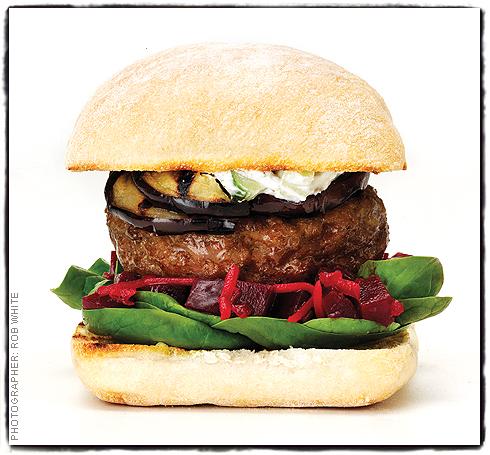 Tip
Shape the burgers several hours ahead; chill
Don`t miss

---