Food
Portland: worth the hype?
by Emily Wright
Here at Sainsbury's magazine, we like to think we have a finger on the pulse of foodie happenings across the country. So we couldn't ignore the rave reviews a new restaurant in London has been getting over the past few weeks. I went along to see what the fuss was about...
What's all this then?
Portland is a bijou new restaurant from the award-winning team behind Quality Chop House in Farringdon. It's located halfway up Great Portland Street in London's West End and has just 45 covers, so the dining area has an intimate feel and a two-hour turnaround on tables. Influences on the menu are mainly British and French, but the emphasis here is really on using the very best local produce in uncomplicated and delicious ways. As one of the hottest places to eat in town – Giles Coren recently described it as 'a perfect restaurant' – I'd recommend going on quieter weekday evenings, especially as it can get quite rowdy when packed out. We were able to book a table at 6pm on a Monday without too much trouble.
3 reasons to love it
1. The food is great
As the emphasis is on freshness and provenance, the menu changes regularly to reflect the very best of what can be found locally. A must-try, if it's on, is the charred brassicas with smoked egg emulsion, soy and winter truffle (£8) – a crunchy, gooey textural delight. And save room for dessert – a delicate slice of super-sweet muscovado tart with Glenmorangie whipped cream (£7) is the perfect way to round off your evening.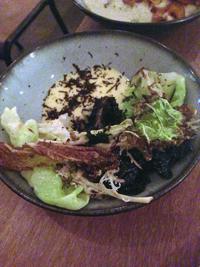 Charred brassicas with smoked egg emulsion, soy and winter truffle
2. The wine list is spot on
Separated into 'Textbook', 'Leftfield' and 'Special' categories, and with witty one-liners to describe each bottle, I've rarely enjoyed choosing wine more. We went for the 'Pinot Gris with panache' (Holly's Garden, Victoria, 2013; £29), though the 'big, bold baby Bordeaux' was a hot contender, too.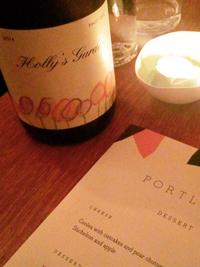 3. It'll make you feel cool
The setting has just the right mix of trendy utilitarian style – simple-but-comfortable wooden tables and chairs, low-hanging pendant lights and stark white walls – with a dash of indulgence (Aesop handwash in the bathroom; modern art on the walls). Yet the clientele is a real mix, so don't worry if you're not fresh from Fashion Week – we were sandwiched (quite snugly) between a wine buyer entertaining his client and a dad taking his teenage daughter for dinner. Somehow, bubbling underneath all this, there was the sense that just by being there we were part of something exciting.
One potential drawback
Don't set your heart on a dish. Reviewers such as Marina O'Loughlin had drooled over the game pithivier ('It is, simply, beautiful,' she gushed), so as soon as we were seated I excitedly scanned the menu for it. No such luck. When a chef is so determined to serve the best produce he can lay his hands on, there are inevitable casualties. Devastatingly, for me this meant forgoing what many would describe as the restaurant's signature dish, in favour of good-but-not-mind-blowing sirloin with heritage carrots. Looking on the bright side, this gives me the perfect excuse to go back.
Book it now
Open Monday-Saturday for lunch and dinner portlandrestaurant.co.uk: 113 Great Portland Street, London W1.
Don`t miss

---