Food
Pimm's jellies o'clock
Serves: 6
Yesterday I spent the day at The Boodles tennis event, which was quite conveniently one of the hottest days of the year. As well as watching some fantastic tennis in the unbelievably beautiful setting of Stoke Park in Buckinghamshire, I came home raving about the delicious food.
The muggy weather this week has left us all craving fresh salads and cold drinks, and I had the perfect combination of the two – Pimm's jelly. Prepared by Stoke Park's head chef Chris Wheeler, it was a delicious and very welcome refresher for a warm day.
Although I might not be able to recreate Chris's dish with such finesse, I am going to try the simple Pimm's jellies served in glasses that our food team has come up with – ideal for a summer dessert in the garden.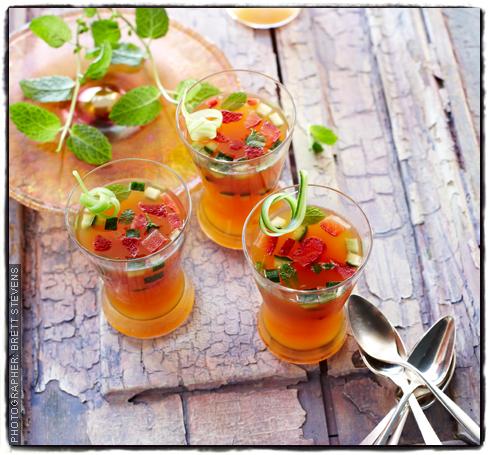 What's your favourite summer pud? Tell us in the comments box below.
Ingredients
200ml cloudy lemonade
100ml ginger beer
200ml Pimm's No 1
100ml freshly squeezed orange juice
a squeeze of lemon juice
100g caster sugar
4 leaves of Supercook Select fine-leaf gelatine
¼ cucumber, peeled and diced
150g strawberries, peeled and chopped
1 tbsp finely shredded mint
Method
Mix the lemonade, ginger beer, Pimm's, orange juice, lemon juice and sugar in a pan; bring to simmering point.
Meanwhile, soak the gelatine leaves in a bowl of cold water for 10 minutes.
Take the pan off the heat. Squeeze the excess water out of the gelatine and drop it into the hot Pimm's mixture. Stir to dissolve.
Pour the liquid into a large jug and transfer to the fridge until barely set – this may take up to four hours.
Mix the diced cucumber, strawberries and mint into the jelly mixture and divide the jelly between six glasses. Transfer to the fridge and leave to set overnight.
Tip
Top with lemon sorbet and, if you have them in your garden, borage flowers make a pretty decoration, too.
About the author