Food
Paul Hollywood: my most memorable meal
by Victoria Young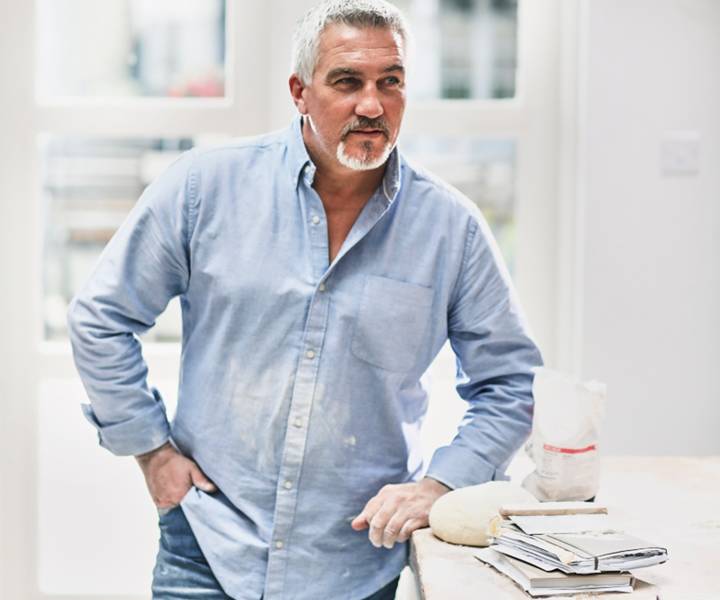 Photograph by Martin Poole
The Great British Bake Off's Paul Hollywood remembers a lazy summer afternoon in Cyprus.
I'm lucky enough to have eaten at the most fantastic Michelin-starred restaurants all over the world, but the meals I remember best are the simplest. A case in point is when I went to an off-the-beaten-track restaurant in Cyprus, where I was working. I'd taken a job as head baker at the Annabelle Hotel in Paphos for a year, but I loved living there so much that it ended up being six! Cyprus is beautiful and the Mediterranean diet is amazing. I had a fantastic job and a great social life, so no wonder I didn't want to leave.
This lunch was to celebrate my 30th birthday with some good friends. Unusually, given that we all worked at the same hotel, we all had the day off, so we decided to go for a motorbike ride. I remember riding under blazing sunshine over stunning mountains overlooking the sea, then down a dirt track until we came to the restaurant. Viklari Castle is on a path above the beach, and it's all stone tables and basket chairs, surrounded by vines, with a banana plantation behind. There's no electricity, and most of the food is cooked on the barbecue by Davos, the owner. There's nothing modern about the place, which is what makes it so fantastic.
Our lunch was so simple: Greek salad with olives, greens and onion; a jacket potato, followed by a big bowl of pork souvlaki, slow-cooked on the barbecue with some red wine, oregano and salt. The depth of flavour in the pork was incredible. Despite being very basic, the food was really special. It wasn't a boozy lunch because we were all riding bikes, but we shared a couple of bottles of Keo beer. And, as always, we talked about work and food– never about girls!
What made that lunch unforgettable had a lot to do with the food, but also the fantastic Cyprus heat, the stunning scenery and, of course, the company. Doros, Costa, Tyrose and Dave were a mix of South African, Cypriot and American; a couple of chefs, a baker and an engineer. Dave is back in the UK and the others are still in Cyprus, so I see them when I go back. They all think it's hilarious that I've become a household name, and I think that all the time, as well.
I've often tried to recreate the pork souvlaki by doing the same thing on my barbecue. I use pork belly and, once there's some colour on the meat I put it in foil and cook with red wine, oregano and salt for an hour or so. It's pretty good, but not quite the same. Cyprus had a huge influence on the way I cook – I love barbecues and I also have a pizza oven that I use to make Cyprus-inspired pizzas. My friends frequently descend to eat them in what I call Paul's Pizzeria! I'll never forget my time in Cyprus and I visit as often as I can. And I always go back for some of that mouthwatering souvlaki.
A Baker's Life: 100 Fantastic Recipes, From Childhood Bakes to Five-Star Excellence, by Paul Hollywood (Bloomsbury, £26) is out now.
Don`t miss

---