Food
Paul A Young's new whole bean chocolate bar
I was extremely excited to attend the launch of the world's first ever whole bean chocolate bar by the king of chocolate himself, Paul A Young, at his shop in Wardour Street, London.
It's fair to say that recently I've become a little bit fussy/snobby when it comes to chocolate (except for Cadbury's Mini Eggs). I prefer it dark, the 70% kind, and I don't like those floral, chilli-spiked, zesty, or tea-scented chocolates. So I was pleasantly surprised by this brand new characterful chocolate. It's definitely something to try for yourself...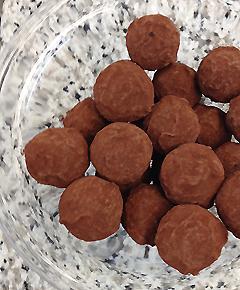 100% whole bean truffle-licious
Changing the rules of chocolate making
As a truly artisan chocolatier (Paul and his team make all of their chocolate daily by hand, and in small batches with nothing artificial added) – he is genuinely fascinated by the art of making chocolate. It's this fascination that has led him to question the accepted rules of chocolate making and to experiment using the whole bean.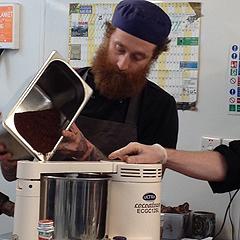 Paul's team experimenting...
The flavour's in the shell
The standard way to make chocolate is to remove the outer shell from the cocoa bean before using it, but this takes time and creates waste. Paul decided to try making chocolate from the whole bean, shell included, to showcase the full flavour profile of the cocoa bean.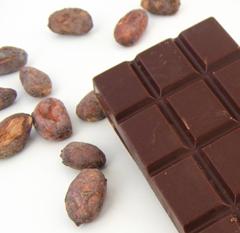 The whole bean...
It's simple to make...
1. Paul uses a blend of different cocoa beans, including Criollo, Trinitario and Forastero, which are bought directly from Menakao in Madagascar (ethically sourcing beans and paying fair prices to growers is also very important to Paul).
2. The beans are then roasted at a temperature that allows them to take on a toasted flavour without scorching in the heat. The shell actually helps to protect the bean inside from being scorched, which can cause chocolate to have a bitter flavour.
3. The roasted beans are then granite ground with Billington's organic unrefined demerara sugar for several hours (far less than the grinding of standard chocolate) to create the final product.
Who wants to lick the bowl?
Why it's better than normal chocolate
This chocolate isn't really comparable to chocolate as we know it – it sits in a whole different league and tastes completely different!
If you're a Galaxy fan, this might not be your cup of tea – it's noticeably rougher in texture and certainly not without character.
It's mildly gritty (in a good way) and strangely reminds me of a very good-quality aged Parmesan, both in texture and flavour. Deeply nutty, biscuity, fruity, warmingly dark, a tiny bit savoury and a little bit sweet – this proper chocolate is complex and wonderful stuff and NOT for wimps.
£6.95 for 50g bar
About the author