Food
Passionfruit, mango and lime cheesecake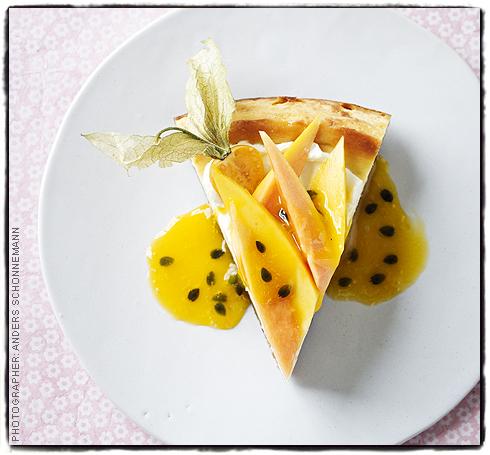 Does anyone else feel like they're in a warm, tropical country with this wet, muggy weather?
To make us feel like we really are living somewhere near the equator, we're cooking Brian Glover's tropical passionfruit, mango and lime cheesecake, which would make the perfect dessert this weekend if you have guests coming over.
The recipe is from the Sainsbury's magazine cookbook, available now in larger stores for £6.
What's your go-to dinner party dessert? Tell us in the comments box below.
Passionfruit, mango and lime cheesecake
Serves 10-12
Ingredients
500g full-fat cream cheese
150ml soured cream
125g caster sugar
1 rounded tbsp cornflour
2 large eggs, plus 2 egg yolks
finely grated zest of 2 limes
juice of 4 limes
2 tsp vanilla extract
4-5 tbsp mascarpone
1 sliced mango
1 sliced papaya
physalis, to serve
FOR THE BASE:
150g digestive biscuits
75g unsalted butter, melted
1 tsp ground ginger
FOR THE TOPPING:
8-10 passionfruits
juice of 2 limes
3 tsp caster sugar
2 tsp arrowroot
Method
Preheat the oven to 180°C, fan 160°C, gas 4. Line the base and sides of a 22-23cm springform cake tin with baking paper, so the paper comes 2.5cm above the tin edge.
For the base, crush the biscuits and mix with the melted butter and the ginger. Tip into the tin and press down gently; bake for 10 minutes.
Remove from the oven, then lower the temperature to 160°C, fan 140°C, gas 3.
Beat together the cream cheese and soured cream, then beat in the sugar and cornflour.
In a separate bowl, beat the eggs, yolks, lime zest, lime juice and vanilla extract. Gradually combine with the cream cheese mixture; beat until smooth.
Tip the mixture on to the biscuit base and bake the cheesecake for 40 minutes. Turn the oven off and leave the cheesecake inside to cool.
Warm the passionfruit pulp in a pan; strain into a measuring jug. Reserve 2 tablespoons of the pips.
Add the juice of the 2 limes, the caster sugar and some water, if needed, to the jug to make 120ml. Mix 2 tablespoons of the juice with the arrowroot, then mix this into the jug.
Heat the juice gently in a pan, stirring until thick and smooth. Add the reserved pips; cool.
Spread the mascarpone over the chilled cheesecake; top with the sliced mango, sliced papaya and some physalis. Drizzle with the juice to serve.
About the author