Food
Monica Galetti's pistachio and Greek yogurt panna cotta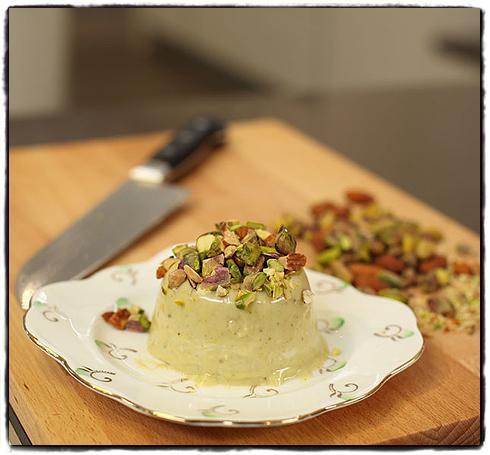 Serves: 4
It's not every day you're invited to lunch with a woman whose very name makes strong men tremble, but Michel Roux Jnr's formidable right-hand lady, Monica Galetti, is nothing like the scary person we've seen on MasterChef – in fact she's so friendly and cheerful it's hard to imagine where her tough-judge TV persona comes from.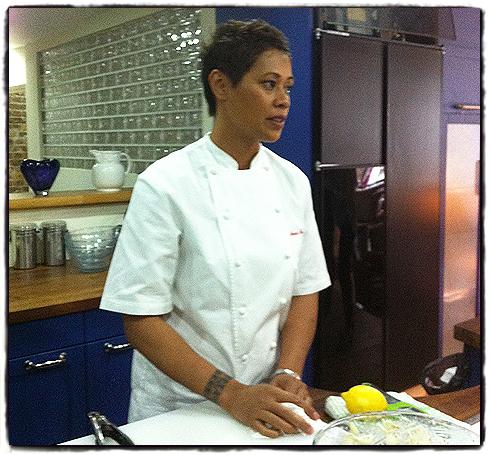 She rustled up fresh seafood kebabs, an apple and celeriac remoulade and this unusually flavoured, yet delicious, panna cotta. Monica uses half double cream and half fat-free yogurt, so it's a bit lighter (and that's never a bad thing). I'm definitely going to try this at my next dinner party.
What's your favourite dinner party pud? Tell us in the comments box below.
Pistachio and Greek yogurt panna cotta
Ingredients
2 gelatine leaves
200ml double cream
130g caster sugar
200g 0% fat natural Greek-style yogurt
40g pistachio paste (see tip below)
30g chopped pistachios
20g chopped salted almonds
Method
In a bowl, soak the gelatine leaves in just enough cold water to cover them.
Bring the cream, sugar and yogurt just to the boil on a low heat, then remove from the heat and whisk in the soaked gelatine leaves and pistachio paste thoroughly until smooth.
Pour the mixture into 4 x 125ml moulds and leave to set in the fridge for 4 hours, or overnight.
Remove from the fridge and leave at room temperature for 5 minutes, then run a small sharp knife around the edge of the panna cottas to loosen. Tip them on to plates.
Mix the chopped pistachios and salted almonds together and sprinkle over the panna cottas to serve.
Tip
Pistachio paste can be found online, but it's easy to make your own. Simply blanch shelled pistachios in a small pan of boiling water for 3 minutes, drain and slip off the skins, then blitz in a mini food processor or spice grinder with a tablespoon or so of water until you have a rough, not too coarse, paste.
About the author