Food
Volunteer cook Angie Browne on feeding the crew on a floating Mercy Ships hospital
by Katy Salter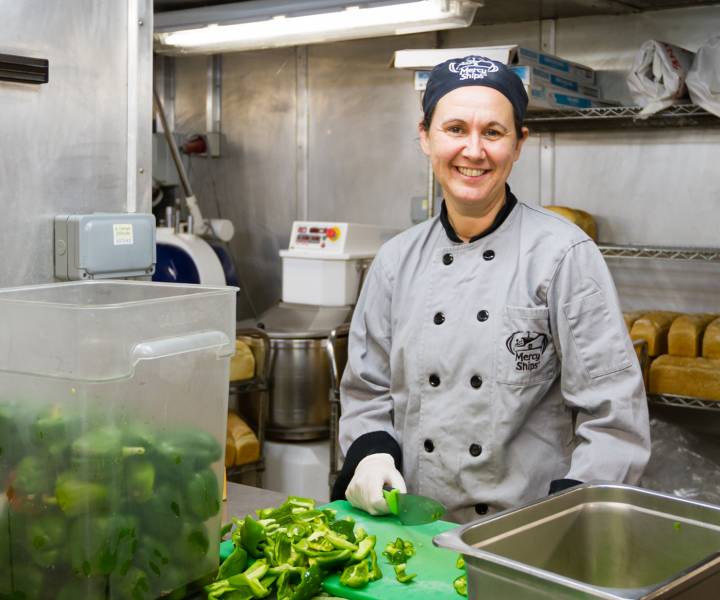 Image: Justine Forrest
Angie Browne, from Manchester, is a volunteer on board the Africa Mercy hospital ship. The floating hospital provides life-changing operations, dentistry and other medical assistance to people in the world's poorest countries. Currently stationed in Benin, West Africa, Angie works in the ship's galley and dining room, making sure its volunteer crew are well fed…
Where are you now?
I'm on the ship. We are docked in Cotonou, the largest city in Benin, which was a French colony until 1960, so French is widely spoken here, along with indigenous languages. The ship hires locals as day workers, who act as interpreters. The port is very busy and there are lots of container ships arriving and departing
What's your role on board?
I work as team leader in the galley or dining room where we feed the ship's crew – including doctors, nurses and dentists. I've had several roles on board. I spent a year as a cook, before becoming a galley leader – in charge of six crew cooks and 10 day-crew cooks. I'm currently team leader in the dining room.
What is the galley like?
It's large enough to prepare and serve food to a crew of over 400, sometimes 600 including our local day crew. There are two ovens, two skillets and two steamers. We also have a bakery area with an oven, as bread is baked daily on board ship – we get through 100 loaves a day.
Talk us through a typical day…
I'm up at 5.15am. There's a lot to do. Crew breakfast is porridge, boiled eggs and a 'special' like pancakes or French toast. We also have toast, cereal, sliced cheeses and meats. As soon as breakfast is cleared, preparations for lunch begin. Lunch is leftovers from dinner the night before, plus soup. After lunch, preparations kick-off for dinner. We do manage to break for cups of tea, though! Typical dinners include fish, Caribbean pork, tenderloin steaks or hamburgers. After dinner, we scrub the galley, and wash all the pots and pans. When work is done around 7.30pm, I play cards, chat with friends, read or watch a film.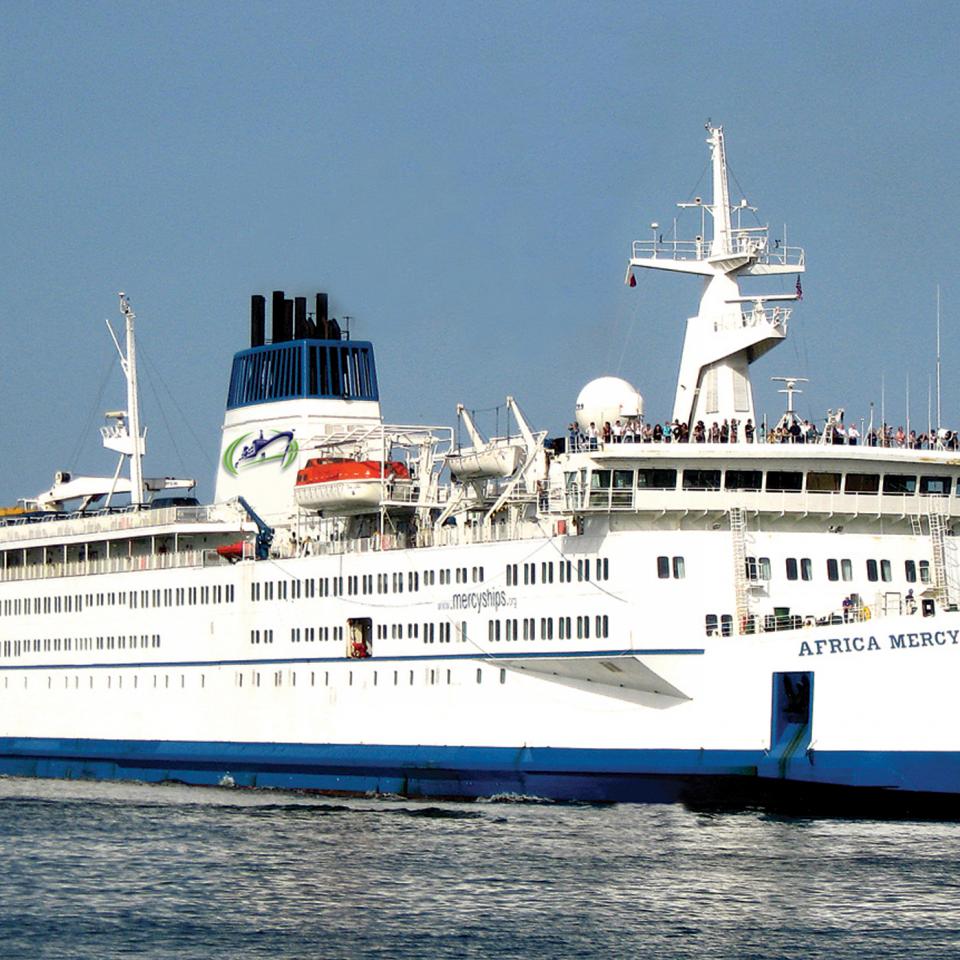 Image: Justine Forrest
Where do food supplies come from?
We get deliveries of local produce three times a week, Including eggs, yogurt, lettuce, tomatoes, avocados, onions, oranges, bananas and mangoes. A container is sent from The Netherlands once a month with ingredients like UHT milk, oils, spices, tea and coffee. It also has the meat, which arrives frozen and is stored in one of the ship's three freezers.
Do you cater for special diets?
No, but our dishes are labelled gluten- free, dairy-free etc where appropriate. Lunch and dinner always have a good choice with hot and cold food, salad options, nuts and olives. We also have a separate galley with household-sized ovens, where crew can prepare their own meals. You'll often find people in there baking cakes or making pizza with local ingredients.
How do you decide what to cook?
We have an 8-week rotating menu, which we try to stick to. Sometimes our containers from The Netherlands can be delayed and then the cooks get to be creative with whatever ingredients are left on board.
Do you work with local cooks?
Yes – our day crew consists of local Beninese who work on the ship in a variety of positions. We have several locals on our galley team, which means we can serve our patients familiar food. Beninese cuisine involves a lot of fish, rice, beans and couscous. Maize is used to prepare a dough eaten with peanut or tomato sauce.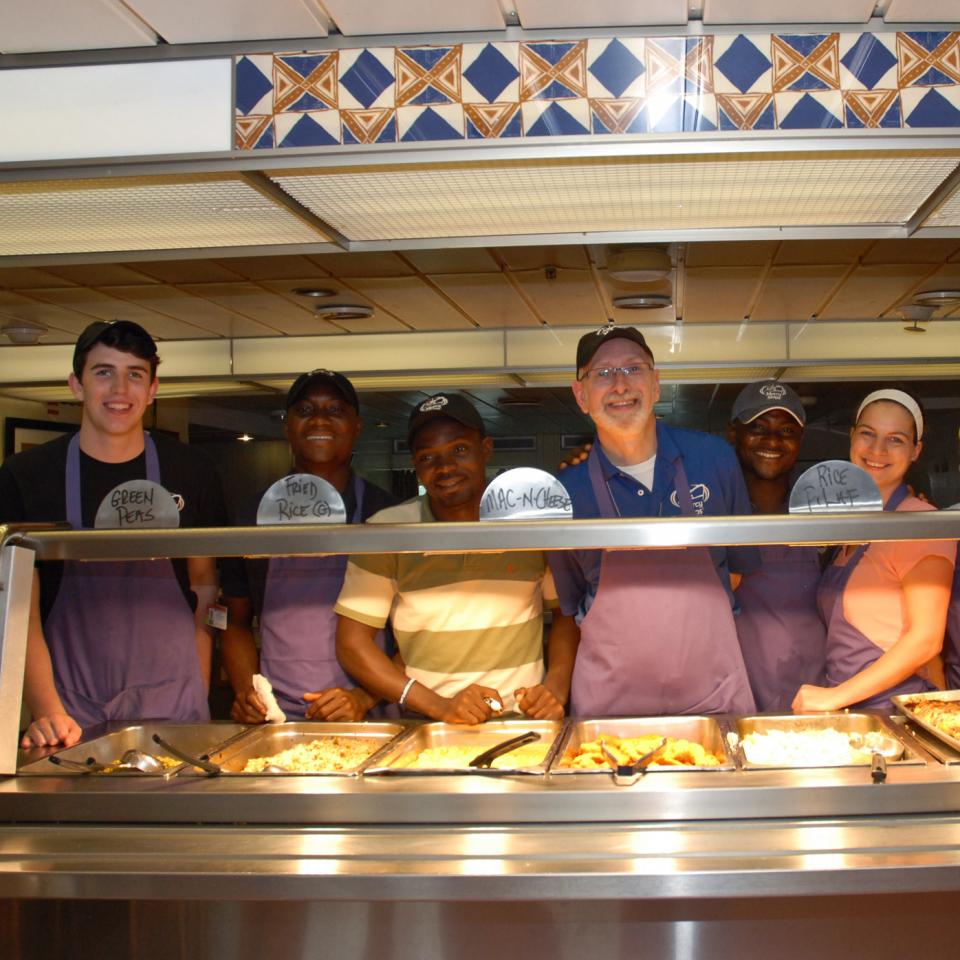 Image: Justine Forrest
How do you fund your trips?
As a volunteer, I am responsible for raising funds to pay for my crew fees and travel expenses. I supplement anything I can't raise out of my own pocket. I feel it's my responsibility to share updates with my supporters so they feel a part of the miracle that Mercy Ships fosters. It's through their generosity that I am here. It takes all of us to make this happen and I'm very grateful.
What do you love most about your role?
What I really love is organising and problem solving. I love the challenge of having the food ready despite obstacles like fire drills or power cuts. When we're sailing, then every task becomes so much harder. My role is important for morale. Since our volunteer crew come from around the world, we want to provide food everyone can feel 'at home' eating.
How can I help?
Mercy Ships is a charity that provides world-class healthcare to people in some of the world's poorest countries. You can make a donation at Mercyships.org.uk. To support Angie directly, enter 'Angie Browne' by filling in the box on the donation page which asks you if you'd like to support a particular crew member.
Don`t miss

---