Food
London's best breakfasts
We might not pay much attention to the best meal of the day during the week, but it will not pass us by on the weekend! What other meal lets you eat a giant pile of pancakes with crispy bacon and lashings of syrup?
If you're not up for creating a mid-morning masterpiece at home, you can get some tempting breakfasts out and about. We've shared our favourite breakfast spots around London that are definitely worth a try if you find yourself in our fine capital this weekend.
Where do you go for a cracking breakfast? Tell us in the comments box below.
Katrina Rendall, features writer - Mel's, Earlsfield, SW18 4ST
Mel's has a retro diner feel – the smoothies and milkshakes are delicious (my favourite is a yogurty, mixed berry one called Chuck Berry) and the menu includes a whole range of tasty brunches from pancake stacks (the Young American includes layers of bacon, sausage and tomato between pancakes and topped with a fried egg and lashings of maple syrup) to veggie kedgeree ('Vedgeree' – risotto cake with a poached egg and curry sauce). It's always bursting at the seams during the day and by night it becomes a burger and cocktail bar with plenty of toe-tapping tunes to get you in the party mood.
Helena Lang, editor – Orchard, Sicilian Avenue, WC1A 2QH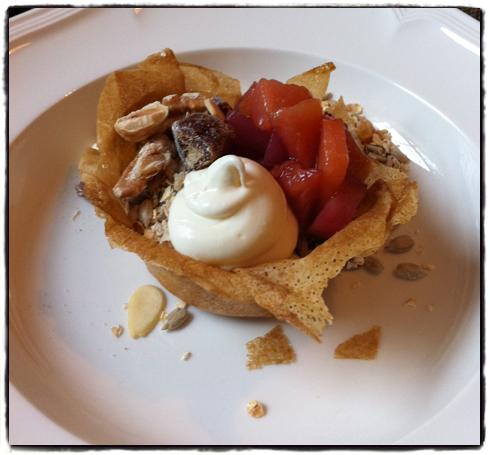 If I've got a breakfast meeting I always suggest Orchard as it's got nice big tables, it's particularly cosy and friendly and the food is relatively wholesome – no big greasy fry-ups! It's vegetarian, but don't let that put you meat-eaters off – you can choose from poached eggs on muffins, or homemade bread toasted and served with homemade jam, but I love the muesli and dried fruit served in a filo basket with some Greek yogurt. Delicious!
Sarah Alcock, junior content editor – Senzala, Brixton Village, SW9 8PS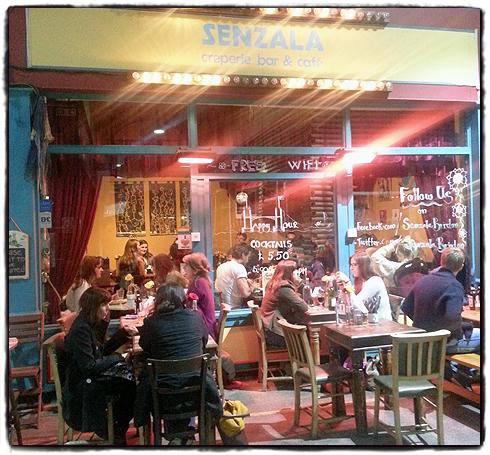 I live in Brixton and this is a pretty perfect place to meet my friend Emma on a Sunday morning when we're feeling either refreshed or slightly worse for wear. Senzala is crepe central. They have an array of fillings, so whatever you're craving that morning, they can cater for it. Savoury or sweet; healthy or very unhealthy. The lot. We like the cheese, ham and egg crepe (one each) and a chocolate and banana pancake to share for afters. The decor is really cool; a bit thrown together with a Brazilian backstreet feel. If you don't like crepes, just have a mosey around Brixton Village and you're sure to find something that takes your fancy...
Lucy Jessop, food editor - Caravan, Exmouth Market, EC1R 4QD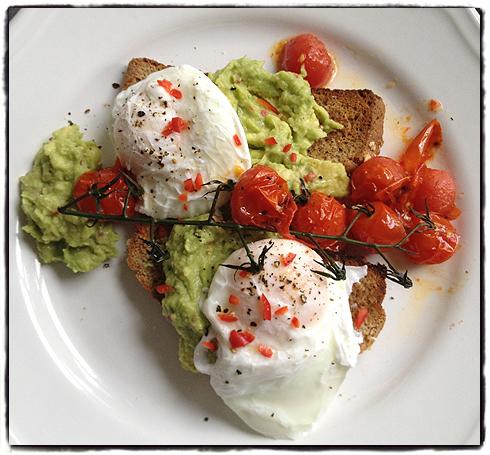 Caravan is just down the road from our office (very convenient) so when I get the chance I go and grab a mug of their home-roasted delicious coffee. Even though I'd happily go just for the coffee, I also love their cornbread French toast with avocado, bacon and rocket. It's so tasty and wholesome that I've started making my own version at home (pictured). If you've got a sweet tooth, try the coconut bread, strawberries and lemon curd cream cheese.
And one more...
J+A cafe, Clerkenwell, EC1M 5PU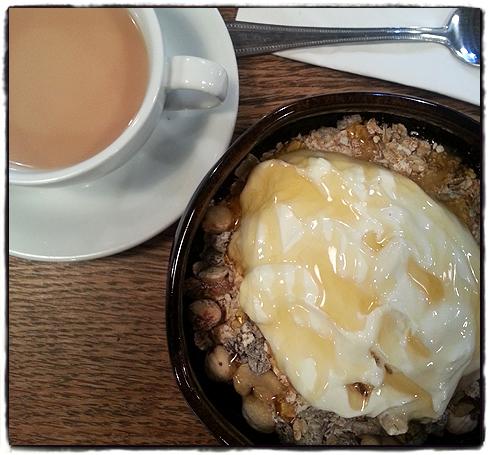 This morning we went for breakfast with the lovely Sainsbury's PR girls to J+A cafe in Clerkenwell (just down the road from our office) and had to include it here! Tucked away down a little cobbled alleyway, the cafe is bright and cheerful with some incredible-looking cakes and smells wafting down the street. I thought I was ordering a modest breakfast of muesli, yogurt and honey and was presented with a giant Goldilocks-sized bowl! I don't like measly muesli portions.
Also on the menu; eggs and soldiers, pancakes, porridge plus delicious freshly-baked Irish soda bread with jams. If you're not around for breakfast, you should go and take a look at their array of cakes...
About the author