Food
Lily Vanilli's bacon and maple syrup cakes
Serves: 12
A fresh batch of baking books have hit the shelves, but which ones are worth splashing out on?
Quirky up-and-coming artisan baker, Lily Vanilli's new recipe book is aptly named Sweet Tooth, and we went to the book launch to meet Lily and sample some of her creative cakes and goodies. From miniature summer bakewells and whisky salted caramel popcorn to popping candy fool's gold chocolate, at times we didn't know what were decorations and what were edible treats!
Lily started out selling her cakes as a hobby in east London until, three years ago, her little stall was discovered by a journalist. Lily has since made baking her full-time job, and thank goodness she did! She now runs the Lily Vanilli Bakery off Columbia Road in east London, selling fabulous cakes, pies and tarts to the visitors of the East End flower market.
Here are three more new baking books worth dipping into:
National Trust Simply Baking by Sybil Kapoor (National Trust Books, £25)
How To Bake by Paul Hollywood (Bloomsbury, £20)
Cake by Rachel Allen (Collins, £25)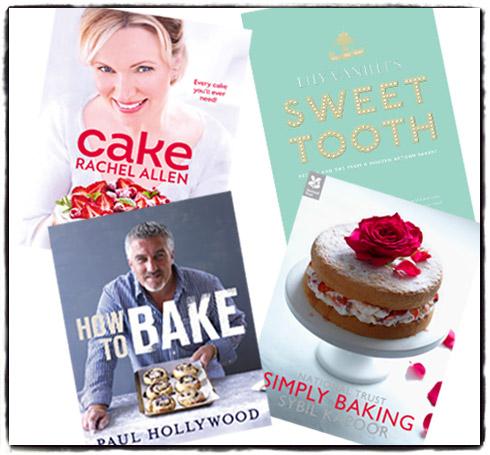 For your chance to win one of five copies of Lily Vanilli's Sweet Tooth (Canongate, £20), enter our prize draw here
Here's our version of Lily's Bacon and maple syrup cakes – the combination of spices, sweet frosting and salty bacon is deliciously different. Give them a try, they're great for brunch.
Ingredients
180g plain flour, sifted
½ tsp baking powder
½ tsp salt
½ freshly grated nutmeg
a pinch of ground cinnamon
170g unsalted butter, at room temperature
215g caster sugar
3 eggs, separated
1 tsp vanilla extract
125ml whole milk
3 rashers smoked back bacon
1 tbsp maple syrup, for brushing
12 whole pecans, toasted
cracked black pepper
For the frosting: 30g unsalted butter, at room temperature
150g icing sugar, sifted
a few drops of vanilla extract
60ml double cream
maple syrup, for drizzling
Method
Preheat the oven to 200°C, fan 180°C, gas 6.
In a bowl, whisk together the flour, baking powder, salt and spices; set aside.
In a separate bowl, cream together the butter and sugar until light and fluffy, around 7-10 minutes. Beat the egg yolks in one at a time until evenly incorporated, then add the vanilla extract.
Add one third of the dry ingredients to the wet mixture, followed by a splash of milk. Repeat until all the dry ingredients and milk are added; mix evenly.
In a large bowl, beat the egg whites until stiff peaks form. Gently fold the whites into the cake mixture in two parts.
Divide the batter evenly between the holes of a buttered 12-hole cupcake or muffin tin and bake for 15 minutes, or until just brown and a toothpick inserted into the centre of a cake comes out clean.
Remove from the oven and leave to cool in the tin for 10 minutes. Transfer to a wire rack to cool completely.
Turn the oven up to 220°C, fan 200°C, gas 8. Lay the bacon rashers out on a baking tray lined with foil and brush with the maple syrup. Bake for 20 minutes or until crisp. Cut the bacon into 12 small strips.
To make the frosting, beat the butter for two minutes until soft, then add the icing sugar, vanilla extract and double cream, beating until smooth and creamy.
Pipe the frosting on to the cooled cakes, then top with a toasted pecan, a strip of crispy bacon, a drizzle of maple syrup and a grinding of cracked black pepper.
About the author