Food
Levi Roots' coconut chicken curry
by Sarah Alcock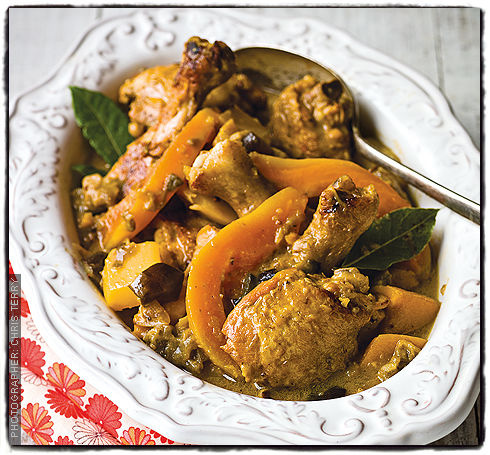 Today is Blue Monday – the most depressing day of the year, apparently. But instead of feeling sorry for ourselves, we've decided to cheer up this gloomy January day with an exotic, colourful Caribbean curry by the master of spice, Levi Roots.
If you want to give your curry more of a kick, just add extra chilli – in Martinique, they say the hotter the better!
Tell us what you're cooking to cheer you up this gloomy day in the comments box below.
Recipe taken from Caribbean Food Made Easy by Levi Roots and published by Mitchell Beazley

Levi is supporting World Food Night for Refugee Action. If you want to host a meal for friends to raise money, you can order a free fundraising pack with recipe suggestions and cooking tips here.
Ingredients
FOR THE SPICE MIX
¼ tsp turmeric
1 tsp ground coriander
1 tsp mustard seeds
3 garlic cloves
½ Scotch bonnet chilli, halved and deseeded
1 tsp sea salt flakes
FOR THE CURRY
4 tbsp sunflower or groundnut oil
12 chicken pieces (thighs and drumsticks)
2 onions, roughly chopped
500g butternut squash, peeled and cubed
2 aubergines, cubed
4 waxy potatoes, peeled and cut into chunks
1 ripe mango, peeled and chopped
1 ripe papaya, peeled and sliced
1 x 400ml tin coconut milk
300ml chicken stock
½ tbsp tamarind paste
3 small bay leaves
juice of ½ lime
1½ tbsp rum (optional)
rice, to serve
Method
Pound everything for the spice mix using a pestle and mortar until you have a paste.
For the curry, heat half the oil in a large casserole, season the chicken and brown it on all sides. Transfer the chicken to a plate and set aside.
In the remaining oil, cook the onions, squash, aubergines and potatoes. If your pan isn't big enough, cook the onion and aubergine first, then add the squash and potatoes once the other veg are starting to brown).
When the veg are golden, add the spice mix and cook, stirring, for 4 minutes to release the fragrance of the spices.
Return the chicken to the casserole and add all the other ingredients except the lime juice, rum and rice.
Bring to the boil, then cover and simmer for about 40 minutes, until the chicken is cooked through. Add more water or stock, if necessary, but the finished dish shouldn't be too soupy.
Add the lime juice and adjust the seasoning. Stir in the rum (if using) and serve with rice.
Don`t miss

---