Food
Leek, chicken and pearl barley soup
by Sarah Randell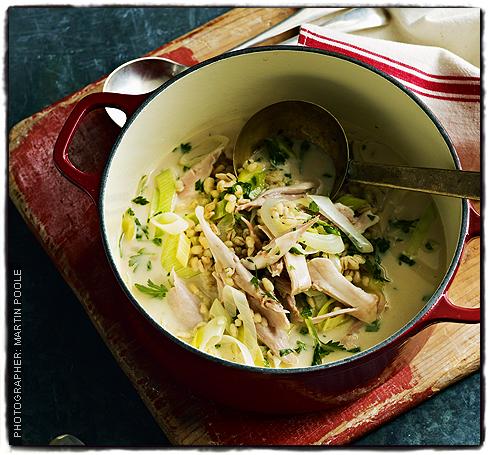 This hearty soup is a meal in a bowl. All you'll need is some fresh crusty bread to dip in.
Ingredients
2 free-range chicken legs
1 litre chicken stock
1 small onion, chopped
1 carrot, chopped
1 stick of celery, chopped
a few peppercorns
1 bay leaf
100g pearl barley
3 leeks, sliced
3 tbsp double cream
2 handfuls of chopped parsley
Method
Put the chicken legs in a medium pan with the stock, onion, carrot, celery, peppercorns, bay leaf and 650ml cold water. Simmer for 20 minutes, partially covered.
Meanwhile, put the barley in a separate pan and cover with cold water. Bring to the boil, then drain and rinse in cold water.
Return the barley to the pan and cover with cold water again. Bring to the boil, then simmer for 30 minutes.
Strain the stock from the chicken, discarding the flavourings. Set the chicken legs aside.
Drain the cooked barley and add it to a clean pan with the stock. Simmer for 15 minutes.
Add the leeks and simmer for a further 15 minutes.
Shred the chicken and add the meat to the pan; discard the skin and bones.
Warm through for 5 minutes. Season, stir through the cream and parsley and ladle into warm bowls.
Tip
Try making this soup with mini pasta shapes instead of pearl barley. Add them to the soup at step 5
Don`t miss

---