Food
Keep calm and carry on cooking: celebrating VE Day 75 years on

VE Day, 1945. The war is over, and people pour onto the streets to celebrate. Thane Prince reflects on that most momentous of days, 75 years on.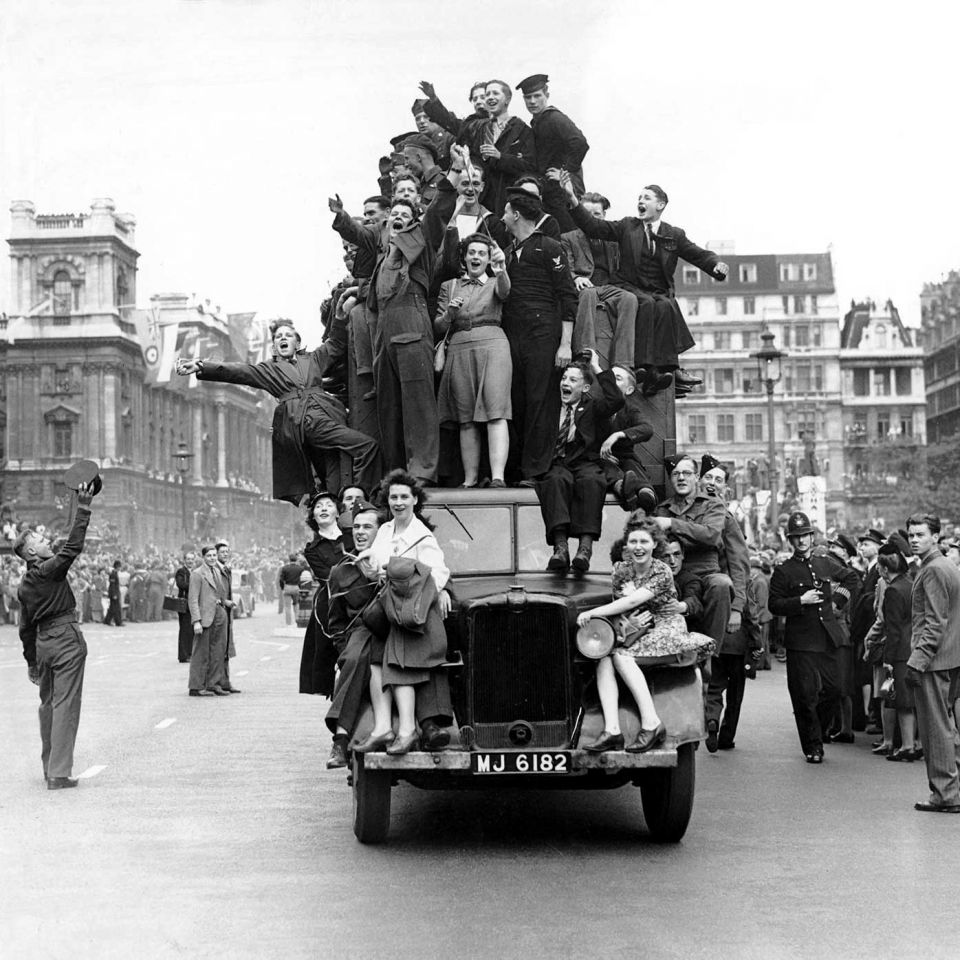 'Wind refreshing; warm and sunny at first but rain can be expected later.' The Daily Mirror weather forecast on 8 May, the first in a national newspaper for five and a half years, heralded the start of peace. The previous day, word had been spreading that victory was close, and an official announcement would soon follow. All the effort, deprivation, destruction and loss of life had not been in vain. The allies had triumphed and peace, glorious, blessed, peace, would be restored.
In towns and cities nationwide, people took to the streets in celebration. Ken Bourne, who was eight when he heard the news, ran straight to his box of war souvenirs, hidden under the bed. He found an old German flag and cycled straight to the local allotments where rubbish was being burnt, and threw it onto a fire. Rosalind Tomlinson, now 80, remembers being taken to central London to watch the celebrations. 'We huddled round the radio every day, and heard that the war was ending. My father put me on his shoulders, and took me down to Trafalgar Square. People had made periscopes out of cardboard to see over the crowds – there was singing, dancing… everyone was happy.'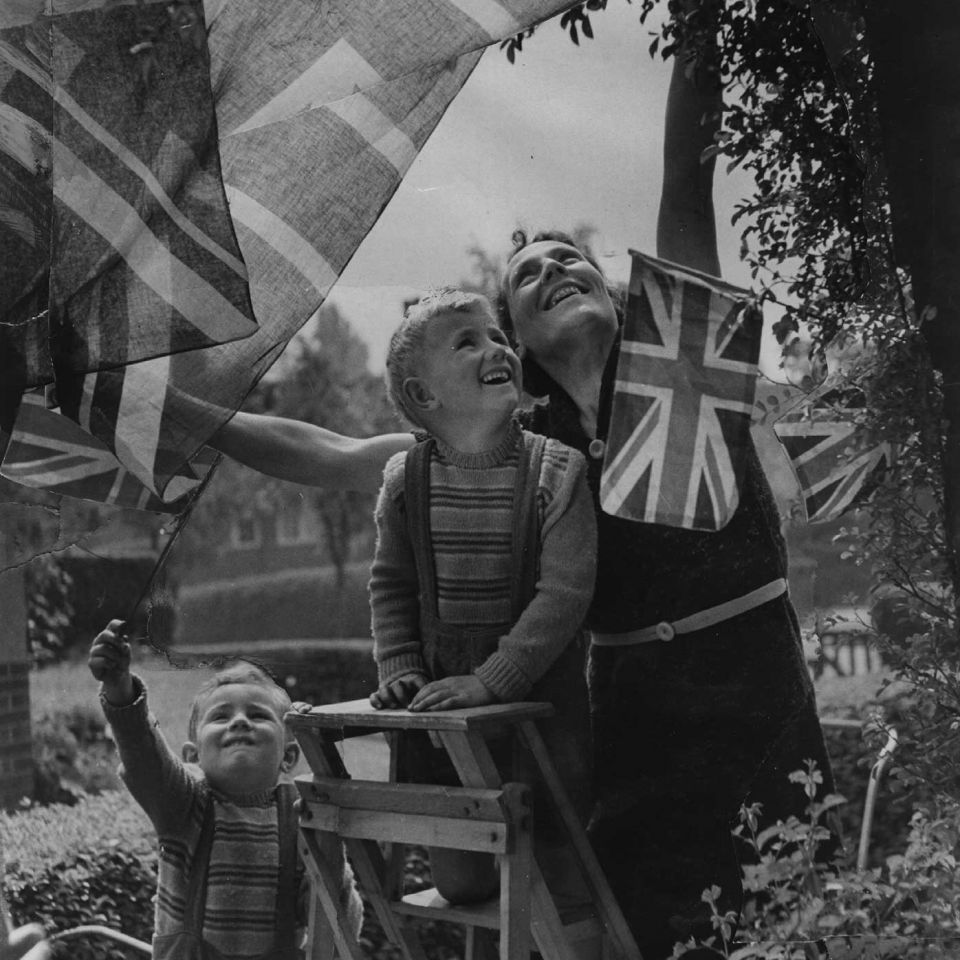 Across the country, emotional parents told their children that the war was over and bombs would fall no more. Diane Cook, now 82, was getting dressed when her mother came into her bedroom to tell her with excitement that the war had ended. Not wanting to forget friends who were fighting in Burma, she quickly added that not every country was free. 'But the air raids', asked Diane, 'have they stopped?' Yes, said her mother hugging her – there would be no more planes.
Food writer and broadcaster Marguerite Patten was working for the Ministry of Food, showing how cakes could be made using carrot as a sweetener and helping cooks acclimatise to dried egg. She told of the excitement growing in London on the evening of 7 May. 'I kissed more people that day and night than I have kissed in my life, before or since,' she said. 'I didn't know who they were, and I never saw them again. There was such a good temper among the crowd, you see. You suddenly realised that you were not afraid. You were not listening for sirens. It was such a strange, wonderful feeling after so long.'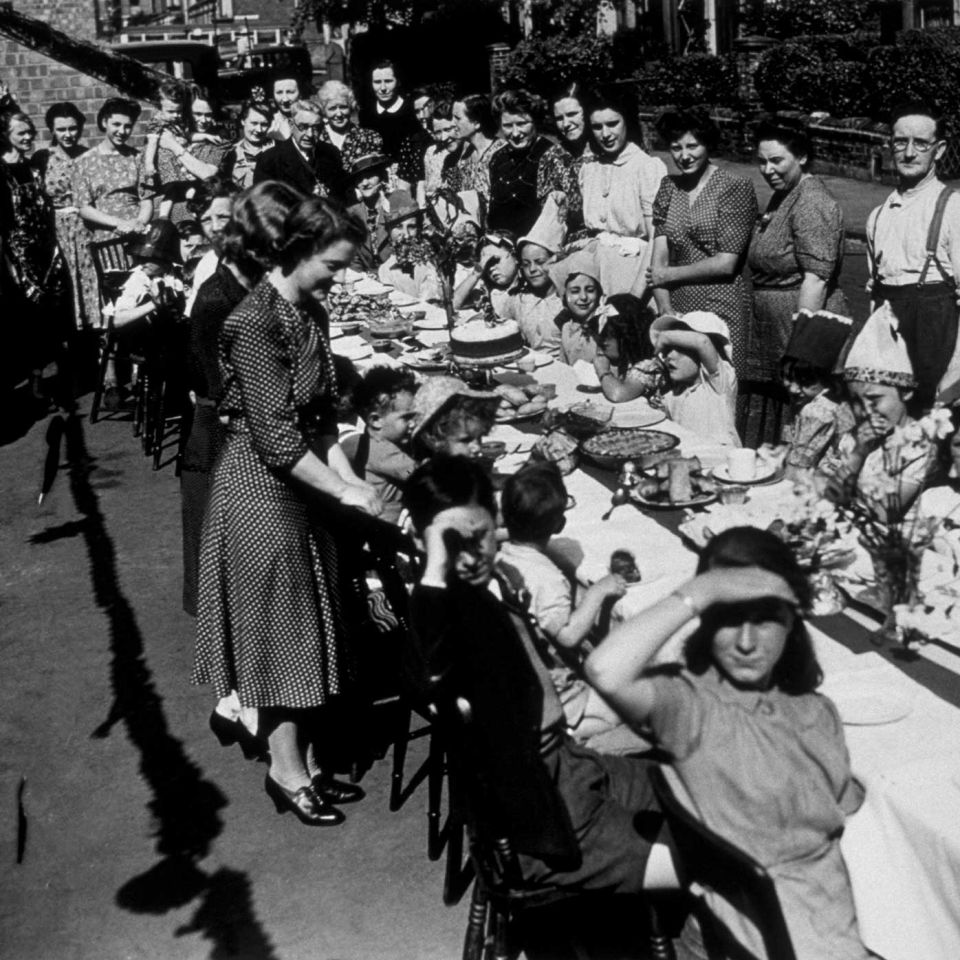 Let the celebrations begin!
Children were thrilled to learn that schools would be closed for two days – and that the end of the war in Europe would be celebrated with the biggest of parties. Now at last there was something to celebrate… but with what? Food shortages at this stage of the war were chronic, spirits such as gin and whisky almost impossible to get, and beer was weaker than ever. This, though, was a country that had withstood years of deprivation. A small matter like shortages wasn't going to stop the fun. Overnight committees were formed, lists made and jobs allocated as the nation geared up for the VE Day street parties.
Cupboards, cellars and attics were searched for anything that could be used to decorate the tables. Everyone wanted a Union Jack to fly from their window and bunting to string along the streets and hedgerows. Children helped, set to work making paper hats and streamers out of old newspaper, and rosettes using red, white and blue crepe paper. Party food was scarce, and people went door to door asking people to check their larders and spare what they could for the feast. Wood was collected for bonfires, musicians were asked to bring instruments, pianos were pushed out into the road, gramophones and records borrowed for dancing.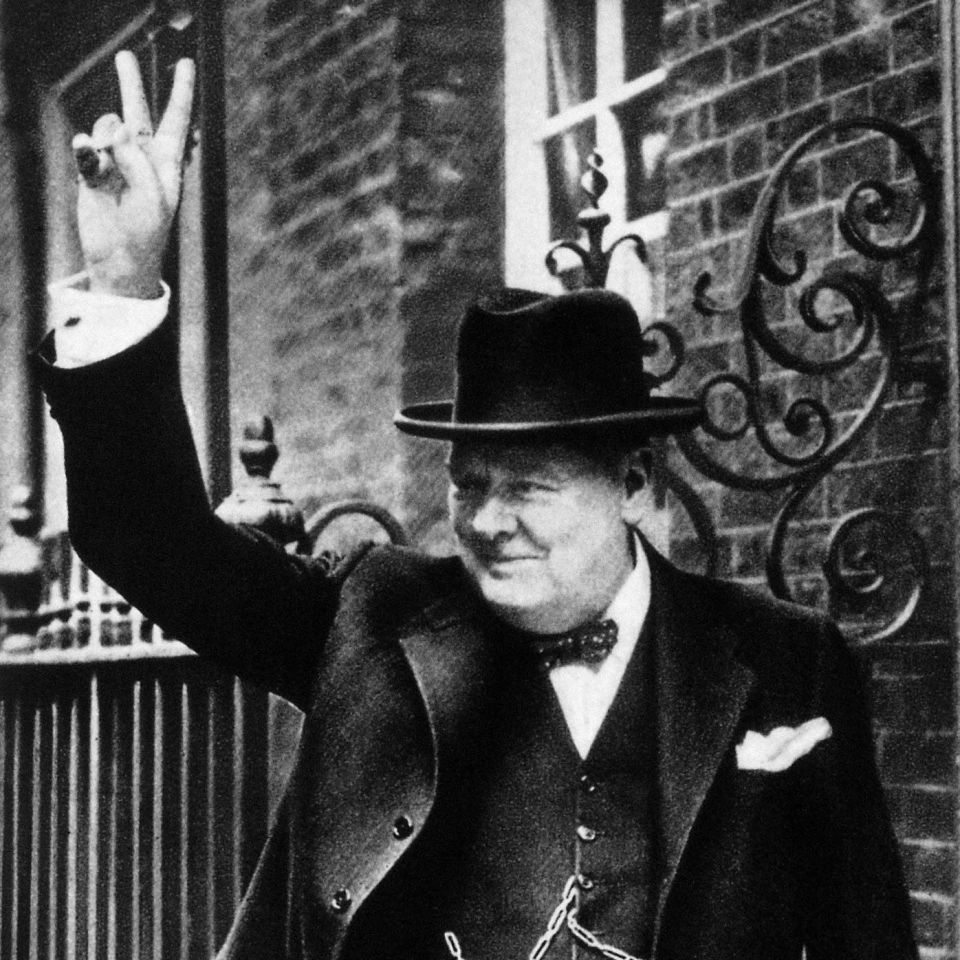 David Kimberley, the youngest of four brothers from Birmingham, remembers hanging the Christmas tree lights up in a giant VE in the window of his parents' terraced house. Later that day, a street party was hastily organised. 'There were no camping chairs then – everyone carried dining room chairs out. There were fish paste and jam sandwiches, jelly and blancmange – we kids were so excited!' Similar scenes were happening in towns the length of Britain.
Trestle tables were commandeered from church halls and, with spare produce gathered, bakers all over Britain made dozens of fairy cakes and sliced loaves for the feast. Sugar-topped buns, Welsh cakes and jam tarts were baked, big bowls of margarine beaten with butter were set ready to make mountains of sandwiches. Boilers were charged with water and tea rations pooled.
At 3pm on Tuesday 8 May, 1945, radios all over the country tuned to the BBC to listen to Winston Churchill give his historic speech. Huge crowds, with people dressed in red, white and blue, gathered outside Buckingham Palace and cheered as King George VI and his family came out onto the balcony. That evening, after epic celebration teas, the bands played on, crowds sang until no-one had any voice left and long conga lines wound through the streets.
Bonfires lit the night sky, church bells rang jubilant peals and no-one wanted the night to end. The pubs had long since run out of beer but everyone was drunk on freedom. It was over. We had survived – not only survived, but with the help of our friends, we had won.
Our food team revisit and refresh three classic wartime recipes in the May/June issue of Sainsbury's magazine - on sale May 20.
About the author