Food
It's not dinner, it's not lunch, it's Le Drunch...
by Sarah Randell
We're all familiar with the relaxing Sunday ritual of brunch, but now it seems there's a new meal in town: le drunch, to be devoured, you guessed it, between lunch and dinner. And now, luxury French mustard company Maille is tempting us to try this Parisian custom at London's Old Spitalfields Market this week.
From Thursday 21 to Sunday 24 March, Maille is offering a free four-course le drunch with wine at their market boutique. Michelin-starred French chef Hélène Darroze from The Connaught is behind the menu, so you're really in for a treat – I went last week, check out my pictures below.
You can book online, but don't be disheartened if you can't secure a slot – the team will accommodate as many walk-ins as they can. They'll also supply you with cosy blankets, as eating in the market can be a bit nippy, but make sure you wear something warm, too! I managed to convince Hélène to share her crab cake recipe (below), so even if you can't make it to Maille, you can experience a little le drunch decadence at home.
What do you think of this new foodie craze? Tell us your thoughts in the comments box below.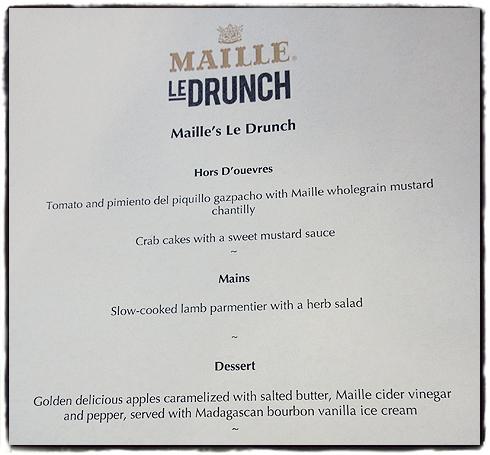 First up, a gorgeous gazpacho with a creamy mustardy mayo.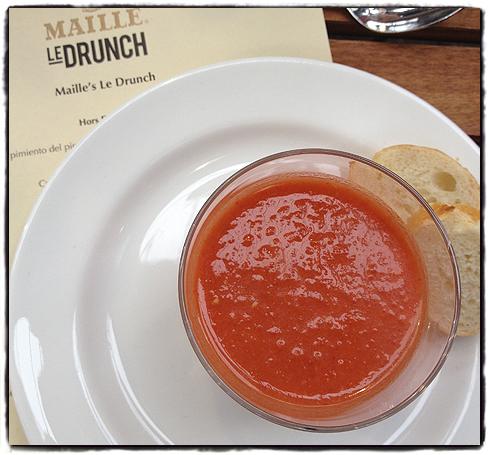 Next, deliciously sweet crab cakes
(see below)
For the main event, shepherd's pie made with shredded lamb shoulder and the most buttery mash imaginable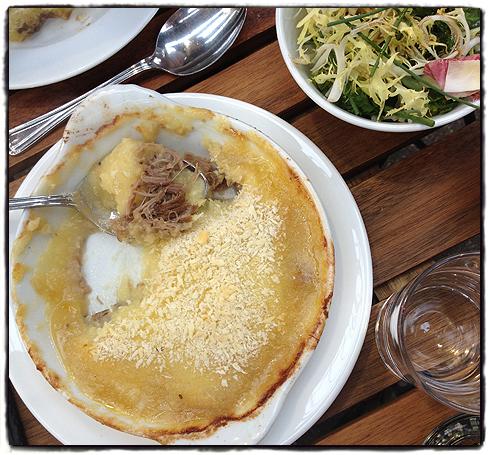 Apples with salted caramel sauce and ice cream for pud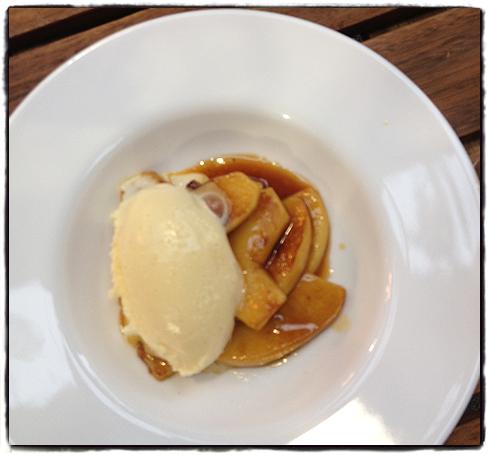 Crab cakes with a sweet mustard sauce
Ingredients
FOR THE CRAB CAKES:
375g crabmeat
60g mayonnaise
20g spring onions
1 tbsp Tabasco
1 tbsp Worcestershire sauce
black pepper or chilli powder, to season
50g panko or other dried breadcrumbs
1 large egg yolk, lightly beaten
vegetable oil, for frying
FOR THE MUSTARD SAUCE:
2 shallots, finely chopped
1 tsp olive oil
40ml white wine vinegar
50g mayonnaise
25g Dijon mustard with honey
black pepper or chilli powder
Method
To make the sauce, put the shallots in a small pan with the oil and cook gently until soft. Add the vinegar to the pan, bubble briefly, then leave to cool.
Mix all of the ingredients for the crab cakes together in a big bowl, except the breadcrumbs, egg yolk and oil.
Divide the crab mixture into 12 portions, then shape each into a small 1.5cm-thick crab cake.
Stir the rest of the sauce ingredients into the cooled vinegar mixture.
Dip the crab cakes into the beaten egg yolk, then roll them in the breadcrumbs.
Shallow-fry the crab cakes in hot vegetable oil over a medium heat for 2-3 minutes on each side or until golden brown and piping hot.
Serve with the mustard sauce.
Don`t miss

---