Food
Howard's gluten-free baking tips
When we were lucky enough to catch up with one of our favourite ever Great British Bake Off contestants, Howard Middleton, we made sure to grill him for his top gluten-free foodie tips. After making multiple yummy wheat-free bakes on our TV screens, Howard has become something of an idol for coeliac bakers.
Howard's top tips:
Don't just swap gluten-free flour into any old recipe!
You can usually use rice flour in place of ordinary flour in a biscuit recipe, but it gets trickier in things like cakes and breads. Even Howard still struggles occasionally with gluten-free bread!
Find a good gluten-free recipe and master it
Once you've got a good recipe for a gluten-free cake you can adapt it. Howard's gluten-free coconut and pineapple cake recipe is the one he's most proud of, and it works just as well with different seasonal flavours. We think his plum crumble cake is pretty good too.
Be original
Howard is really impressed by Newburn Bakehouse's idea for using gluten-free sweet chilli cracker thins as nachos. Serve with salsa, melted cheese and jalapeno peppers. Tasty!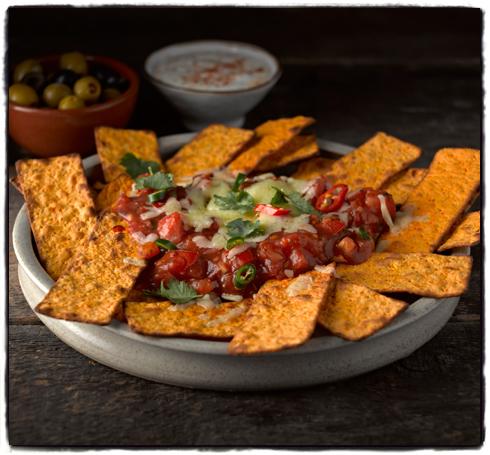 Newburn Bakehouse sweet chilli cracker thin nachos
Go nuts for nuts
Having a good selection of nuts in your kitchen (and a nut grinder!) means you can make lots of different flavoursome flour alternatives.
Bake with quinoa flour
Because it's got quite a nice nutty taste to it. Howard tends to use it in smaller quantities, and mix it with another gluten-free alternative, like a rice flour.
Be inspired
Howard loves Moroccan flavours, so uses seeded sandwich thins in place of pitta to make his feta fattoush, with mint, lime, feta and pomegranate.
Howard's seeded feta fattoush
Download the #Lunchoff app from Newburn Bakehouse, and plan out your week with their range of yummy gluten-free lunch ideas. Got a great gluten-free lunch idea of your own? Why not share it to be in for the chance of winning a Newburn Bakehouse gluten-free lunch hamper.
About the author