Food
How to cook with tofu
Don't be put off by its wobbly appearance – with a little cooking know-how, tofu can be moreishly crispy or gloriously silken. Amy Bonifas unlocks its powers...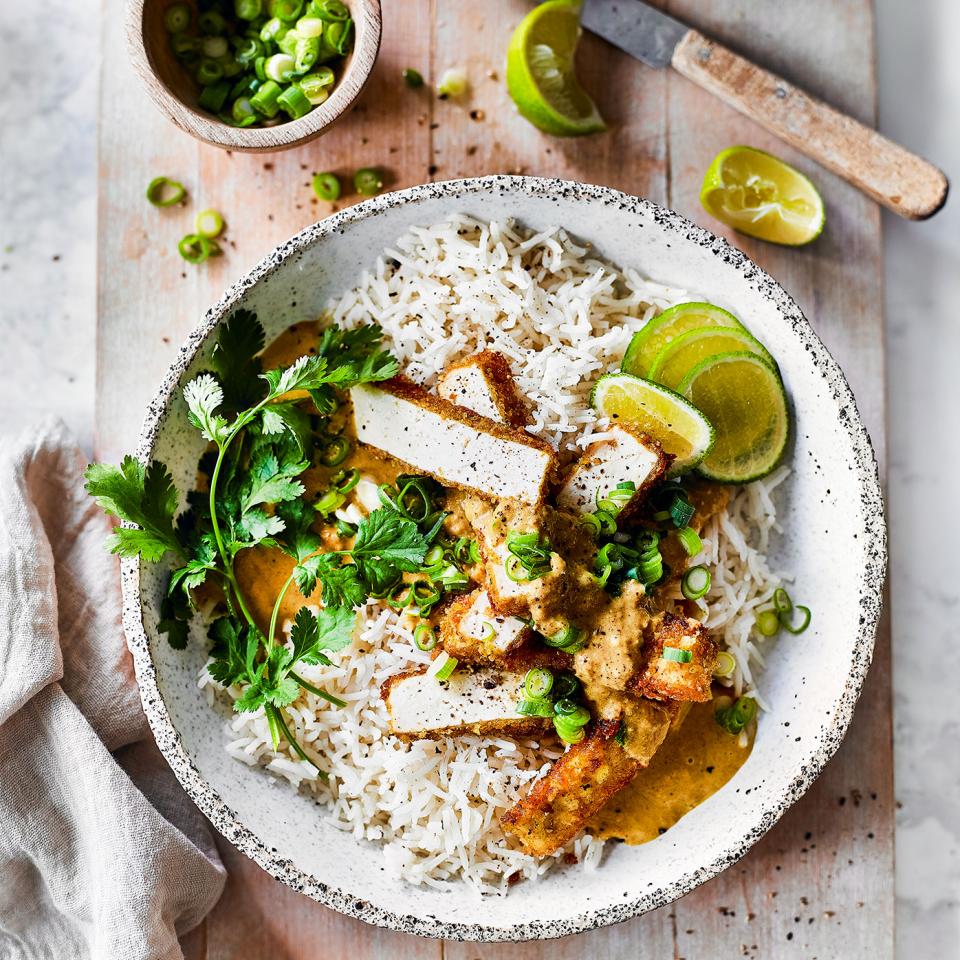 Tofu katsu. Image: Martin Poole
'Bland', 'soggy', 'flavourless' – a quick ask around my foodie friends and there's no doubt tofu gets a bad rap. So when I announce I'll be serving up a tofu tikka masala at our next gathering, the reaction is dubious, at best. But, with more of us cutting down on meat, it seems I'm not the only one looking to experiment in the kitchen.
With tofu finding its way onto restaurant menus across the country and packing a good amount of protein, it's fast becoming the meat-free go-to for food bloggers and gym-lovers alike. 'People are beginning to appreciate tofu, and for good reason,' says Sasha Gill, chef and author of Asian vegan cookbook Jackfruit And Blue Ginger: Asian Favourites, Made Vegan (Murdoch Books, £18.99). 'It absorbs a marinade like a sponge, making it incredibly versatile. It's a delicious way to bulk up your veggie meals and, with a little TLC, can exceed all our soggy assumptions.'
Made from soybean curd, tofu is rich in protein and minerals, including iron, calcium, selenium and magnesium. Particularly useful for vegetarians or vegans, it contains all nine essential amino acids. The easiest variety to find is firm, which you can marinate or fry with spices. Silken tofu is more delicate and custardy in texture – perfect for making vegan-friendly desserts. Then there are pre-flavoured types, including fermented (great as a feta alternative), smoked and pre-marinated – ideal if you don't want the faff of prepping it. You can even freeze it for a chewier, bouncier texture.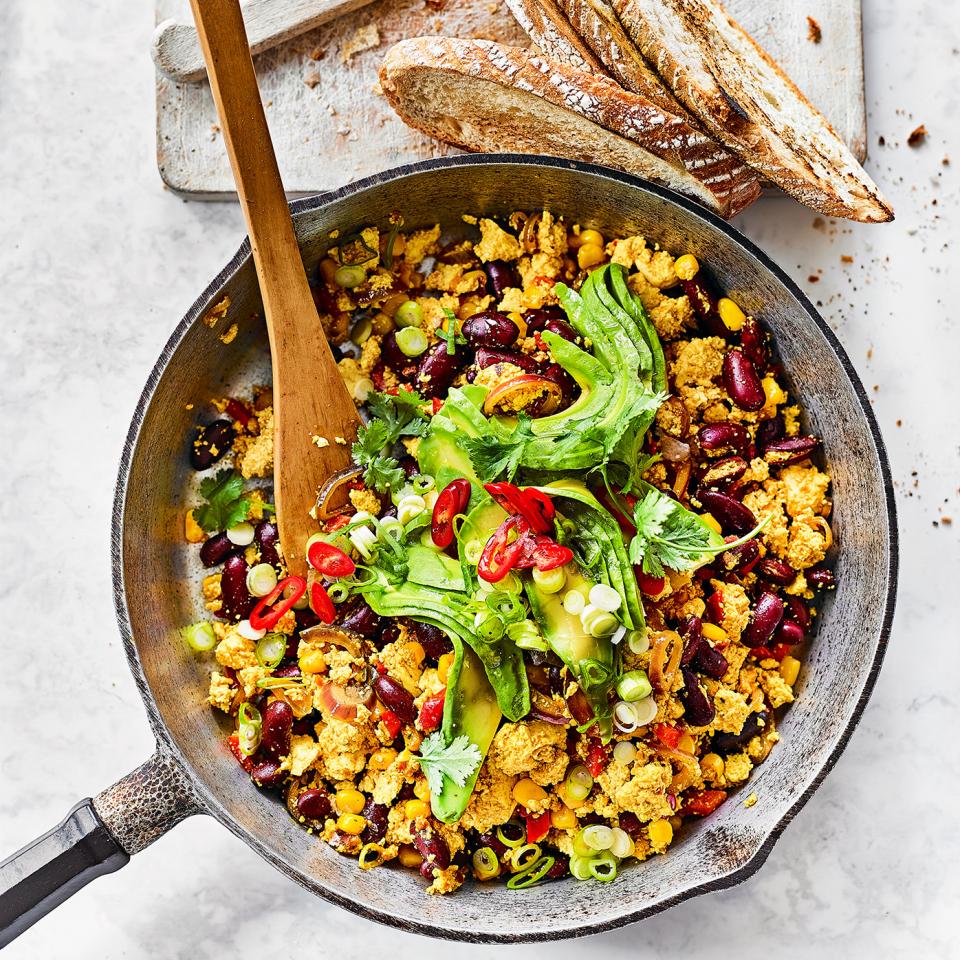 Cajun tofu scramble. Image: Martin Poole
'One of my favourite ways to eat it is in a popular Chinese dish called claypot tofu, which I remember ordering in the stiflingly hot hawker centres [cooked-food markets] of Singapore,' says Sasha. 'Rounds of silky tofu are braised until they're mottled and golden, then cooked in a thick stew with vegetables and shiitake mushrooms. It's a real umami bomb!' Looking for a simpler recipe to cook at home? Try this standout crispy tofu. 'Start by pressing a block of firm tofu,' says Sasha. 'Wrap it in a kitchen towel and place something heavy like a wooden chopping board, on top for about 30 minutes. Chop it into cubes and soak in a marinade of soy sauce, ginger, pinch of brown sugar, lime zest and sesame oil for half an hour. The drain, toss it in cornflour and fry it with a splash of oil.'
For something more high-end, try pioneering plant-based restaurant Plates, where the wobbly white stuff is a delicacy. 'We make our own using vegetable extracts and natural seaweed setting agents for more diverse flavours,' says head chef Kirk Haworth. 'We serve it finely chopped, dressed with sesame seeds and coriander, and mixed through seasonal vegetables.' However you cook it, the health benefits alone make it worth adding to your recipe repertoire. 'Tofu is rich in feelgood iron and magnesium, while a 100g portion provides roughly the same amount of bone-loving calcium as a yogurt – helpful if you're switching to dairy-free,' says nutritionist Penny Crowther. Soya can also help reduce 'bad' cholesterol, according to the British Dietetic Assosciation, as it's naturally low in saturated fat.
It doesn't come with controversy - imported soybean is one the most common genetically modified (GM) crops, which can mean an increased level of pesticides. Some US studies have also linked raw soya to thyroid and hormonal problems. However, Penny says most of these refer to its more processed compound forms, such as soy protein isolate, which are used as bulking and flavour-enhancing agents in foods such as protein bars and powders. 'Choose an organic tofu brand with fewer ingredients,' she recommends. 'Water, organic soya beans and calcium sulphate (added to help separate the curd from the liquid) are all that's needed. As with anything, eat it alongside a balance of other colourful plant foods.' Armed with this knowledge, I serve up my tikka tofu to my sceptical friends (one of whom has admitted to bringing a snack bar with them, 'just in case'). A few spoonfuls in and... all is redeemed. The soft, creamy cubes – similar in texture to velvety paneer – are a cooling contrast to my tangy, spicy sauce, and no one feels cheated by the lack of meat. In fact, even the snack-bringer wants the recipe.
Now try our recipes