Food
How to cook Welsh lamb with Bryn Williams
by Sarah Alcock
I love lamb and often order it in restaurants, but at home I tend to stick to what I know; usually a traditional roast leg with all the trimmings. Last week I went to Odette's restaurant in Primrose Hill, north London, to sample a tasting menu of Welsh lamb cooked by super-passionate Welsh chef Bryn Williams (who you might recognise from the BBC's Great British Menu), and came away with some cracking new ideas for cooking different cuts of lamb at home.
Here's a little selection of what we ate. The plates are quite small, so we didn't eat that much...
Braised Welsh lamb neck fillet with spring vegetables (pictured above)
Lamb neck isn't something you might think to put in the trolley, but it's inexpensive and, when cooked well, it's melt-in-the-mouth delicious – we didn't even need a knife to cut it. As it's from a hard-working part of the animal it needs slow cooking, so this one is better for an evening or weekend when you have a bit more time on your hands.
Shepherd's pie

Bryn makes his own mince and very finely chopped the vegetables so the texture of the dish was incredibly smooth. He sprinkled crispy onions on to the potato to add bags of flavour.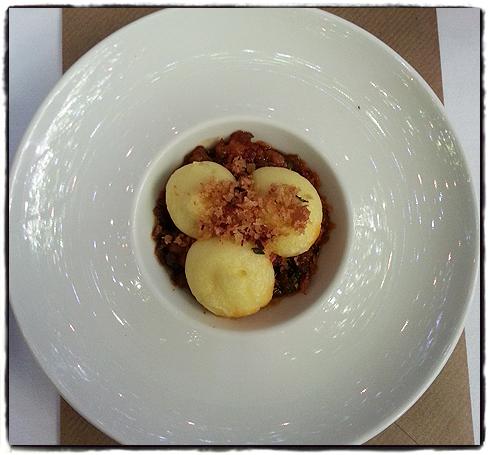 Poached Welsh lamb shank, barley and herbs

Instead of braising the shank, which was a big food trend about 10 years ago, Bryn poached the meat and served it in a delicious broth with aromatic nutmeg and mace. The pearl barley added a bit of a bite to the soft, fall-apart texture of the lamb.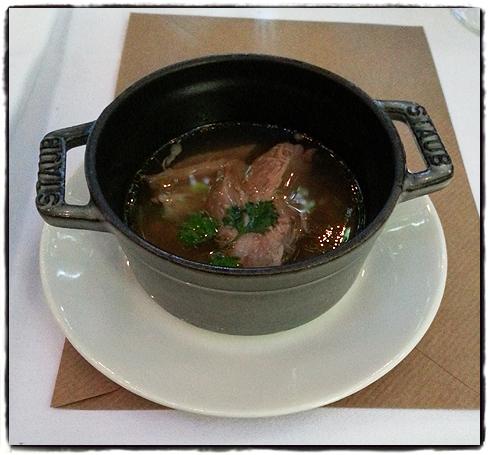 Fancy making something similar at home? Try these...
Welsh lamb shanks with vegetables and pearl barley.
Ingredients
1 tbsp oil
4 lamb shanks
1 onion, peeled and quartered
1 leek, thickly sliced
2 carrots, peeled and cut into chunks
2 celery sticks, cut into chunks
2 parsnips, peeled and cut into chunks
2 bay leaves
50g pearl barley
450ml lamb stock
Method
Preheat the oven to 180°C, fan 160°C, gas 4.
Heat the oil in a large pan, add the lamb shanks and brown on all sides. Discard the excess fat.
Add the vegetables, bay leaves and pearl barley; stir together.
Pour in the stock and bring to the boil; season. Cover with the lid and simmer for 1½-2 hours in the oven, or on the hob if you prefer.
Serve with steamed green vegetables.
Tip
Stir chopped parsley, mint and chives into the broth for a summery flavour.
Don`t miss

---