Food
How sherry became cool
by Emma Hughes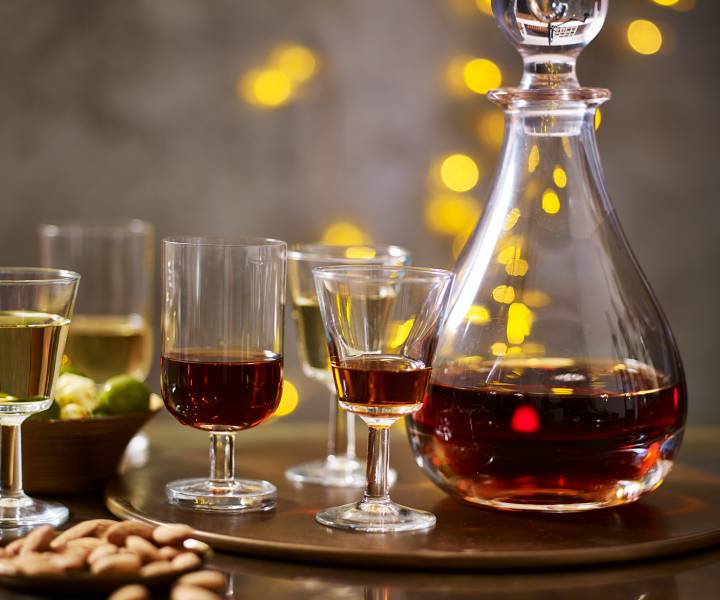 Image: Stuart West
Those bottles that used to lurk at the back of the drinks cabinet are now the tipple of choice for a new generation. Emma Hughes reports on how sherry became cool.
When you think about sherry, what's the first thing that comes to mind? Trifle, probably, or Uncle Monty from Withnail & I. Almost certainly not glasses of it paired with sharing dishes all over Instagram, or 20-somethings queueing to sample a rare small-batch bottling. But that's exactly what's happening. Sherry, we've realised, is for life – not just for Christmas.
How did fortified wine – once the beverage equivalent of Father Ted's Mrs Doyle – become hipster catnip? 'I grew up in a sherry-drinking household, but there was still this idea that it was for old people,' says Kay Plunkett-Hogge, a food and drinks writer and author of A Sherry & A Little Plate Of Tapas (Mitchell Beazley, £15.99). 'The bottle of Harveys Bristol Cream came out at Christmas, but it wasn't something you had with food. Then, about a decade ago, Spanish restaurants like Barrafina and Brindisa opened in London, where you were encouraged to drink it with food as you would a regular wine. And the marketing people got with the programme, too, targeting a different audience.'
This drink is about as artisan as you can get. Even the largest sherry producers (like Bodegas Lustau in Jerez, Spain, the city the drink takes its name from) would fit into the grounds of a modest chateau, and tend to be family-run. The production methods are also quirky. There's no one size-fits-all process: lighter, fresher ones like Manzanillas are aged under a film of yeast known as the 'flor', but darker, nuttier styles undergo oxidative ageing in wooden butts. Then there are limited-edition en rama sherries, minimally filtered for a straight-from-the-cask taste. They're released seasonally and sell out within weeks. For a generation chasing novelty and authenticity, it's an irresistible proposition. And even the rarest ones are better value than a middle-of-the-road Chardonnay or Malbec.
Sack in London offers a range of well-priced sherries, and at Pata Negra in Bristol, during 'pintxos hour', customers can enjoy three tapas-style snacks – known as pintxos – with a glass of sherry, for just £7. Still, it can be an acquired taste. 'I remember trying sherry for the first time and thinking, "This is gone-off wine, I don't like it",' says Louis Ugbade-Campbell, manager at award-winning cocktail bar 69 Colebrooke Row in London. 'But when I went back to it, I understood more about its background.' Today, he's a convert. 'We love showcasing it in cocktails. We did a drink called the Soy Cubano, where a Pedro Ximénez sherry was stirred with dark rum and rooibos tea – when we took it off the menu, we got complaints.' One of his favourites is the Woodland Martini. 'We swapped the vermouth you'd find in a Martini for an Amontillado, added homemade bitters, and garnished it with a pickled walnut,' explains Louis.
Sherry taps into another trend: quality over quantity. Its ABV ranges from 15% to upwards of 20% – higher than wine, but lower than spirits. 'There's a tendency towards slightly less alcoholic cocktails right now, so it's a great ingredient,' says Matt Coates of The Distillery, a cocktail bar on Portobello Road. He's a fan of the Rebujito, a fino, mint and soda water spritzer from Andalucia, served over ice.
'We've seen strong growth in our premium sherry segment over the past year, primarily led by the popularity of dry sherries,' agrees Julie Buckley, Sainsbury's buyer for fortified wine. She's been working with two producers, Lustau and Williams & Humbert, to bring the range up to date. 'Millennials are turning more to botanical styles, because they want to replicate things they've tried in bars.' However, sweet and cream styles aren't completely off the menu. 'Customers do still prefer to keep it traditional at Christmas,' Julie smiles.
Star sherries to try
Fortified wine buyer Julie Buckley takes you through the top bottles in Sainsbury's sherry range – and we've put together some suggested food pairings.
Taste the Difference Dry Fino Sherry, 50cl, £8
'Pale, straw-coloured, with a yeasty nose, a light body and a lovely mineral finish. Great simply chilled, or topped up with tonic water for a Spanish-style spritzer.'
Try it with... Taste the Difference Marcona blanched almonds (£2.75), lightly toasted for five to eight minutes, then sprinkled with sea salt.
Winemakers' Selection Dry Manzanilla Superior Sherry, 75cl, £5.50
'A delicate style that's only made in the seaside town of Sanlúcar de Barrameda in southern Spain from Palomino grapes. Has a subtle, salty tang.'
Try it with... Sainsbury's lemon and coriander Manzanilla olives (£1.90), which share its rich, savoury salinity.
Taste the Difference 12-Year-Old Amontillado Sherry, 50cl, £8
'Medium-bodied, dry and smooth, with nutty aromas. Look out for delicate hints of raisins, salted almonds and bitter orange.'
Try it with... Taste the Difference Spanish Chorizo Iberico Bellota (£2), seasoned with top- of-the-range Pimenton de la Vera paprika.
Taste the Difference 12-Year-Old Oloroso Sherry, 50cl, £8
'Intense aromas of dried fruit with a hint of liquorice and flavours of toffee and walnuts. A lovely dark amber colour.'
Try it with... Taste the Difference Iberico Cheese (£2.50), made with pasteurised cows', sheep's and goats' milk for a distinctive piquant taste and a buttery texture.
Taste the Difference 12-Year-Old Sweet Pedro Ximénez, 50cl, £8
'Lusciously sweet and syrupy with caramel and prune flavours. Won the 2016 International Wine Challenge prize for Great Value Fortified between £7 and £12.'
Try it with... Taste the Difference Madagascan vanilla ice cream (£2.85). Pour over a measure of Pedro Ximénez for a grown-up dessert.
Don`t miss

---