Food
Have you tried Filipino food?
I was born in the Philippines and am very proud of my heritage. As a Filipina, I was brought up to love food more than anything else. London, where I grew up and live now, has a fine selection of Filipino eateries that don't seem to get as much airtime as other cuisines. So here I am to shout about what I think is the best food in the world!
Traditional: Lutong Pinoy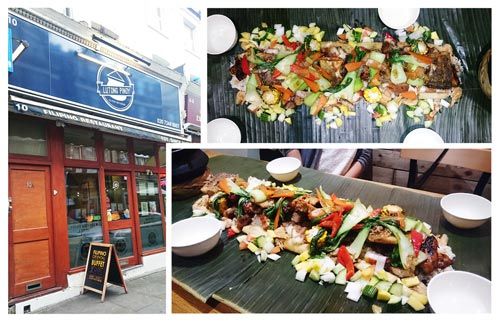 For something traditional, head to Lutong Pinoy in Earls Court. 'Lutong' means 'cook' and 'Pinoy' is another word for Filipino.
We opted for the special, 'Kamayan' ('using your hands'), which you have to order before arriving. It comes on a huge board covered in banana leaves. The food is piled high and it's up to you to get stuck in with your hands – just like we would back home.
Our Kamayan was made up of sizzling beef steak, tilapia, barbecued chicken and roast pork with a mountain of rice and lots of veg. It comes with a traditional soup, Sinigang, on the side. As you can see from the pictures, it's absolutely huge – I could barely move by the end of the meal. My non-Filipino pals loved it and said they would definitely go back. This place is a great introduction to our cuisine.
Snacks: Lakwatsa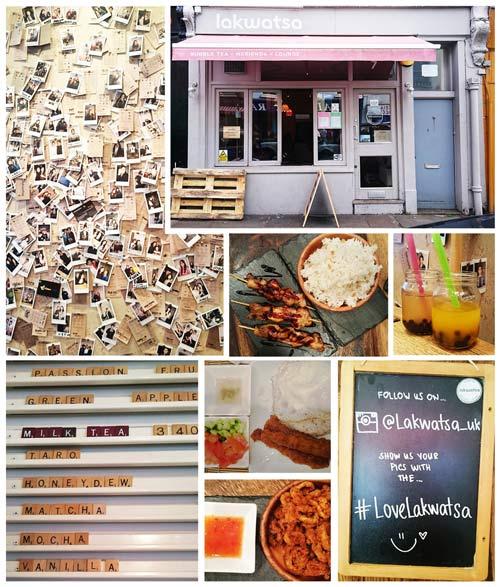 'Lakwatsa' means 'playing truant' or 'hanging out'. This little place definitely makes you feels relaxed, with cosy benches, swing seats and a wall of photographs of guests that have come and gone. Their bubble tea menu is made up of Scrabble letters! So cool.
Lakwatsa specialise in bubble tea, but also have a menu called 'meriendas' ('light snacks'). We usually eat meriendas for brunch and tea (Filipinos eat 10 times a day!).
The menu is traditional food with a twist. For example, they've mixed up the traditional adobo dish (chicken marinated in soy sauce and vinegar with black peppercorns and onions) to make adobo-stuffed rice balls. It's very clever.
As it was quite late in the day, I was starving and ordered the brunch dish. It consists of garlic rice, egg and longaniza (which is a bit like chorizo, but sweeter). This was really close to breakfasts back home, but less greasy! We also had the calamari and chicken skewers, which were delicious. This is a great place to chill out any time of the day.
Fusion: Masarap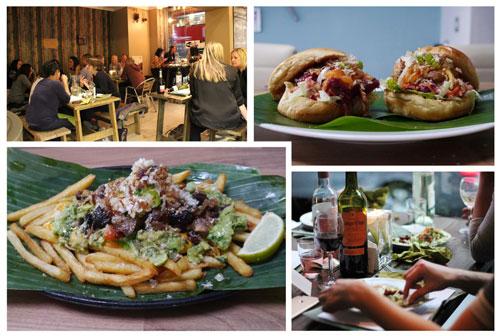 Following on from the success of their first supper club, Masarap ('delicious') is hosting brunch on the spring bank holiday on Monday 25 May. Their aim is to raise awareness of Filipino cuisine, while also making amazing fusion dishes influenced by other cultures.
At their last event I had the kare kare slider – slow-cooked beef brisket boiled until soft then cooked in a peanut, garlic and onion sauce and served with cabbage slaw, lettuce, and pickled papaya, plus sisig fries (fries topped with pork shoulder marinated in lemon with nacho cheese, pico de gallo, guacamole and sour cream). I washed it all down with an alcoholic bubble tea. Delicious!
The atmosphere was friendly, fun and very welcoming. If you're interested in going, book your tickets now or you could miss out.
About the author