Food
Gourmet mustard tasting
On a chilly afternoon, I headed to the beautiful, black, glossy mustard boutique to find out more from the expert. Harry Lalousis is a mustard sommelier – no one told me about that career when I was leaving university.
Harry the mustard man
'Maille mustard was originally made for the Royal Court,' explains Harry as he hands me tasters of a few of the many, many mustards lined up in their distinctive jars on the shelves behind him. 'The first shop was in Paris in 1747; vinegars and mustards were used to help prevent disease in those days.'
Harry continues, 'There are two main styles of mustard – wholegrain and Dijon.' We taste both before moving on to the fresh mustard that is 'on pump' and sold from the shop counter.
'It's made weekly in France and sent to us from Paris,' Harry proudly tells me. 'And this is our pièce de résistance,' he announces, 'our mustard with truffle.' One lick of the spoon and I'm converted – the mustard has great depth of earthy, mushroomy flavour and would add va-va-voom to steak and chips (my Friday night standby).
Concierge service
Harry doesn't stop there: 'We like encouraging our customers to use the mustards in recipes and we now offer a complimentary gourmet concierge service with Fred Sirieix, to help customers to plan their meal from the food, wine pairing and creating a show-stopping table.' Who knew that the humble jar of mustard could lead to such great things?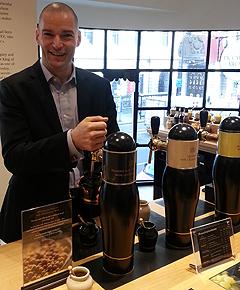 Who recognises Fred?

A bit about concierge Fred Sirieix
You might recognise Fred Sirieix from BBC2's 'Michel Roux's Service', all about getting apprentices into the service and hospitality industries. He is currently the general manager of the Michelin-starred Galvin at Windows on Park Lane and has won countless awards for his dedication to the service industry.
What he doesn't know about putting on a good show and amazing service isn't worth knowing! If you want to share in his wisdom, you can book a free one-on-one 30 minute appointment with Fred at the Maille store and he can help you create the ultimate dinner party at home...
Maille London2 Piccadilly Arcade, SW1Y 6NH
About the author