Food
How to make Beijing duck
by Sarah Alcock
Some dishes are definitely worth going to a restaurant for. The wood fired Beijing Duck at Min Jiang is one of those dishes... you could try cooking it at home, but I guarantee that specialist duck chef Cui Bo, at Min Jiang restaurant in Kensington, with his five intensive years of Beijing Duck training, is sure to do a better job! I went to the restaurant last night to watch how the masters prepare, cook and serve the amazing, delicious duck.
Here's what I learnt about Beijing Duck
Beijing duck has been around since the 10th century, so it's fair to say that Chinese chefs have mastered the art of getting crispy skin, succulent meat, and amazing flavours to pair it with.
STEP 1 - sourcing your duck
Cui Bo rejected about 10 different types of duck before heading to Ireland and finding the Silver Hills duck, which is produced especially for the Chinese market. What he was looking for was a duck with perfect skin – no holes, no imperfections. When he has his perfect duck, he very carefully takes out the feathers with absolute precision so the skin is fully intact.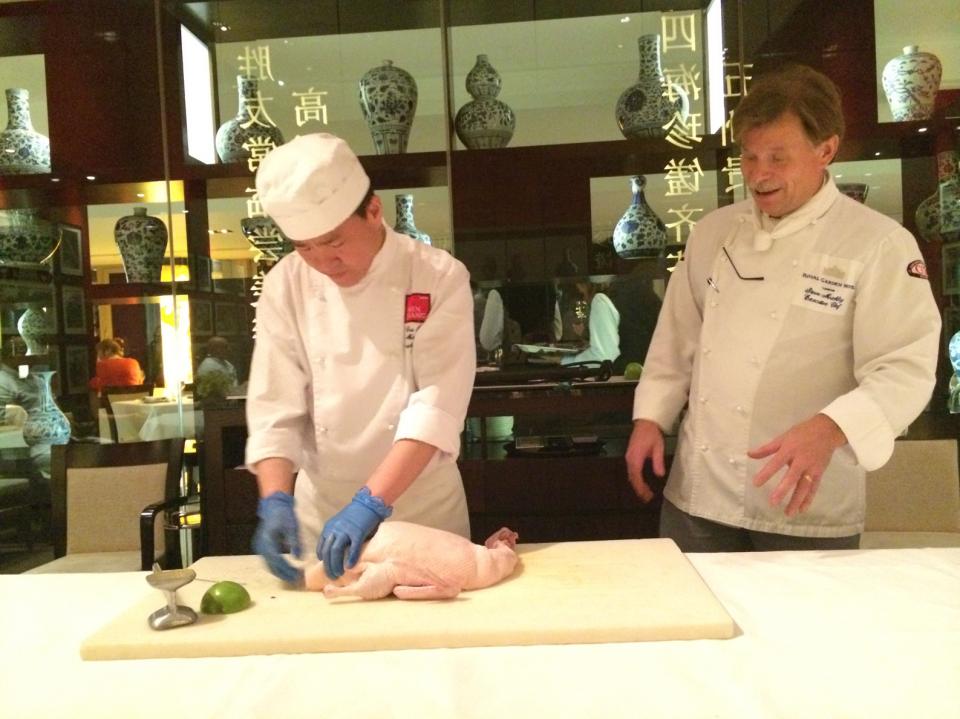 Cui Bo and executive chef, Steve Munkley
STEP 2 - Detaching the skin
Arguably the best bit of Beijing duck is that crispy skin, which is only achievable if the skin has come away from the meat. At Min Jiang they have a fancy machine (a bit like a hoover), that blows air between the skin and flesh. It's very weird to watch, but takes a fraction of the time of doing it by hand.
STEP 3 - scald and sugar
Using a ladle, Cui Bo covers the bird in boiling water to scald the skin and remove any impurities. He then covers the duck with a sugary syrup which, when cooked, will give the skin that crispy deliciousness.
STEP 4 - hang the bird
The duck then goes into the drying oven for 12 hours to dry out the skin, then it's covered again with the syrup. There can be up to 120 ducks hanging in these drying oven at one time.
STEP 5: get cooking!
The ducks are cooked in an applewood beech oven at 185 °C for 45 minutes (if you want to order duck, order ahead as they take a while to cook).
STEP 6: serving
Cui Bo has crazy knife skills. First, he very carefully and swiftly takes little cuts of skin off the neck, which are then served as mouthfuls dipped in sugar. Think churros but savoury... unusual but delicious.
He then speedily slices up the duck, ready for eating with pancakes.
If you order the duck at Min Jiang, here's what you'll get to eat...
1. Crispy duck skin dipped in sugar
2. Homemade pancakes with traditional plum sauce, shredded leek and cucumber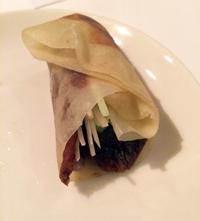 Is there anything better than a duck pancake?
3. Homemade pancakes with garlic paste, with radish and Tientsin cabbage (this was my favourite). Then, to make sure none of the duck is wasted, you can choose how you want to eat the rest of the bird. Choose between:
Salted vegetable soup with duck and tofu, fried noodles with sliced duck or fried rice with diced duck. Or minced duck in lettuce wraps (I loved this; it's reminiscent of Thai cuisine)
Minced duck in lettuce wraps
Don`t miss

---