Food
The story of Forman's smoked salmon
by Katy Salter
It just wouldn't be Christmas without smoked salmon – and in the heart of London's East End, family firm Forman's produces some of the best in the world...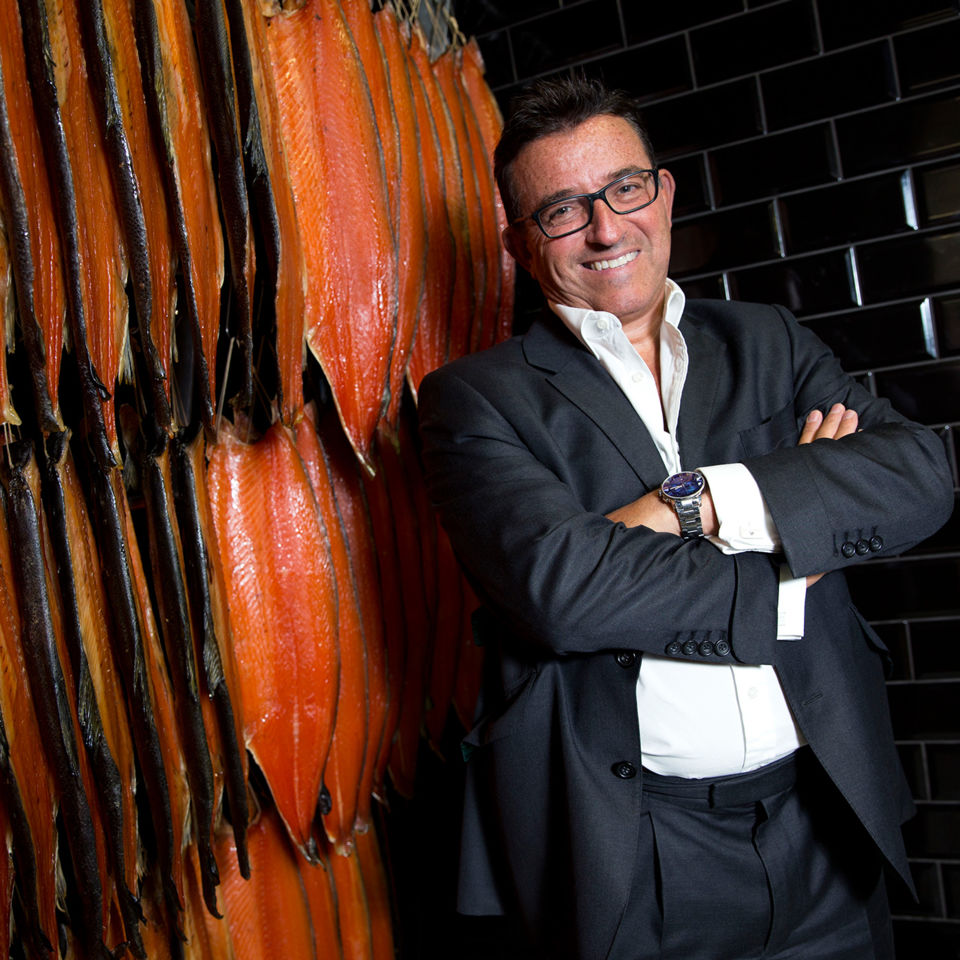 Lance Forman is the fourth-generation owner of H Forman & Son, one of the world's oldest producers of smoked salmon.
What's the history of H Forman & Son?
Forman's was started by my great- grandfather, Harry Forman, in 1905. He came from Odessa, then part of the Russian Empire, and settled in London. When he started smoking salmon, it wasn't a gourmet food, it was simply a way of preserving fish. They were smoking Baltic salmon shipped over in barrels of salt water.
How did it become a delicacy? The smokers went to Billingsgate Fish Market and discovered beautiful wild salmon from Scotland. They started smoking Scottish salmon and the product was incredible. The fish was fresh – it hadn't been in barrels for months. Chefs fell in love with it. In the 1920s, smoked salmon really took off as a gourmet food. Forman's started supplying Harrods, Selfridges, The Savoy. It was the marriage of Scottish salmon with what became known as 'London Cure' that made it one of Britain's first home-grown gourmet foods.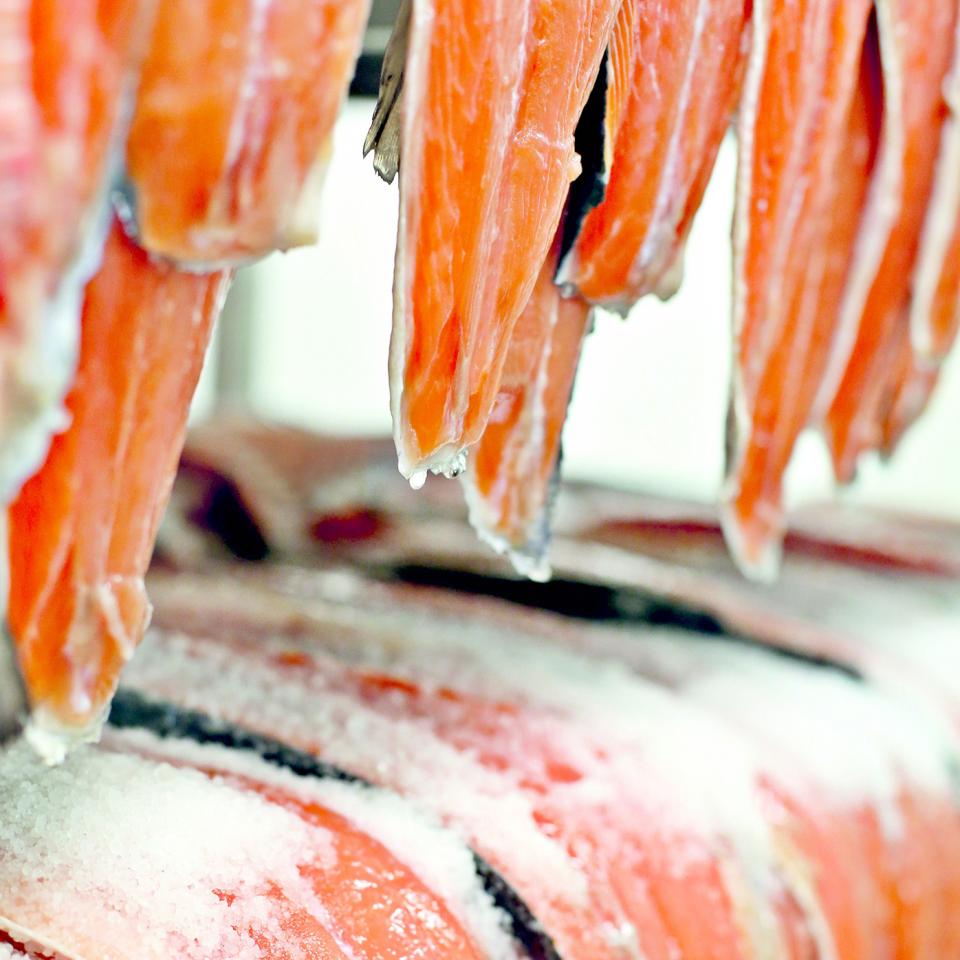 How is your salmon smoked?
We use the same methods we've always used. The fish has to be with us within 48 hours of leaving the water. Everything is done entirely by hand. We hand-fillet the fish and sprinkle it with rock salt to draw out some moisture – it'll stay in the salt for up to 24 hours. The fish then goes into kilns to air-dry. Then it's smoked with oak while still on the bone, for better flavour. The smoke creates a protective seal called the pellicle. We remove this smoky crust, take out all the little pin bones and slice the fish by hand.
Are there any common misconceptions about smoked salmon?
Smoked salmon is not about the smoke – you should just get a hint. London Cure salmon isn't slimy, you don't need to squeeze lemon all over it to get rid of the grease. It's a very subtle, delicate flavour, not a million miles away from the taste of salmon sushi. A lot of smoked salmon is so smoky because it's masking the fact the fish isn't very fresh.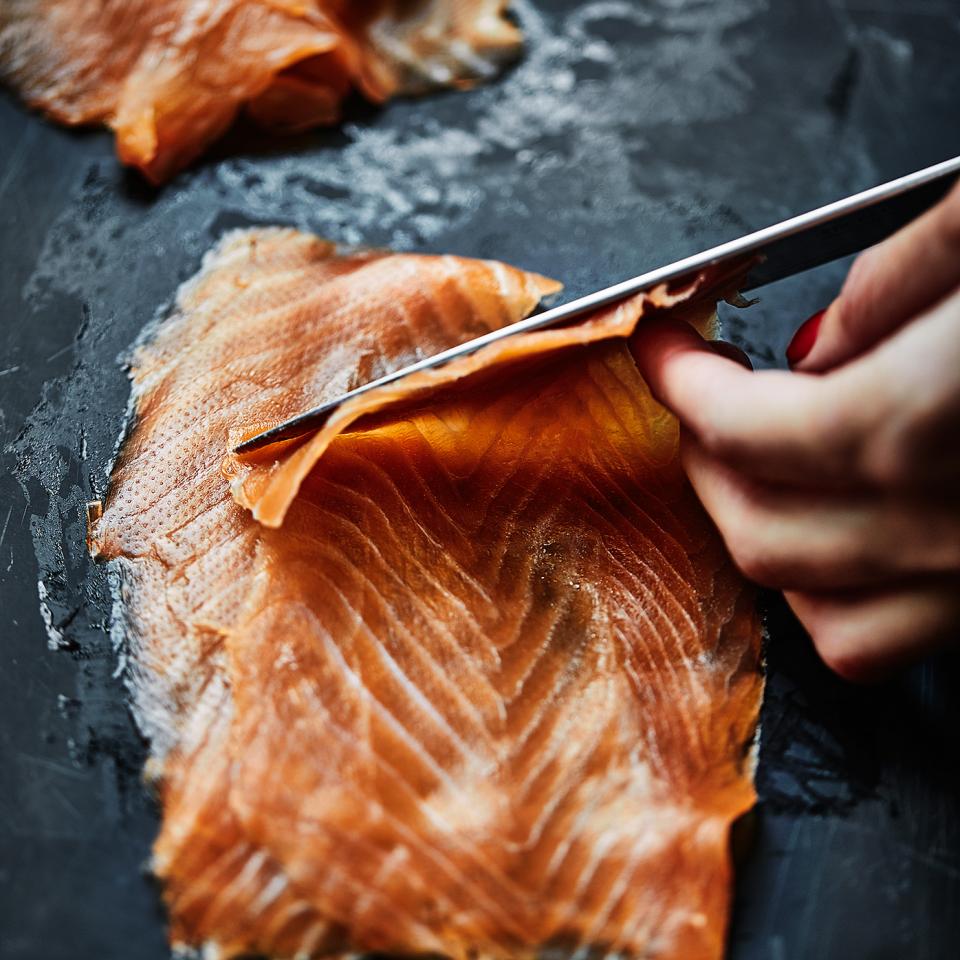 How did you end up in a salmon-pink smokehouse with its own art gallery?
We've been struck with one disaster after another. In 1998 we had a fire at our factory. We refurbished, but in 2000 the River Lea overflowed, and the factory flooded. In 2002 we moved, only to be evicted to make way for the Olympic Stadium. We're now on the boundary of the Olympic Park and hope we're here for good. We've opened Forman's Restaurant here, a new deli, and we have an art gallery to support local artists.
How often do you eat smoked salmon and do you have a favourite way to eat it?
Every day. The first thing I do when I get to work is taste a bit of smoked salmon to make sure it's spot on. At home, I love to scramble eggs with a few chopped chives, then drape slices of salmon over the top. That way, you get the salmon slightly warm, which brings out the flavour, but it doesn't get cooked.
Do you have any festive smoked salmon serving suggestions?
A traditional way of serving smoked salmon, which is perfect for parties, is to cover an entire plate with it and cut around the edge with scissors. We serve it with capers, shallots and crème fraîche. We never serve lemon – not because we have anything against lemons, but if it's really good-quality smoked salmon, you don't need them. Anything else we should know about serving smoked salmon? Don't use it straight out of the fridge. It's too cold – you want the oils to start flowing through the fish. Get it out half an hour before serving, and open up the packet.
H Forman & Son smoked salmon (£6) and smoked salmon pâté (£4), available in store.
Don't miss our favourite salmon recipes.
Don`t miss

---