Food
Fattoush with pomegranate molasses dressing
by Sarah Alcock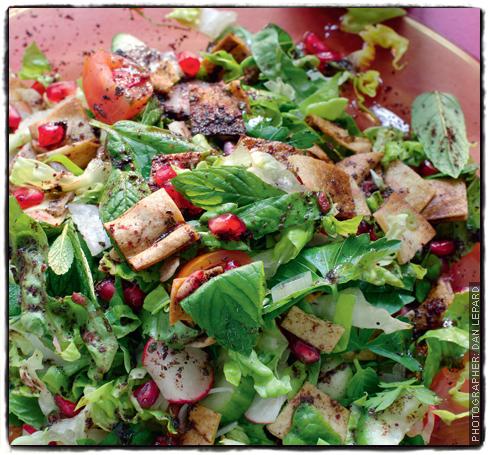 We do try to take lunch to work but sometimes surprise dishes come out of the magazine test kitchen and our little homemade meals get overshadowed and forgotten. Yesterday I found my lonely pack of pitta bread discarded at the back of our work fridge and was inspired by this fattoush salad.
It's from the new Comptoir Libanais cookbook by Tony Kitous and Dan Lepard, which is full of delicious Middle-Eastern dishes to cook at home. Not only is the dish a really good solution for crusty pittas but it looks colourful, tastes fresh and fragrant, and brightens up autumnal lunchtimes.
BOOK OFFER:
Readers can buy Comptoir Libanais (Random House, £20) for the special price of £16, including free UK postage. To order, please call 01206 255800 and quote the reference 'Sainsbury's'. Offer ends 12 October 2013; subject to availability.
Fattoush with pomegranate molasses dressing - serves 4-6
Ingredients
2 pitta breads
olive oil
2 tsp sumac
3 Little Gem lettuce, chopped
12 cherry tomatoes, halved
2 spring onions, chopped
2 small cucumbers, diced
a small bunch of mint, chopped
a small bunch of flat-leaf parsley; chopped
4-5 radishes, thinly sliced
1 pomegranate (optional)
For the dressing:
75ml pomegranate molasses
50ml cider vinegar
1 tsp dried mint
2 tsp sumac
juice of 1 lemon
125ml olive oil
1 garlic clove, mashed
Method
Preheat the oven to 200°C, fan 180°C, gas 6.
Cut the pitta bread into 1-2cm squares and spread out on a baking tray.
Pour over a little oil, then sprinkle with sumac and toss so they're lightly coated.
Bake for 15-20 minutes, or until the pitta squares have crisped and started to brown. Remove from the oven and leave to cool.
Put the lettuce in a bowl with the tomatoes, spring onions, cucumber and herbs.
Scatter the radish slices over the top and sprinkle with the pomegranate seeds, if using.
Make the dressing by whisking the ingredients together until smooth, then adding salt to taste.
To serve, pour about half the dressing on the salad, add the pitta croutons and toss together. Serve the remaining dressing in a bowl alongside.
Don`t miss

---